The native token for Avalanche, a speedy alternative to the leading smart contract platform Ethereum, jumped nearly 11% to hit a weekly high of $97.02 early this morning.
AVA has since retraced, and is now trading hands at just under $95, according to data provided by CoinMarketCap. Despite the recent uptick, the token is still roughly 35% down from its all-time high of $146.22, set back in November 2021. 
Led by former Cornell professor of computer science Emin Gün Sirer, Avalanche launched in 2020 and was pitched as a cheaper, more efficient alternative to Ethereum. It allows for many of the same features as Ethereum, including decentralized finance (DeFi) projects and non-fungible tokens (NFTs).   
Since then, the network has emerged as one of the top networks for DeFi activity in particular. By total value locked (TVL), a general metric for measuring how much money is sloshing around in a protocol, Avalanche is the fourth-largest with roughly $11 billion. 
Ethereum currently leads the market commanding a whopping $127.7 billion, followed by Terra ($16.1 billion) and BNB Chain ($13.1 billion). The entire DeFi market across all chains is currently $211.18 billion, according to DeFi Llama. 

The largest DeFi projects on Avalanche at current include money market Aave, decentralized exchange (DEX) Trader Joe, and an Avalanche-native lending protocol called Benqi. 
Each project has increased its TVL over the past 24 hours by 4.3%, 6.5%, and 4.5%, respectively.
Avalanche eyes launch of 'Subnets'
Despite Avalanche's high throughput, its structure is not immune to congestion and rising fees. 
Pulling data from SnowTrace, the network's equivalent of Ethereum's Etherscan, the cost of doing business on Avalanche has ebbed and flowed according to increased activity.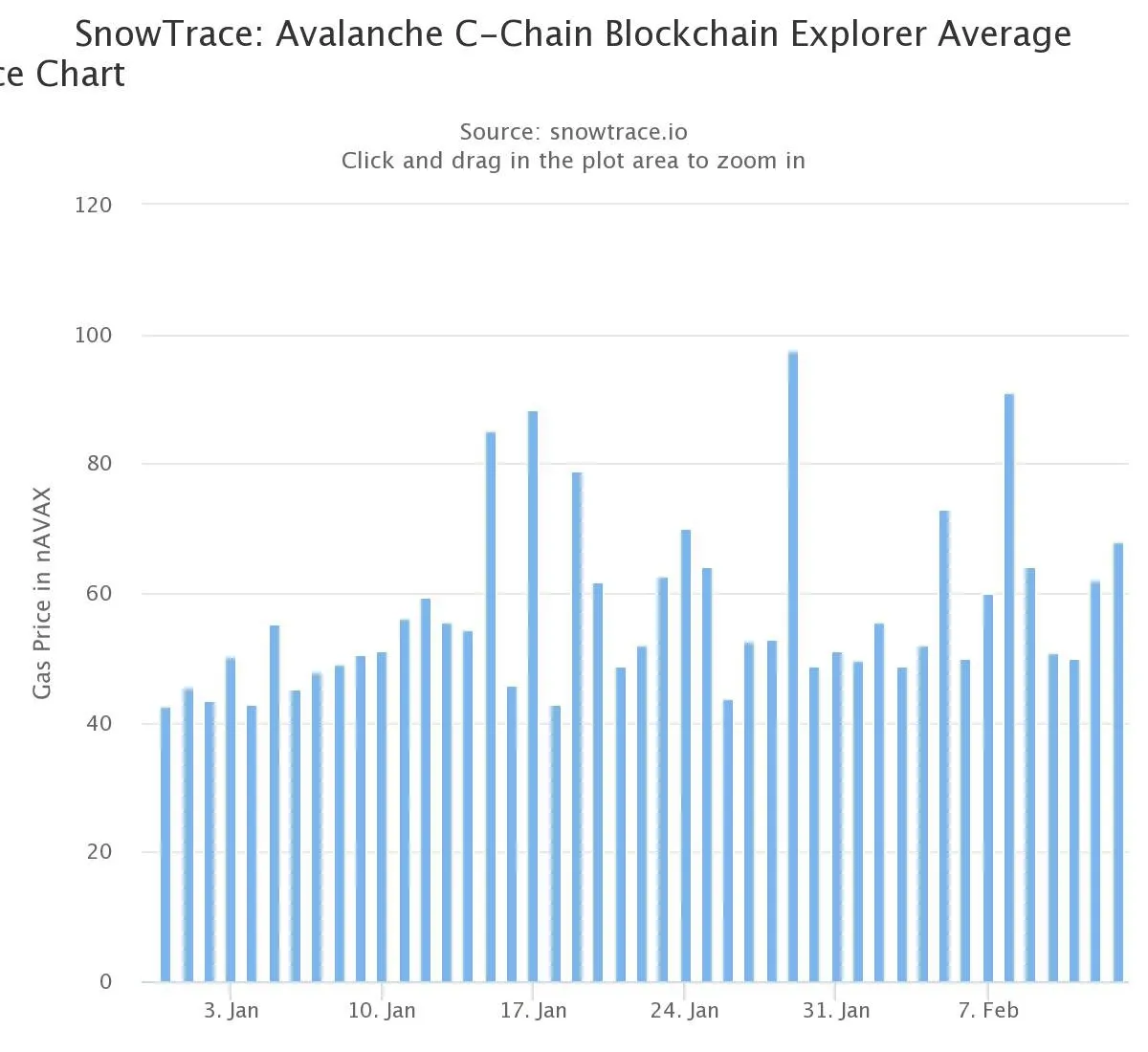 And like Ethereum's layer 2 solutions, Avalanche also has its own scaling solution called Subnets to solve growing pains. Subnets let individual projects like Aave or Trader Joe, for example, leverage individual chains that are connected to the Avalanche mainnet, but do not take up space on the mainnet. 
Recent testnet versions of this technology have shown how Subnets would work for an NFT marketplace, a native DEX, and a simple crypto game called Dark Forest.     
Though there isn't a firm deadline for when Subnets will launch, investors have already signaled their interest in Avalanche's future.