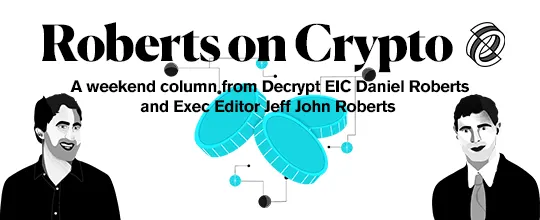 A friend of mine who is a school administrator in Connecticut, and knows nothing about crypto, has been asking me for months what coins she should buy.
I gave her my usual disclaimers: I don't dispense investment advice; do your own research (read Decrypt!); only invest what you can afford to lose. And I told her that Bitcoin and Ethereum are the only coins I believe with certainty will still exist in 10 years. That doesn't mean other coins won't succeed—many will—only that I'm confident those two are here to stay, and I wouldn't yet say that for sure about anything else in crypto.
Welp, I tried. But this week, she bought Shiba Inu.
She's not the only one. SHIB is up 165% the past week, leapfrogging Dogecoin (DOGE) for the No. 9 crypto spot, with a $40 billion market cap. Floki Inu (FLOKI) is up 298%.
Dogecoin was created in 2013 as a joking homage to the "Doge" meme of a Shiba Inu dog. Shiba Inu came along in 2020 as a homage to Dogecoin, a joke on a joke. Then Floki Inu and Shiba Floki (both use the symbol FLOKI) appeared in September after Elon Musk, chief Dogecoin pumper, tweeted a photo of his new Shiba Inu puppy Floki. Now all the dog coins are so hot you've got crypto-averse CNN tweeting, "Shiba Inu soared to a new record Wednesday."
My friend says she knew she "had to jump in" when a coworker told her his SHIB bags have ballooned from $1,700 to $60,000. That's nothing compared to the viral story of the wallet that bought $8,000 worth of SHIB in August 2020 and now has $5.7 billion worth.
What the hell is going on here? And who is to blame?
One answer: it's all a joke, and that's okay.
You can point to breathless mainstream media coverage of this phenomenon (a Business Insider headline from this week begins with "Buy Floki"). You can point to Musk, who fiddles while his followers ape into joke coins based on his tweets. Or Mark Cuban, who argues DOGE is a real utility because his NBA team takes it as payment. But the joke is bigger than them now. As Bloomberg's Matt Levine wrote in May, "Dogecoin is up because it's funny."
That's still the case, even more so now that SHIB has surpassed DOGE, the thing it's parodying. And all of this epitomizes just how zany the markets have become amid the pandemic.
GameStop was a joke too. Reddit traders bought up AMC, BlockBuster, Sears, and Build A Bear because it was funny. (AMC is accepting DOGE now.) Robinhood rode the meme stock and meme coin revolution all the way to its IPO. (Robinhood only supports 7 cryptocurrencies, and one of them is DOGE; many expect it to add SHIB.) On Crypto Twitter, tungsten cube collecting is another good joke—and tungsten cube NFTs on Solana have raised $235,000.
It's purely a retail phenomenon; even as institutional crypto adoption soars, financial firms want nothing to do with the joke. So says an exec I chatted with who does institutional crypto custody but didn't want to be quoted talking dog coins. He's gone through an interesting mental journey that is highly illustrative of how traders have retrained their brains to accept the meme coin surge.
"I was initially sort of pissed off about it," he says. "And then I had to come around to thinking about it differently. I saw that Mark Cuban was asked: 'Why Dogecoin?' And his response was: 'Because we can.' And at first I thought, Cuban and Musk are such assholes, they're playing with people's bank accounts who don't know better. But then I thought, well, maybe that's the heart of the digital asset space. If people care enough about a joke, it becomes real."
So, I asked him, are any institutional clients asking to allocate some of their crypto portfolio to SHIB?
"Zero."
This is Roberts on Crypto, a weekend column from Decrypt Editor-in-Chief Daniel Roberts and Decrypt Executive Editor Jeff John Roberts. Sign up for the Decrypt email newsletter to receive it in your inbox. And read last weekend's column: Bitcoin's Netscape Moment Is Finally Here.