In brief
SafeMoon is a cryptocurrency with a $2.5 billion market cap.
It taxes every transaction and redistributes tokens to holders.
If you've scrolled past the #SAFEMOONWALLET hashtag blaring on Twitter today, you may not have realized the token with a $2.5 billion market cap—sometimes derided as a Ponzi—has some actual product news.
Cryptocurrency project SafeMoon today opened sign-ups for a closed beta version of its wallet. It's welcoming 500 users to test the product, which will purportedly hold the SafeMoon token.
Since the advent of cryptocurrency, dozens of Bitcoin forks, Ethereum wannabes, and even Dogecoin knockoffs have pumped for a few days only to dump forever into the dustbin of CoinMarketCap's servers. Unless they fulfill some utility beyond monetary transactions, people just aren't buying "shitcoins" for the long haul.
SafeMoon, as in a "safe" way for a token to go up in price, has tried a very non-Bitcoiner way of incentivizing people to hold their tokens, which at this point can't be spent on anything except other cryptocurrencies. 
Cover your ears, Grover Norquist, but here's the way it does it: a 10% tax on every transaction, whether that's buying or selling. A portion of the tax also goes directly into a liquidity pool. Instead of reducing supply to get a price hike, the idea is that this stabilizes SafeMoon's price floor. Half of the fee is split among the remaining holders, based on the number of tokens they own. SafeMoon calls these rewards "reflections." 
In theory, then, every time a whale cashes out, it may create a short-term splash but no long-lasting ripples. 
In practice, the price of SafeMoon has been all over the place since the March 2021 launch. It's currently down about 60% from its all-time high, according to data from CoinGecko, but up 9,624% from its introductory low. Still, its floor remained at similar levels after coming down from a May bump. With extra tokens in their hands, those who HODL'd probably aren't panicking. And at least some of those who bought at the top are waiting to receive reflections that will take them back to zero—but they have to wait for others to transact first, which has led to many calling SafeMoon a Ponzi scheme.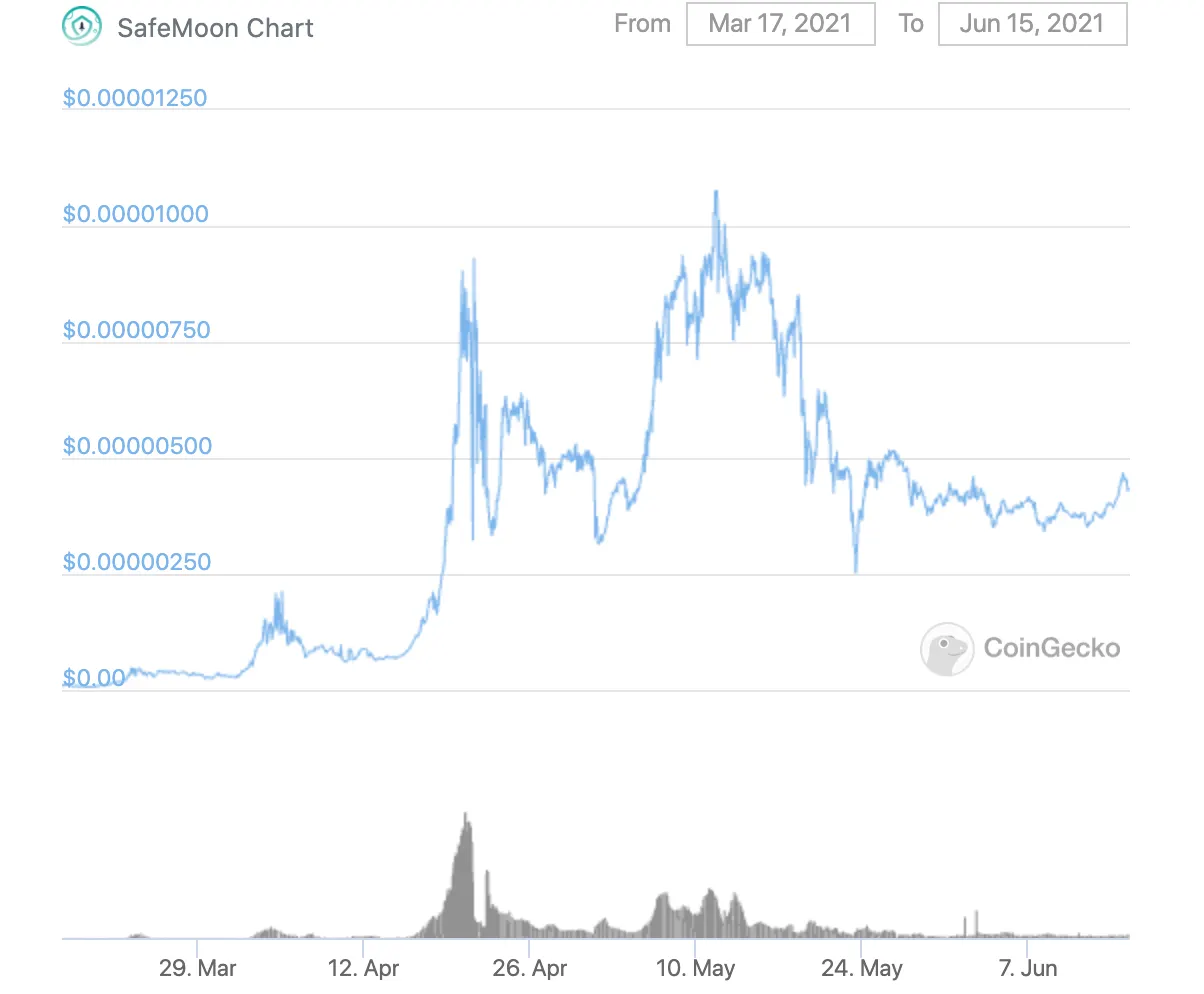 The token's redistribution mechanism has made things tricky for exchanges, who are tasked with helping the taxed tokens get into customers' wallets. At the moment, most trading occurs on decentralized exchange PancakeSwap and on Cayman Islands-registered exchange BitMart. 
Although BitMart listed SafeMoon in April, it did not have the tokenomics scheme fully integrated to allow for daily reflections. It instead planned to add reflections to users' wallets on a monthly basis. It completed the first distribution on May 12. 
This explains some of the appeal of a wallet exclusively for SafeMoon, which promises "intergrated [sic] tokenomics". SafeMoon could further incentivize people to store tokens in its official wallet by slashing taxes on certain transactions. 
But just like Ethereum Max, a questionable ERC20 token that also gives token holders a share of every transaction, SafeMoon is light on details about its product. A Google form being used as a signup sheet asks users to identify what phone they have, so it's unclear whether the app is made for Androids, iPhones, or both. According to SafeMoon's announcement, "We want to test how the wallet runs on even low-powered devices so if you have a non-flagship phone, please don't let that dissuade you from applying to be a beta tester." Moreover, beta testers must sign a non-disclosure agreement, meaning more details aren't forthcoming.
Unlike Ethereum Max, it doesn't have Kim Kardashian or Floyd Mayweather backing it. However, it does have a vocal contingent on social media. And it may have its equivalent of Elon Musk, the Dogecoin cheerleader who was instrumental in bringing DOGE's price from under $0.01 all the way up to $0.73 (it's now worth less than half that).
Dave Portnoy, founder of the website Barstool Sports and holder of 2.5 million Twitter followers (not quite Elon Musk territory), bought $40,000 in SafeMoon tokens and endorsed it in May as his preferred shitcoin over DOGE, Shiba Inu, and others.
"Why? I don't know fucking why. It could be a Ponzi scheme. I like the word moon because that's where I want to go," he said, before adding: "If it is a Ponzi, get in on the ground floor."