In brief
Luka Garza's career as an NCAA athlete is over, and he's now eligible to profit off his name, image and likeness.
Step one: selling his own NFT. He's the first college athlete to do so.
Garza's NFT comes with a number of physical items and passes for in-person events.
University of Iowa senior Luka Garza just added the Naismith Trophy for men's college basketball player of the year to his long list of honors—a list that also includes Associated Press college player of the year, the Oscar Robertson Trophy, and the Lute Olson award for player of the year.
Garza hasn't graduated yet, but his senior season ended on March 22 when Iowa lost to Oregon in the second round of the NCAA tournament. When that happened, Garza became eligible to profit off his name, image, and likeness—unlike his non-senior teammates, who are currently prohibited by the NCAA from doing so.
His very first move? Selling an NFT.
"This is my first time doing anything to make money off my own name, so it's really kind of new waters for me," Garza told Decrypt in an extensive video interview this week. "I'm studying Economics in college, and my dad was big in tech throughout his life, so I saw the opportunity to expand my brand."
Garza adds that he and his father Frank Garza, a tech veteran who cofounded the software sales coaching firm Conscious Selling, saw a lot of news about NFTs, including that NFL player Rob Gronkowski sold an NFT collection, and "got big into the research on this."
NFTs or non-fungible tokens are blockchain-based tokens that represent ownership deeds to any type of digital or physical asset, from virtual trading cards to artwork to an album. They are verifiably scarce and usually one of a very limited batch—or, in some cases, one of one. They have been exploding in price.
Garza appears to be the first college athlete to sell an NFT, though pro athletes like Gronkowski, Patrick Mahomes, UFC heavyweight champ Francis Ngannou, and NFL alum Vernon Davis have all sold their own.
Garza's NFT will go on sale at OpenSea at 6pm EST on Tuesday, and is a one-of-one virtual trading card with images from his Iowa playing career.
The NFT will also carry a number of physical rights with it. The highest bidder will get a pair of autographed sneakers Garza wore in the Feb. 22 game when he broke Iowa's all-time scoring record, a private meditation session with Garza (he's into meditation), dinner and a movie with him, a game of HORSE against him, and lifetime VIP passes to any basketball camp Garza hosts (something he aims to do one day).
"That would be quite an opportunity for any up-and-coming basketball player, or a parent who sees this as an opportunity for their kid," Garza says. "It would be awesome to be able to share that time with an Iowa fan, but whoever it is, I look forward to being able to build a relationship with them."
Garza says he and his father got the idea for the in-person elements from seeing bands do the same; Kings of Leon, for example, turned its new album into an NFT that included tickets to a future concert.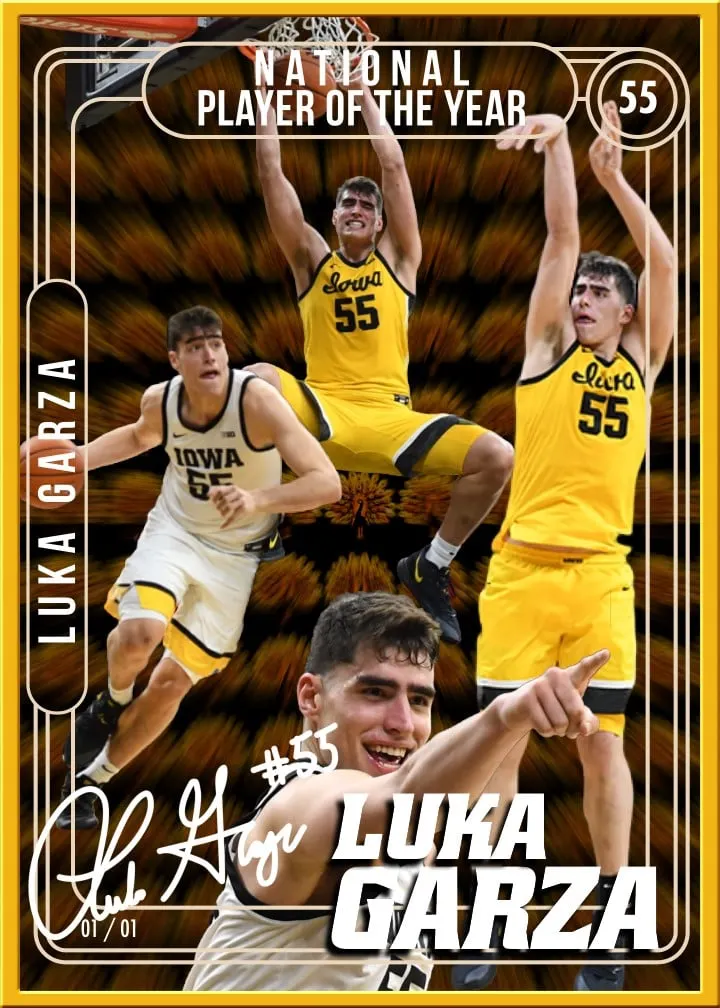 The NCAA's N.I.L. (name, image, and likeness) rules add an interesting wrinkle to this story.
The NCAA famously—or infamously—does not allow student athletes to profit off their names, but is close to changing that, after the state of California beat the NCAA to it and passed S.B. 206, a bill that will allow student athletes in that state to profit off their name, image, and likeness beginning in 2023.
Garza's Iowa teammate Jordan Bohannon last month announced he won't return to play another year at Iowa unless the state passes its own N.I.L. bill allowing him to make money from endorsements. Garza, of course, would not have been able to sell the NFT if he had not just finished his college athletic career.
"Now that I'm not a college athlete anymore, I'm not representing the University of Iowa as a basketball player," he says. "I definitely am in favor, in the future, of college athletes being able to do this, and I see this as a potential way for college athletes to profit off their name, image, and likeness. Hopefully I can help show people the way... I think in the future, people can look at NFTs as an opportunity for college athletes when Name, Image, and Likeness is passed, because I'm very confident it will be."