PARIS—The second annual Ethereum Community Conference (EthCC) opened its doors today, and, in the afterglow of Thursday's successful hard fork, the atmosphere was positively buoyant.
With hundreds of people in attendance, EthCC is among the bigger international conferences and is aimed at "tech-savy neophytes and experts, developers and non-techs, blue and white collars, students and researchers."
Thursday's Constantinople upgrade was Ethereum's first in two years, and there was a sense of urgency and optimism here. Devs are keen to capitalize on the momentum that came from taking a first step away from a computationally-intensive "Proof of Work" consensus model toward a more scalable one, known as "Proof of Stake." (See here for a deeper dive.)  
In general, there was much talk about  how this will open up the blockchain for more users and developers, and make it faster and stronger. We decided to canvass the grandees here to get a closer look at what Ethereum enthusiasts are hoping for in the coming months.
ProgPOW: Creating a level field for miners
Constantinople helped assuage fears that Ethereum was falling behind on its roadmap, but there's one proposal which is still outstanding: ProgPoW. It's a proposed upgrade to the Ethereum blockchain that's, arguably, the most contentious since the chain was forced to fork in 2016, the last time consensus could not be reached.
ProgPoW would make changes to the Ethereum hashing algorithm, Ethash, minimizing the advantage that so-called ASICs—chips optimized for faster mining—currently enjoy by effectively tilting the balance in favour of GPU miners. It's a political hot potato.
In December, core developers reached "tentative consensus" to implement ProgPow. But the ensuing backlash led them to rethink and, now, the Ethereum Cat Herders are conducting surveys and looking to an audit to answer outstanding questions surrounding the proposal. However, as resources are diminishing (see "Funding," below), ProgPow's proponents were asked to find funding for the audit. Until that happens, a solution is unlikely to materialize.
Istanbul: the fork on the horizon
Ethereum is planning another fork, dubbed Istanbul, hot on the heels of Constantinople. But planning is the operative word—it's not yet clear what Ethereum Improvement Proposals (EIPs) it will contain, or when it will take place.
The planning suffered something of a set back when Afri Schoeden, the developer at the heart of a recent conflict-of-interest drama, decided to step away from his role in organizing the event. Developers told Decrypt that it's not yet clear when, or whether, he will return.
Ethereum's community-relations maestro and Cat Herder, Hudson Jameson, here at the conference, told Decrypt that proposals were already being submitted and the core developers were aiming to have them all in by May.  
ProgPow and a proposal about State Fees are two likely contenders. The latter needed to be dropped from Constantinople and has now been revised. It aims to reduce the pressure on the blockchain by requiring every account to pay for storage.
Core developer Greg Colvin, known as Ethereum's Gandalf, told Decrypt that he is also hoping that a proposal he's working on, which concerns the Ethereum Virtual Machine (EVM) will be included.
Jameson was hopeful that the hard fork would happen around October but, considering that the last fork was delayed by over six months, a big pinch of salt may be in order.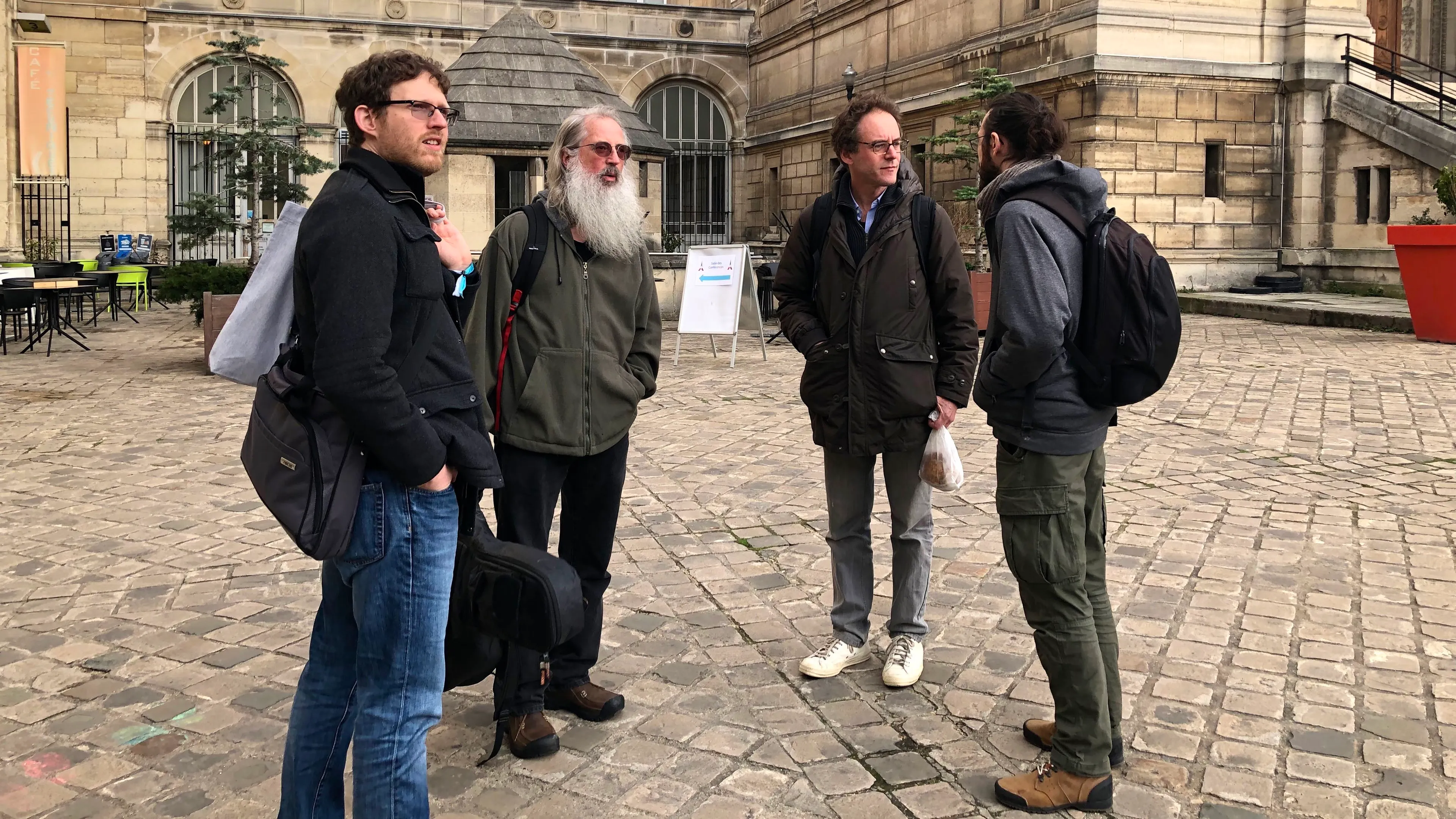 Funding: Keeping Ethereum solvent
The way the Ethereum Foundation decides which projects to fund has recently come under some scrutiny after a grant was made to Parity. The blockchain infrastructure company powers large chunks of Ethereum and handles some $50 billion worth of assets. However, Parity is also building an interoperable blockchain, Polkadot, which some believe is a competitive threat to Ethereum.
Ethereum core developer, Lane Rettig, who is also in Paris, told Decrypt that "Improving grants, funding—finding more sustainable models of funding" is a priority for the platform.
Keeping a tight hold of the purse-strings is more important than ever as Ethereum's coffers are suffering from the fall in the price of ETH, along with other cryptos, while crypto winter endures.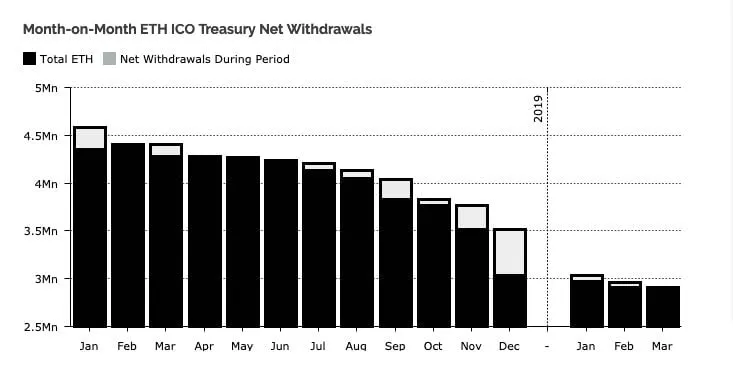 Image source: https://diar.co/ethereum-ico-treasury-balances/
More funding input is expected from other organizations, including Ethereum incubator, Consensys (which also funds Decrypt!) But some believe the platform should be casting its net even wider.
There was some discussion in yesterday's all core devs about how ProgPoW grants get funded

Why aren't AMD/NVIDIA funding them? It's material to their bottom line, they should be very willing to fund neutral auditors

Also: they should publicly agree that ProgPoW is neutral

— Evan Van Ness (@evan_van_ness) March 2, 2019
Funding formed a large part of  today's talk given by Ethereum Foundation's Aya Miyaguchi. However, somewhat controversially, she announced that the amount the Foundation will grant to funding beneficiaries will no longer be disclosed, in an effort to make the process fairer. But beneficiaries will be closely monitored, to better judge how the money is being spent.
Miyaguchi also revealed that Ethereum is in talks with worldwide charity, UNICEF.  She told Decrypt that, while the announcement was as yet unofficial, the two organizations planned to collaborate, with Ethereum contributing expertise and UNICEF providing the use of its facilities worldwide.
Leadership: Who, if anyone, is calling the shots?
Ethereum's decentralized nature means that the network has no leader. Its co-founder, Vitalik Buterin has—if anything—been trying to distance himself from the role. Instead, developers work in teams to tackle various technical upgrades and communicate via forum, Gitter and live-streamed video calls.
"Just because Ethereum is decentralized, it doesn't mean it doesn't have structure," says software engineer Mihailo Bjelic, who is at the conference too. Bjelic is working on scaling solutions for Ethereum and believes that if you sufficiently structure or streamline processes and procedures for how people propose improvements and how these are discussed and eventually implemented, Ethereum will be able to retain its current competitive position.
However not everyone is happy about this state of affairs. A recent report, by Ethereum insider and SpankChain CEO, Ameen Soleimani prepared in conjunction with blockchain-native software consultancy Kyokan and venture studio Moloch, caused no little controversy by arguing that someone should be put in charge.
Soleimani (among others) says leadership is needed or Ethereum is in danger of conceding ground to its competitors. He proposed that developer Danny Ryan, who has unofficially taken on the role of development lead, should be recognized as such.
But, when asked, the Ethereum Foundation's Miyaguchi wouldn't be drawn in. She implied that it was the developers who would be making the final decision, but gave no details about how such a thing might result in solving the problem.
The conference continues Wednesday.