In brief
Blockchain-powered games are using non-fungible tokens and crypto to create in-game economies with digital assets.
Crypto's user experience still poses a challenge for mass adoption by gamers.
Decrypt spoke to developers from Ubisoft, Immutable, and CCP Games to get their thoughts on the future of blockchain gaming.
It was just over two years ago that Dapper Labs' CryptoKitties exploded onto the scene, bogging down the Ethereum network while showing the potential for blockchain-driven gaming. Since then, many video games and interactive experiences have integrated crypto and blockchain, with more on the horizon.
Still, it feels like very early days for blockchain in gaming. While there are plenty of opportunities on the horizon and many interested parties working to bring those visions to life, there are also challenges and hurdles that could slow or even stifle the pace of innovation. What will be the blockchain game that breaks out into the mainstream… and will there even be one?
Decrypt interviewed a trio of game industry leaders to get their diverse takes on what's next. We spoke with a VP from the developer of Gods Unchained, one of the biggest blockchain games to date, and the leader of blockchain initiatives at Ubisoft, one of the largest video game publishers on the planet. We also spoke to a game studio CEO who, while he's personally immersed in the crypto space, has yet to integrate it in his flagship title, EVE Online. 
This is where they see blockchain gaming going in the future.
Non-fungible tokens and the Internet of Assets
Using non-fungible tokens (NFTs), it's possible to create unique digital assets. That means it's possible to create in-game objects such as trading cards and digital skins with a limited real-world supply; the technology famously underpinned the aforementioned CryptoKitties. 
The ability to own these unique, scarce digital assets has been one of the biggest selling points to date for blockchain games. That's likely to continue being a focus in the short-term, but as that core concept evolves and attaches to new types of games, we could see some truly consequential changes to interactive experiences.
"It's difficult to predict how the industry will evolve. Some of the most exciting opportunities will come from the bridge blockchain creates between virtual and real-world economies," says Tyler Perkins, VP of Marketing at Immutable, developer of collectible card-battler Gods Unchained. "Digital goods have always had strings attached, and free-market economies around these goods haven't been possible because centralized entities have always had the option to intervene. As we begin to decentralize, many of the instruments, markets, and tools that exist around physical commodities will actualize in the digital realm."
Ubisoft is the publisher of enormous game franchises such as Assassin's Creed and Just Dance, but even a company of that scale has been on the frontlines of blockchain innovation in recent years. Ubisoft's Entrepreneurs Lab accelerator provides resources and workspace to startups without taking equity; this year, it picked eight blockchain companies for the program. One of those startups, Planetarium, recently launched the public alpha for its blockchain-powered RPG, Nine Chronicles.
Ubisoft has also prototyped a Minecraft-esque game called HashCraft and helped found the Blockchain Game Alliance alongside processor manufacturer AMD and blockchain governance platform Maker. For Ubisoft, blockchain represents an opportunity to further empower players.
"Over the long term, the free use of digital assets might create new forms of interactions between players, community, and game developers," explains Nicolas Pouard, Ubisoft's Blockchain Initiative Director. "To us at Ubisoft, we see it as a way to allow players to become stakeholders of the games they love, at an unprecedented level." He points to fantasy soccer game Sorare as an example of a successful blockchain game today—and it's part of their Entrepreneurs Lab program. Enabling crypto startups today helps set Ubisoft up for the future, Pouard suggests.
"Blockchain is part of the technologies that are bringing new value propositions to users, in what we call the Internet of Assets," says Pouard. "In the same way that the Web is the technology allowing Wikipedia, social media, and e-commerce, blockchain is the piece of a much larger picture that is currently being built by a number of actors and pioneering entrepreneurs," says Pouard.
"The mindsets, cultures and standards of this new paradigm are invented now. Ubisoft always had an open innovation mindset and a strong partnership approach and—as with any new technology—we think that to make the most of it, it is all about collective effort," he adds. "Empowering startups is the best way to support this effort, while keeping the pace of innovation, in order to be ready when the time comes."
User experience is still a barrier for gamers
When it comes to challenges to widespread adoption of blockchain technology in games, we heard a common response: the difficulty of buying and interfacing with crypto. 
For seasoned Decrypt readers, it may not seem difficult to set up a wallet and buy a little Bitcoin, but for many people, crypto remains a big question mark. What's the value? What's the point? Until there's a much wider understanding of what crypto is and how to manage and manipulate it, the potential audience for such games could be rather small.
"I think the great challenge is that the overall addressable market of something that would be involved in interfacing with blockchain or cryptocurrency would be very small," says Hilmar Veigar Pétursson, CEO of EVE Online developer CCP Games. "There's such a complexity barrier of interfacing with it, and there's such a barrier of understanding and trusting what is really going on that you ultimately end up with a niche of a niche. You end up with the intersection of people interested in games and interested in blockchain, and it's small."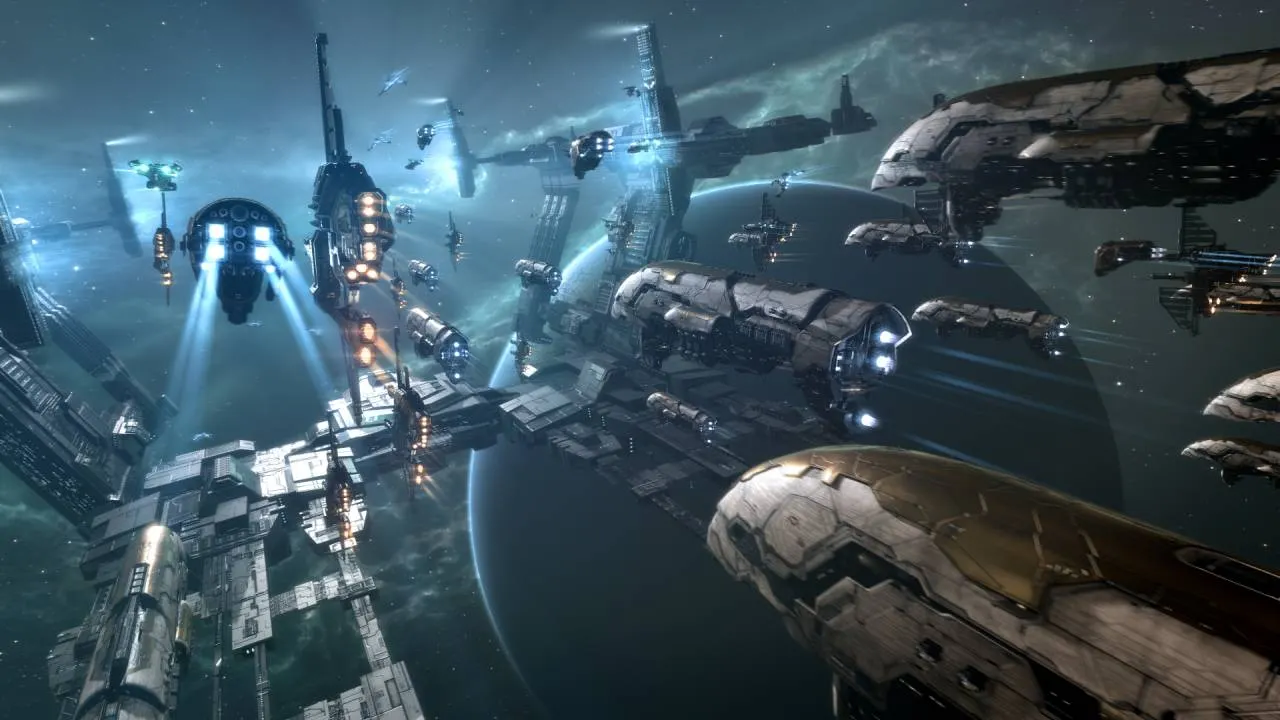 Veigar Pétursson is personally invested in crypto and has experimented with blockchain technology in the past. However, CCP Games has yet to incorporate blockchain or crypto within EVE Online, a particularly hardcore massively multiplayer online space simulation with a complex in-game economy. While he believes that the technology could potentially help CCP deliver on its mission of "making virtual worlds more meaningful than real life," he says that they haven't heard many complaints from EVE players about having a centralized database and lacking true ownership of assets. "I think it's a little too early, because most players of games don't really care so much about that," he adds.
What's a good way to do some amateur Bitcoin mining, mainly for learning more about it and crypto currencies/#blockchain over all.

— Hilmar Veigar (@HilmarVeigar) January 19, 2017
"There's still too much friction for new users in understanding blockchain technology and how to interact with it," says Immutable's Perkins. "Simply acquiring crypto proves to be a complicated process for beginners, and it's often a high enough barrier for many to lose interest. We need to make the end-to-end process of interacting with digital assets so seamless that anybody can do it."
Pouard affirms that need for seamless blockchain interactions, and says that the "regulatory framework should mature enough" in the meantime for such open asset economies to flourish. But in the short term, he says, it's really all about making games that people want to play.
"The main short-term challenge is simply to build good games for players and not only for speculators," says Pouard. "It's important to find the right business model for a game, but it's not the business model that brings fun to the players. We believe that the creation of stable coins will help a lot to [leave] the speculation behind us and focus on the true benefits of the tech, for the players."
The tipping point for blockchain games?
When will blockchain gaming escape that so-called "niche of a niche" and become something that large numbers of players engage with? Will there be a tipping point?
"It's important to remember that blockchain is still in its early days, and it might take a while before the benefits of the technology become tangible for our industry," says Pouard. "Nonetheless, games like Sorare, Gods Unchained, or The Sandbox are proving that it is possible to offer rather similar experiences, in terms of concepts, to what larger game companies could do, which helps growing a player-base that benefits from blockchain features beyond the niche market."
Veigar Pétursson suggests that it could be another five to 10 years before there's a true breakout blockchain game, and that it may not be a game that is a huge hit upon release—it could be a slow-burning success that eventually becomes a sensation. "I'm not sure necessarily that it will be a tipping point," he says. "But you could foresee a time where there's a killer app, where you just really have to get involved regardless of whether you need to figure something out, and that pulls in a wave of people and kind of starts an avalanche."
He points to the evolution of modern virtual reality, suggesting that lightsaber-swinging rhythm game Beat Saber is arguably VR's killer app. Beat Saber has continually grown in visibility and popularity over the last couple years, but it has been eight years since the first Oculus Rift ushered in this era of VR technology. Could crypto gaming have a similar timeline before there's a truly essential, must-play game that appeals to a wide segment of the gaming audience?
"Maybe if we start the clock at CryptoKitties—maybe 10 years after CryptoKitties you will be able to find something that is truly a killer app for crypto," says Veigar Pétursson.
Ultimately, as Ubisoft's Pouard points out, blockchain and crypto are tools that can drive new and enticing experiences, but they're not the experience itself. It's up to developers to create brilliant games that use that technology to heighten and enhance that experience, rather than focusing on the tech above all.
"It is difficult to foresee a specific tipping point, I think things will evolve gradually," he says. "We can assume that a huge IP using non-fungible tokens could potentially significantly increase the adoption. Yet, in the end, blockchain is a technology that we, world-creators, use to offer entertaining and memorable experiences to players—but what drives the industry is the success of amazing games."