LONDON—A shiny black taxi swerves to the curb in front of 23 Featherstone Street, the London headquarters of ConsenSys. The driver is a big man—bald, lean, and clad in a blue bomber jacket—and as he eases himself from the driver's seat, he immediately goes for a cigarette. He squints as he edges toward me.

No, it's not the Long Good Friday. Bob Hoskins isn't waiting in a back-alley with a shiv and thirty pounds of cocaine. It's Dave Jenkins, the crypto cabbie, and in the back of his car he carries a touchscreen device built by a UK-based company called FastBitcoins. It can process cash-based transactions in exchange for bitcoins in real time,  then print a paper receipt, much like a credit card reader at your local coffee shop. "I'm a one man band," Jenkins claims—the first, and only cabbie in the world to offer such a service.
I buy ten pounds' worth.

"You can't get a lot easier than that, can you?" he practically yells after I've received my 0.00341 bitcoins in my BRD digital wallet. "If you try and mess about registering with Coinbase or Bitstamp or whatever, you know all these different things, it's a lot of aggravation to send off your passport blah blah blah. Even a lot of bitcoin ATMs—they want your phone number and all that."

With FastBitcoins, it's easier. "You know, you just turn up, get in the cab, hand the cash over and you've got your bitcoin and away you go!"

FastBitcoins' founder and Jenkins's pal, Danny Brewster, says he wants his point-of-sale terminals to be adopted in retail stores. (He gave Jenkins's own device to him pro bono.) He says he's currently in talks about installing them in businesses which he didn't want to name, but which he said had 20,000 locations worldwide. "It's aimed at people interested in holding bitcoins, or for contributing to people blackballed on Patreon or PayPal." (An infrequent event, with the best known recent occurrence being PayPal's withdrawal of service from infamous social network Gab after the Pittsburgh synagogue shooting.)

Regardless, it's a world away from monolithic exchanges and frenzied day traders.

These are the real bitcoin maximalists, grassroots people who just like collecting cryptocurrency a la carte, with no interest in attempting to flip it for speculative gains. Jenkins prefers to own it, and, when the rare opportunity presents itself, to spend it.
Satoshi to Satoshi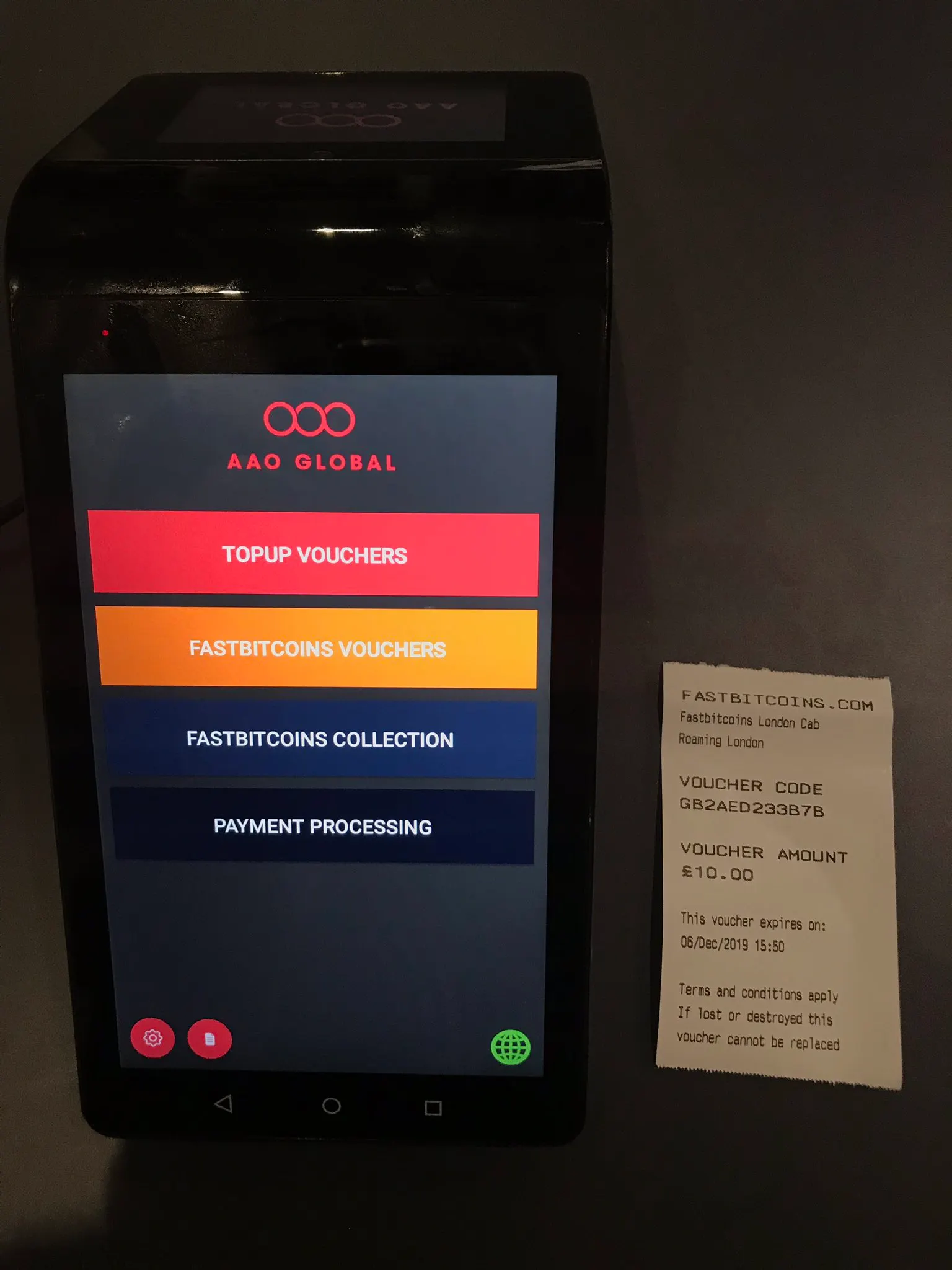 Jenkins isn't new to this. He started accepting bitcoin transactions for his taxi services in 2017, when he was dismayed at the failings of the financial system. Among his bitcoin-paying passengers was Saifedean Ammous, the author of "The Bitcoin Standard: The Decentralized Alternative to Central Banking," a seminal work. Yet isn't Jenkins worried about the value plummeting?

"I don't care about the price of bitcoin," says Jenkins. "I only care about owning bitcoin itself. Bitcoin to bitcoin, Satoshi to Satoshi, whatever."

Brewster, meanwhile, suggests it's the best time to be launching his business. "If you can build an efficient model that can survive and thrive in a bear market, it's a bonus," he says.

To order this one-man bitcoin-delivery service, you'll first have to contact Jenkins via his Twitter handle, provide an address, and within a reasonable amount of time he'll arrive in his cab with his FastBitcoin device. The receipt he provides in exchange for your pound, dollar, or euro coins and notes can be redeemed on the FastBitcoins website.

Unlike the sprawling 24-hour-per-day trading networks, Jenkins will only sell you bitcoin during his regular 9-5 workday, then head home to his wife.

The bitcoins themselves come from FastBitcoins's own reserves. For each transaction, Jenkins will pay the company back with his own funds, minus a six percent commission fee, which he keeps. That's two percent less than the average bitcoin ATM, he says. Meaning our little exchange earns Jenkins a nifty £0.60.

He's certainly not generating Coinbase-level volume on his trades, so is he expecting to make a living at this?

"You're joking! I just enjoy having a go at it," he says, "I don't feel I'm going to become a millionaire out of it. But the more people get into bitcoin and enjoy it ..." He doesn't finish the sentence. The fun, it seems, is the point.

So next time you're in London and you don't mind waiting a couple hours for some crypto fun, tweet at Dave Jenkins. After you buy his bitcoins, he may even take you for a ride.