In the more than a decade since Bitcoin was released, the number and variety of cryptocurrencies available has increased dramatically, as has their value—leading to the emergence of cryptocurrency hardware wallets, secure devices that store many different types of crypto.
ShapeShift's KeepKey was one of the first hardware wallets to market, and remains a popular choice to this day. The KeepKey wallet was considered a premium option at launch, but now retails for $49 (or even less, if you go hunting for a discount code).
Can the KeepKey still keep up with today's competition? Let's find out.
KeepKey review: Build quality and design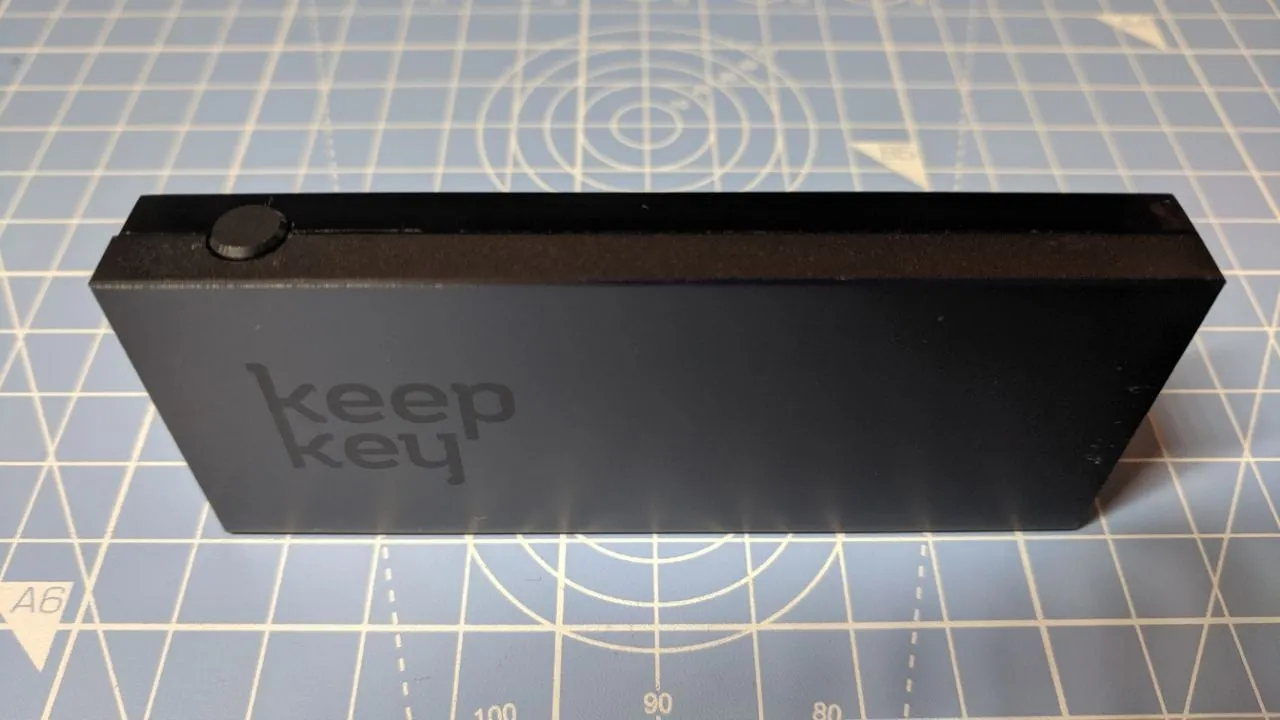 The KeepKey features a robust design aesthetic that will appeal to those who prioritize form over function. The case exterior is composed of anodized aluminum, while the screen is surrounded by a polycarbonate casing. It's well-built, with a reassuring heft that you would expect from a device constructed with premium materials.
Around the back, the KeepKey sports a matte finish and a prominent KeepKey logo.
Compared to other hardware wallets, the KeepKey is certainly on the large side, measuring 38 mm x 93.5 mm x 12.2 mm, and weighing in at 54g. It's over twice the size of its major competitors, the Ledger Nano S and Trezor One, making it rather less portable. However, the KeepKey's bulk does mean it can accommodate a relatively large 3.12 inch OLED display.
Despite its size, the KeepKey is clearly designed with minimalism in mind, since the only other notable features besides its large screen are a single button and microUSB port.  Like the majority of hardware wallets, the KeepKey lacks an IP rating, which means you'd be wise to keep it well away from water or excess moisture.
KeepKey review: What's in the box?
The KeepKey wallet comes in a cellophane-wrapped box, sealed with a holographic security sticker that proves the contents haven't been tampered with. Inside the box, you'll find the KeepKey device, in addition to a 3 foot (1 meter) braided USB cable and a warranty booklet.
The KeepKey also comes with a single recovery card, used for recording the 12-word recovery phrase provided when initializing the device.
KeepKey review: Ease of use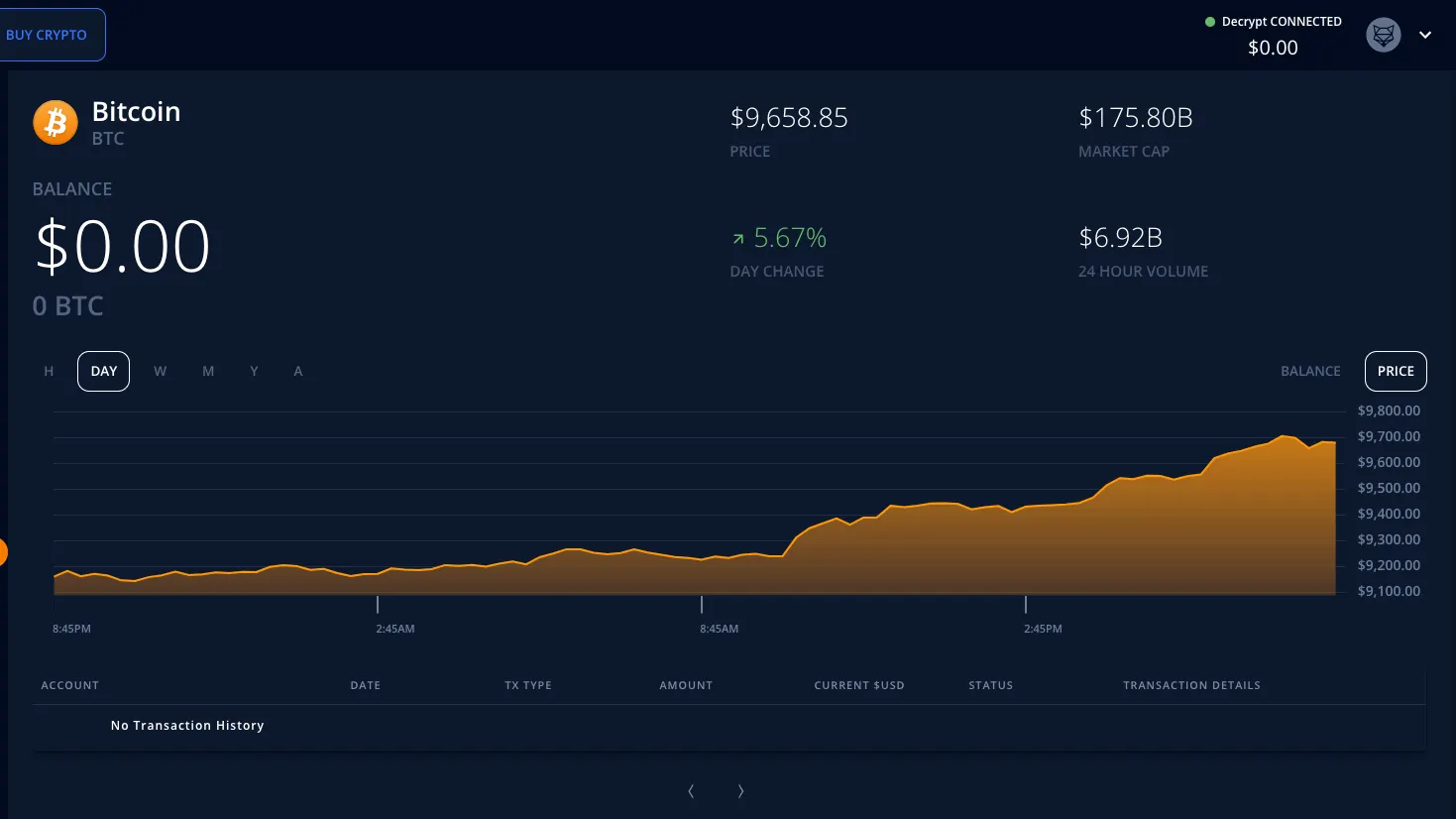 Like most hardware wallets, the KeepKey is designed to be simple to use. Indeed, beyond the initial setup process, you should rarely need to touch the KeepKey after connecting it to your computer.
Instead, the vast majority of interactions are handled on the Shapeshift beta website, or through the KeepKey client app. These are both intuitive to use and will be immediately familiar to anybody who has used Exodus wallet—since Shapeshift has a very similar layout.
Through the ShapeShift platform and Keepclient Chrome app, you can directly manage your assets, initiate transfers, trade cryptocurrencies and more. Anything that involves moving funds or changing security settings requires confirmation on the KeepKey device.
The KeepKey device itself has only a single button, which is used for confirming selections made on the connected computer. Overall, the KeepKey is one of the simplest wallets we have tested, making it suitable for those that want to skip the learning curve, but still benefit from the security that comes with cold storage.
KeepKey review: Getting started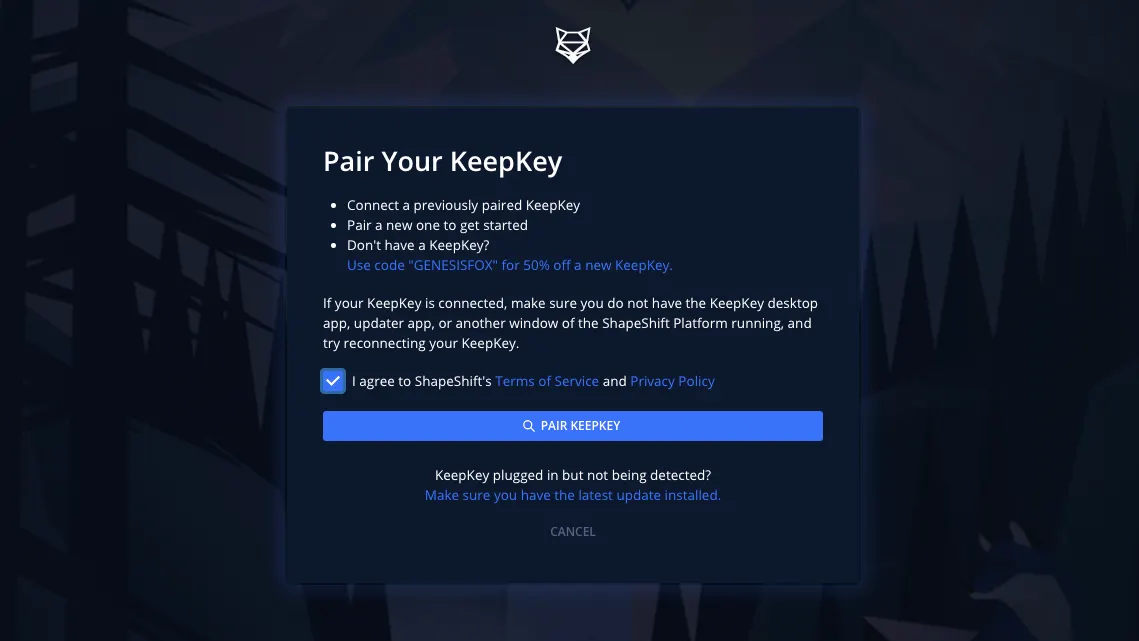 Like most hardware wallets, the KeepKey has a relatively quick set-up process before you can get up and running.
To begin with, you'll need to connect the KeepKey to your computer using the supplied microUSB cable, and navigate to the ShapeShift website. Here, you will need to pair your device with the KeepKey website to begin the device initialization process.
During this process, you'll need to choose a label for your device, select a PIN and backup your recovery phrase. For anybody familiar with the Trezor wallet, the KeepKey uses a similar system for setting up the device PIN, by displaying a numerical grid on the KeepKey screen, along with a blank grid on the computer which you'll use to select your PIN sequence.
Once you've confirmed your PIN, the KeepKey will display your 12 to 24 digit recovery phrase. This can be used to recover your wallet should you ever lose access to your KeepKey devices, and as such, should be kept completely confidential. Once you've recorded your recovery phrase, it's just a matter of holding down the KeepKey button until it displays a check. When it's done, your device addresses will sync, and you'll be redirected to your dashboard on the ShapeShift website.
Note: Unlike most hardware wallets, the KeepKey doesn't require you to validate your recovery phrase during set-up. Because of this, it is important to be absolutely certain you have recorded the correct phrase before using the wallet.
KeepKey review: Features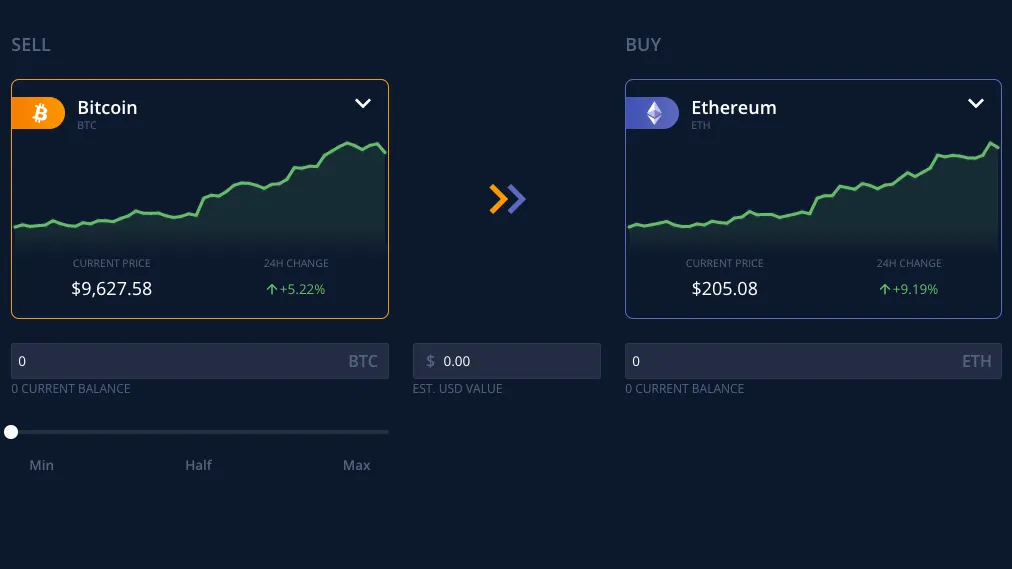 One of the KeepKey's standout features, and potentially one of the main reasons anybody might consider buying one, is its integration with ShapeShift. It means that users can send and receive a decent variety of cryptocurrencies directly on their wallet, as well as directly exchange one cryptocurrency for another.
Although the hardware wallet can be used with the ShapeShift exchange to directly exchange assets on the device, users will need to sign up as a ShapeShift member to do so. This is free, and is only required for users that want to use the built-in exchange functionality.
The KeepKey wallet is compatible with most major operating systems, including Windows, MacOS, and Linux. It can also be used with OTG-compatible Android devices through an OTG cable, but this requires connecting the KeepKey to a compatible third-party wallet like Mycelium.
Since the KeepKey is one of the oldest hardware wallets still being sold, it lacks many of the features now considered standard in modern wallets, including a color screen, wireless functionality, and an internal battery. Unlike many other hardware wallets, including those made by Satoshi Labs and Trezor, the KeepKey lacks 2FA and U2F functionality, and hence cannot be used as a two-factor authentication device.
As such, the KeepKey wallet is largely restricted to its primary function as a cold storage device. Anybody looking for premium features will need to look elsewhere.
KeepKey review: Supported crypto assets
The KeepKey wallet natively supports eight different blockchains. As it stands, the following blockchains are supported by the KeepKey:
Bitcoin (BTC)
Bitcoin Cash (BCH)
Bitcoin Gold (BTG)
DASH
Dogecoin (DOGE)
Ethereum (ETH)
Litecoin (LTC)
DigiByte (DGB)
Although the KeepKey supports a good range of cryptocurrencies, there are some notable omissions from its roster, including XRP, Bitcoin SV (BSV), EOS, Monero (XMR) and Tron (TRX). ShapeShift sometimes adds support for other digital assets, but new additions appear to be few and far between nowadays.
The KeepKey wallet is also compatible with MyEtherWallet, enabling users to store all ERC20 tokens directly on their device. The full list of supported cryptocurrencies can be viewed here.
KeepKey review: Security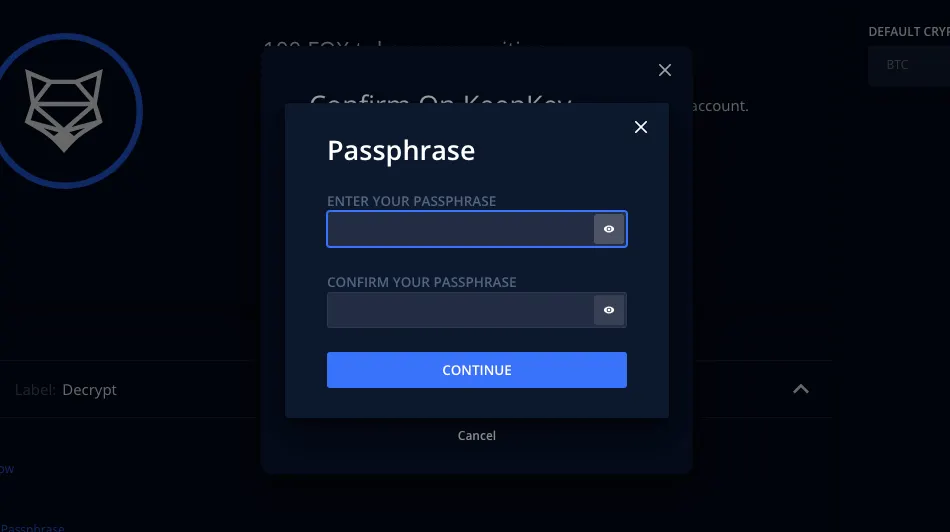 Like all other hardware wallets, the KeepKey is designed to keep your funds offline—a security method known as cold storage. This essentially keeps your funds secure, even if the device the KeepKey is connected to is infected with malware. To help achieve this, the device features a secure microcontroller which is used to isolate privacy keys from any online attacks.
To add an additional layer of security to the KeepKey wallet, you can also configure an optional passphrase for the device, which is essentially like a 13th word added to the 12-word recovery phrase provided during setup. Adding a passphrase is the equivalent of creating a new wallet on the device; nothing from the 12-word phrase will be carried over, but it will still be accessible by initializing the device and entering a blank passphrase.
Unlike most other hardware wallet manufacturers, Shapeshift is notably tight-lipped about the other security considerations present on the KeepKey hardware. Because of this, it is not possible to fully explore how well protected the device is. A recent security flaw identified by Kraken can allow an attacker to extract the encrypted 12-word seed, which could then be decrypted by brute-forcing the PIN.
Although Shapeshift says the device only works with a PIN up to 9 digits long, we found that it could be configured with a longer PIN; during our setup, we were able to create a 12-digit PIN with no issues. This would make it far harder to brute-force the PIN.
Enabling a passphrase protects the device against the attack identified by Kraken, while the device remains secure against all known online attacks. In any case, it is wise to ensure that your device is stored securely, since the aforementioned Kraken exploit requires physical access to work.
KeepKey review: Verdict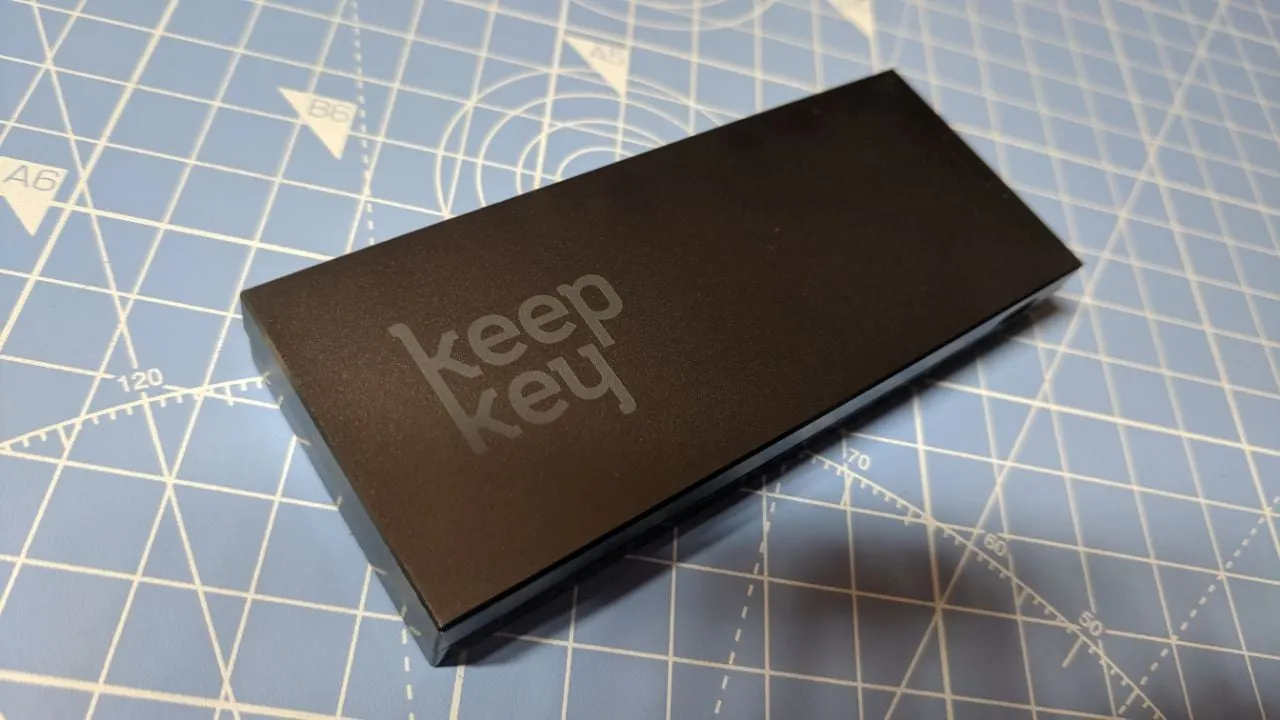 Anybody that stores a significant amount of cryptocurrency should consider purchasing a hardware wallet. As it stands, they are simply the safest way to store cryptocurrencies. However, exactly which hardware wallet you choose depends on your specific needs.
Overall, the KeepKey is arguably one of the most basic hardware wallets on the market. It lacks premium features like a touchscreen interface and Bluetooth connectivity, but does include built-in exchange functionality thanks to its ShapeShift integration.
The KeepKey lacks support for more than a few prominent cryptocurrencies, which can make it unsuitable for those with a diverse portfolio—particularly one including privacy coins.
With that said, these faults are largely offset by its low price. With discount codes bringing the price down to just $24.50, the KeepKey is easily one of the cheapest hardware wallets on the market, and clearly isn't directly competing with more feature-packed, but also more expensive wallets like the Ledger Nano X or Trezor Model T.
Instead, the KeepKey is designed for those on a budget, or with a relatively small portfolio that doesn't warrant the $100+ some other wallets cost. With that in mind, the KeepKey is one of the better hardware wallets available in its price range, and is certainly worth a look while on discount.