The Trezor Model One (or simply Trezor One), was the first cryptocurrency hardware wallet released by SatoshiLabs, and the first widely available commercial hardware wallet in general.
Released in January 2014, the Trezor Model One gives users a way to securely store a wide variety of cryptocurrencieson a single device.
Costing just $59 direct from Trezor, or slightly cheaper from official Amazon stockists, the Trezor Model One is a direct competitor to the popular Ledger Nano S.
However, since its launch, the cryptocurrency hardware wallet market has become increasingly crowded, and SatoshiLabs now faces stiff competition from the likes of Ledger, KeepKey, CoolWallet and more.
Can the world's first cryptocurrency hardware wallet still compete in 2020? Let's find out.
Hint—just barely!
Trezor Model One review: Build quality and design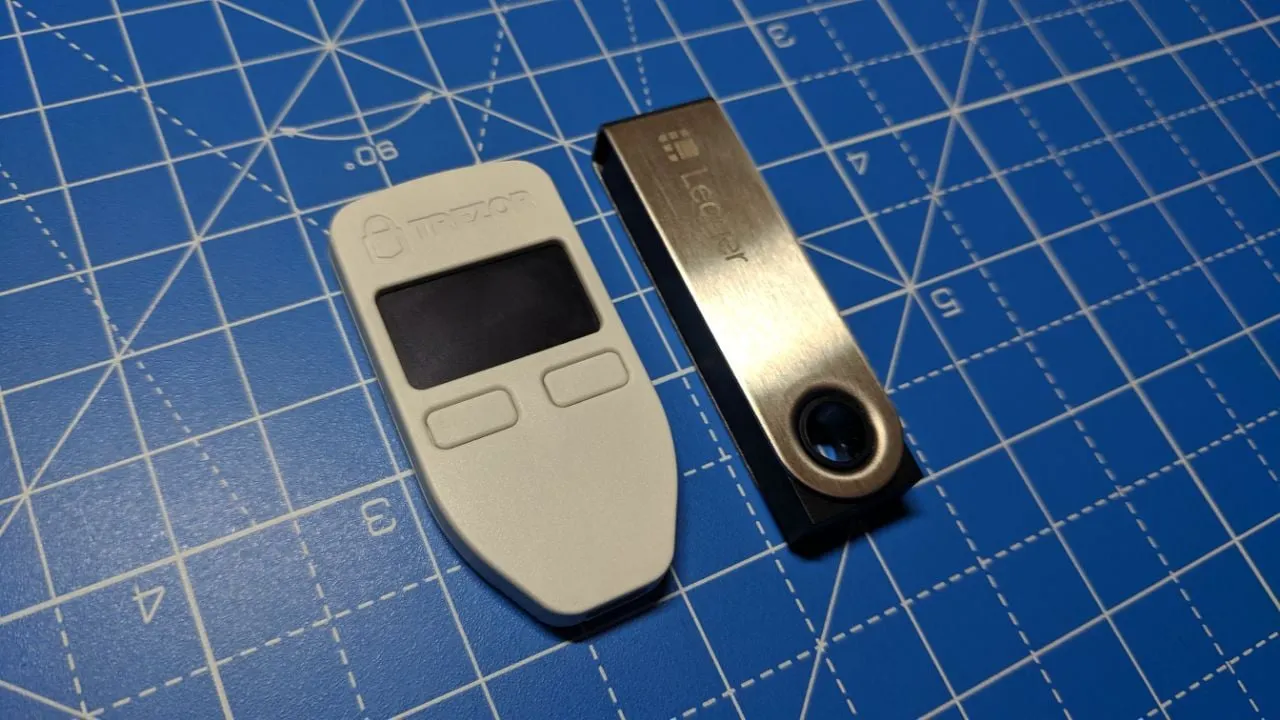 At just 60mm x 30mm x 6mm, the Trezor One is certainly small. So small, in fact, that it can fit into most wallets without much of a struggle. It also weighs just 12g, and can be attached to a keyring or pocket thanks to the included lanyard, making it extremely portable.
Satoshi Labs took a different design route from its rival Ledger—forgoing the thumb drive-like form factor of the Nano S and later Nano X in favor of something that looks more like a fancy car key.
The Trezor One is made primarily of plastic and features a 128 x 64 pixel OLED display, a micro-USB port and two buttons as its main design features.
Although its construction is solid, the Trezor One's light weight and lack of premium materials do give it a slightly cheap feel, particularly when compared to the aluminum-clad Ledger Nano S and X.
Trezor Model One review: What's in the box?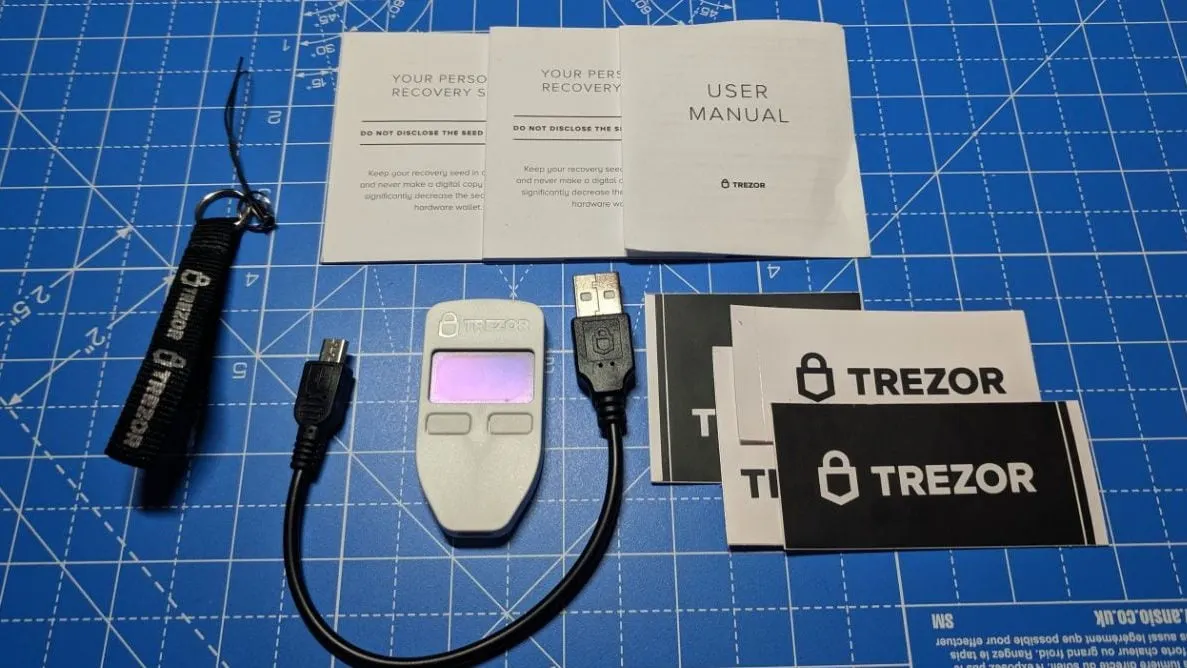 The Trezor One comes packed in a small, 100mm x 100x box that's sealed at both ends with a tamper-proof holographic seal.
Inside, you will find a cellophane-wrapped Trezor One device, an incredibly short micro-USB cable, a lanyard and a user manual.
The device is also supplied with two booklets that can be used to backup your 24-word recovery seed, as well as a selection of Trezor stickers.
Trezor Model One review: Ease of use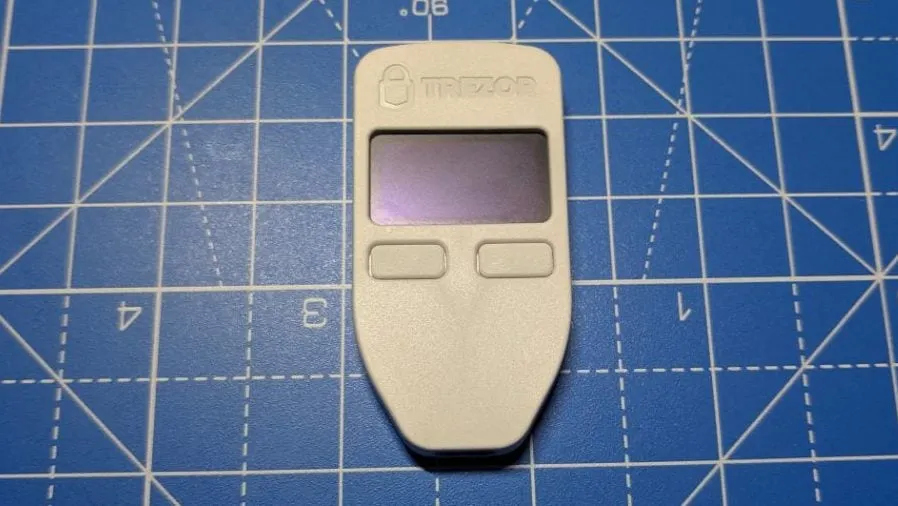 The Trezor One is designed to be as small as possible, which does pose a challenge as far as usability is concerned. After all, the device only features two buttons and a small screen with which to navigate its menus. Although the screen's dinky, it can display a good amount of information without requiring you to scroll left and right—a common gripe with the Ledger Nano S.
Fortunately, except when you're first setting up the Trezor One, you won't usually need to interact directly with the device; the associated Trezor Bridge software is used to handle most tasks, such as initiating payments and verifying messages.
As such, you'll only tend to use the left and right buttons to confirm payment addresses, verify security changes and authorize logins.
Unlike its main competitors, the Ledger Nano S and Nano X, you don't need to download individual apps to the device in order to store multiple different cryptocurrencies. Instead, the wallet setup process automatically creates accounts for multiple different crypto assets, making for a simpler user experience.
However, we can't help but feel that the included micro-USB cable could have been at least slightly longer. At just 200mm long, the cable can make connecting to a computer and using the device more challenging than it needs to be—particularly if your computer isn't in an accessible location.
Overall, though, the Trezor One is simple to use, and should pose few challenges for even the least experienced cryptocurrency investors.
Trezor Model One review: Getting started

Getting the Trezor One up and running is a relatively painless process that should take around five to ten minutes.
To begin, connect the device to your computer using the included micro-USB cable, and download and install the Trezor Bridge application for your device. Once installed, navigate to trezor.io/start and connect your Trezor device.
You will then be prompted to create a wallet, after which you'll be prompted to back up your 24-word recovery phrase. Follow the on-screen prompts and store your recovery phrase in a safe place, as you will need this to recover your wallet should anything happen to your Trezor device.
Lastly, you will probably want to create a PIN code that will be used to load up the Trezor and confirm payment information. To set this up, click the 'Enable PIN' option in the Basic device settings menu, and use the grid displayed in Trezor Bridge to select a PIN.
That's it! Once this has been completed you'll be able to access your wallets via the Trezor Bridge web app.
Trezor Model One review: Features and benefits
When looking at the functionality offered by the Trezor Model One and comparing it to that offered by modern wallets such as the Ledger Nano X and CoolWallet S, it's clear how much things have progressed since the Trezor wallet was first released almost six years ago.
The Trezor One requires a wired connection, which makes it less portable than modern Bluetooth-enabled hardware wallets like the Nano X, and leaves it feeling dated. Likewise, a lack of multi-signature support outside of the third-party Electrum wallet can make the Trezor less suitable for those wielding large portfolios.
On the plus side, the Trezor Bridge client does feature built-in exchange functionality as well as a simple fiat on-ramp—allowing users to purchase and trade cryptocurrencies with hardware wallet-grade security.
In terms of compatibility, the Trezor One works with all major operating systems, including Windows, MacOS and Linux, and can also connect to Android devices using an OTG cable (sold separately). Unfortunately, iPhone users will need to look to alternatives, since Trezor Bridge isn't currently available on iOS.
The Trezor wallet can also be used as a two-factor authentication U2F security key for services like Google, GitHub and Dropbox, as well as a huge variety of other platforms. Once configured with a service, you'll need to have the Trezor to hand in order to log into that service in future.
Overall, the Trezor Model One offers a robust feature set, which, although limited, is still worthy of consideration thanks to its low price point.
Trezor Model One review: Supported assets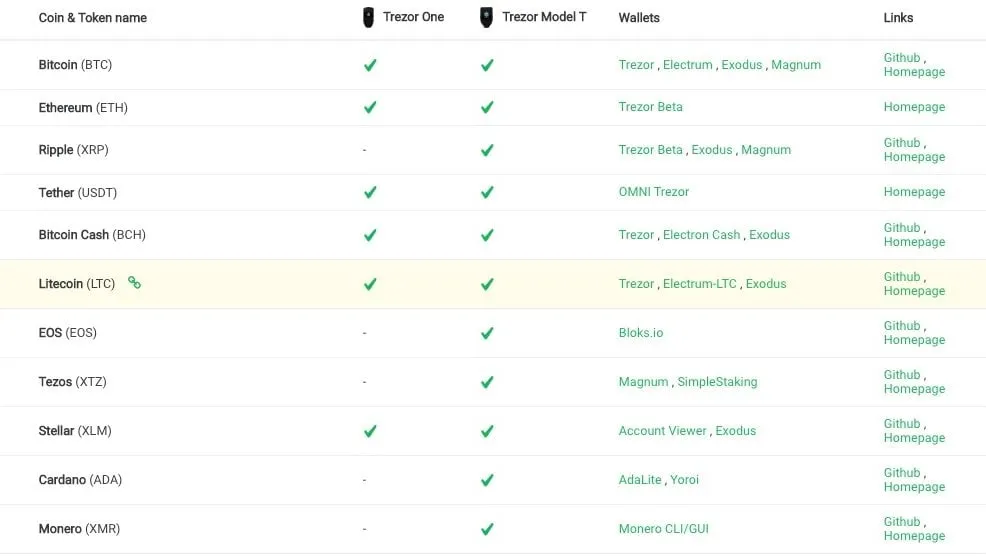 When it comes to cryptocurrency support, SatoshiLabs has left little to the imagination; the vast majority of cryptocurrencies with any value can be securely stored on the Trezor One.
In total, the device supports well over 1,000 different crypto assets, including just over half of the top 20 cryptocurrencies by market capitalization, such as;
Bitcoin (BTC)
Ethereum (ETH)
Litecoin (LTC)
Tether (USDT)
Bitcoin Cash (BCH)
Stellar (XLM)
Zcash (ZEC)
Dash
As such, it might be more informative to provide a brief list of cryptocurrencies the Trezor One doesn't support. As of writing, the Trezor Model One doesn't support;
XRP
EOS
Tron (TRX)
Tezos (XTZ)
Cardano (ADA)
Monero (XMR)
In addition to a handful of other, less notable crypto assets.
However, many of the crypto assets not supported by the Trezor One, are supported by its similarly-priced main competitor, the Ledger Nano S.
With that said, it appears SatoshiLabs has reserved much of its development firepower for the more expensive Trezor Model T, since the newer device is compatible with a much wider range of crypto assets. As a result, the number of new coins added to the Trezor One has stagnated as of late.
Trezor Model One review: Security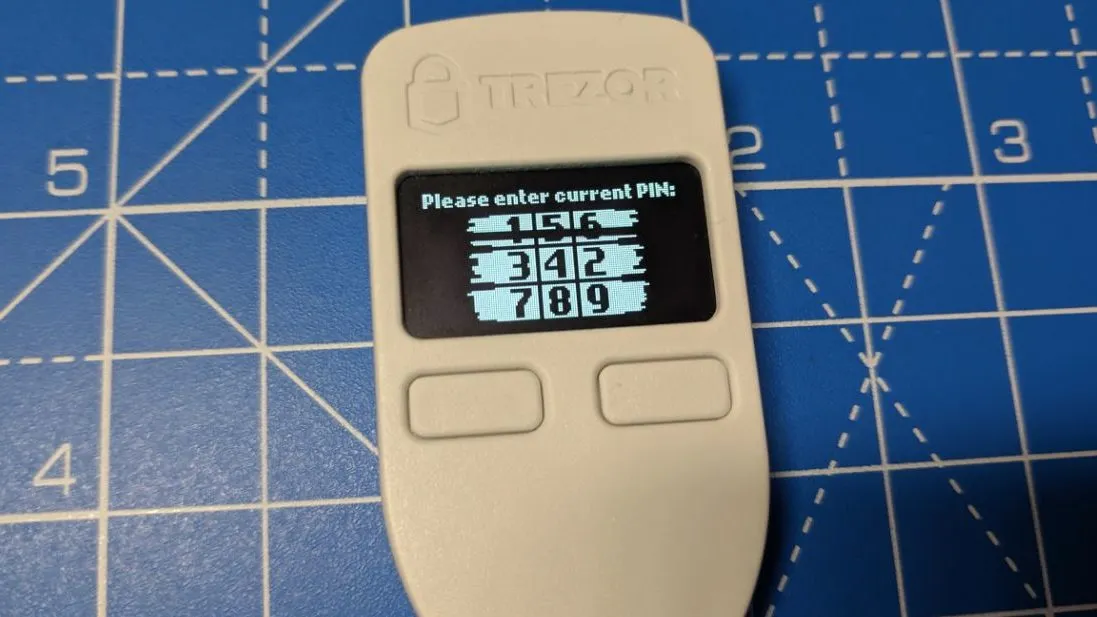 As you might expect from a hardware wallet, one of the main selling points of the Trezor One is its security. Compared to the security offered by most standard wallet solutions, including mobile and exchange wallets, the Trezor One can be considered a giant leap forward.
One reason the Trezor One is so secure is that the device stores all crypto asset private keys in an offline environment, while ensuring they are never exposed to connected devices. Because of this, the Trezor One provides owners with immunity to most known methods used to steal crypto assets—which typically revolve around using fake wallets or compromised web services to exfiltrate user funds.
Access to the Trezor One itself can also be protected by an optional PIN. If used, this PIN will need to be entered before the device loads up, and is practically impossible to brute-force, since the firmware enforces an increasingly long delay between each attempt. This delay (in seconds) is equal to 1.8 to the power of the number of failed attempts. As such, 10 failed attempts would lead to a delay of almost 6 minutes (1.8⌃10 seconds), whereas the device is wiped after 16 attempts.
Fortunately, even if the device is wiped, the 24-word recovery seed provided during setup can be used to restore your wallet. This can also be extended with an optional 25th word, which can further boost security if stored separately from the original 24-word recovery phrase.
SatoshiLabs has also taken steps to ensure the Trezor One itself cannot be easily modified or compromised, by sealing the enclosure with ultrasound. This makes it difficult to pry the device open in order to install something like a wireless transmitter without suspicion, since it would be nearly impossible to conceal the entry point. It is also possible to set a custom home screen on the device, which should make it difficult for somebody to simply replace the device with a fake designed to capture your pin.
The Trezor One also features a write-protected bootloader with a disabled JTAG to prevent firmware modification, and will only run if the firmware is properly signed by SatoshiLabs—making firmware modification attempts futile.
Trezor Model One review: Verdict
At around $69, the Trezor Model One features top-notch security and support for a good range of crypto assets. However, the wallet falls short when measured against modern solutions like the Ledger Nano X and Trezor Model T.
When compared to wallets in its own price range, the Trezor One does fare slightly better—being roughly comparable to a Ledger Nano S in terms of features, while exceeding the feature set of the cheaper KeepKey wallet.
Moreover, though the Trezor One does support a good array of crypto assets, it isn't compatible with several highly popular digital assets, including several in the top 10 by market cap. As such, those with a diverse cryptocurrency portfolio could find it to be overly restrictive—particularly considering that several other wallets on the market that do offer support for these.
Overall, the Trezor One is certainly past its heyday, but it could be worth a look when it's available on discount.
Rating: 2/5