Celebrities, politicians, and other notable Twitter users have begun joining the decentralized social network Bluesky as the app rolls out to more users.
After launching in the App Store in March and on Android last week, Bluesky has begun picking up new adopters through its invite-only rollout.
They include Twitter power users like U.S. congresswoman Alexandria Ocasio-Cortez, who has 13.4 million followers on Twitter, and model Chrissy Teigen, who has 12.8 million.
What is Bluesky?
Bluesky has its origins inside Twitter itself, having been set up as a working group in 2019 by former CEO Jack Dorsey to research and create a decentralized social media protocol.
The initiative is now separate from Twitter, but Dorsey–who himself left Twitter in 2021–sits on its board.
The Bluesky app is built on the Authenticated Transport (AT) protocol, a federated social network framework. This means many sites make up the network instead of just one, and businesses and individuals can also choose to self-host if they want.
But for now, most people are just looking at the project's own app, Bluesky, which has a lot of the same features as Twitter. At the end of February, there were about 2,000 users on Bluesky.
By last week, there were 25,000, this week, per Bloomberg, there are 40,000, and today will bring the 50,000 user milestone.
So how do you get in on the action?
How to get a Bluesky invite
Anyone wishing to join Bluesky can join the waitlist to try the beta before it becomes fully available to the public.
This will, eventually, get you an invite code. But there's no telling how long it will take.
However, certain Bluesky developers and users have the ability to share invite codes with others. So if you're lucky, someone in your network may have a way in. According to one Bluesky developer, each member will get one code per week to share for every two weeks he or she has been on the platform, meaning members who have been on the service longer will be able to grow their networks faster.
The Bluesky team has the ability to grant a user a larger number of invites, which has been the case for some especially active users.
It's also worth keeping an eye on updates from the development team.
Earlier this month, for example, Bluesky started an early access program for people with a Substack newsletter, in a bid to get more writers on the platform.
Finally, some enterprising users have been selling invite codes. Ebay currently lists a few, with prices as high as $300 each. On the other end of the spectrum, some members have been posting codes publicly to Twitter—but these get snapped up almost instantly.
Growing pains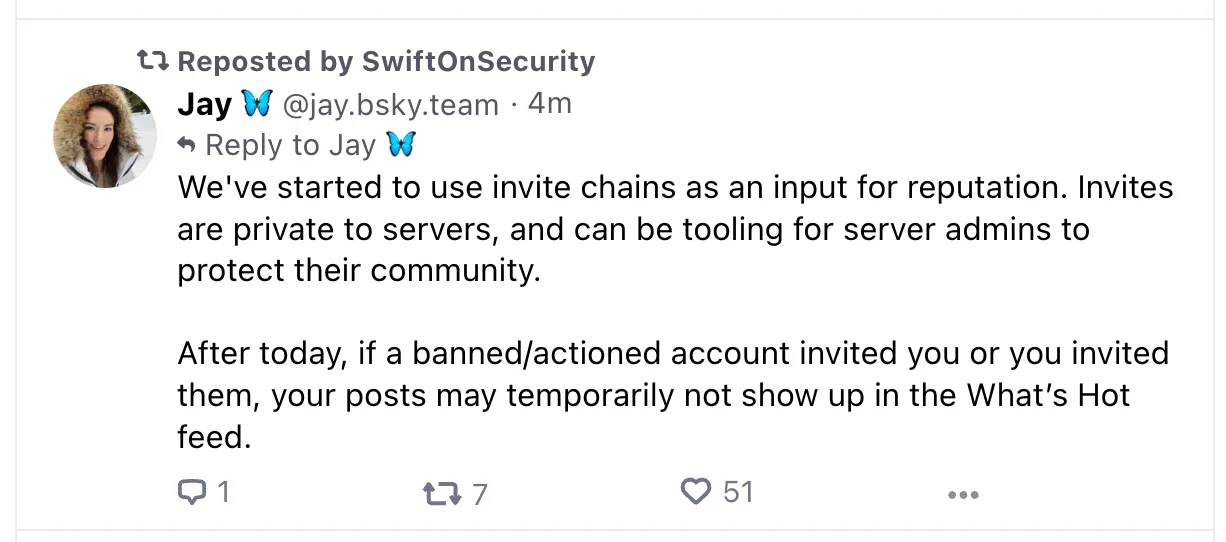 The system is not perfect: last week, hackers cracked the algorithm that the Bluesky team was using to generate invite codes, leading to the mass release of codes and a sudden influx of users. Bluesky administrators opted to reset the invite code generator, invalidating a number of older codes, and also removed at least a handful of new members for unwelcome activity.
Be careful who you share your invites with, as well. Bluesky CEO Jay Graber said this week that the team is tracking invite chains, and may penalize the inviter if an invitee ends up getting gets booted from the community.
If all else fails, you can wait for the app to launch publicly. At present, it's unclear when this will be.
You can follow Decrypt on Bluesky at @decryptmedia.bsky.social.