Creator royalties have taken a back seat in the NFT space as marketplace OpenSea recently slashed fees in response to its new rival Blur, which has surged ahead in terms of trading volume on NFTs in part by charging zero trading fees and not enforcing creator royalties.
Creator royalties, however, provide an ongoing revenue stream to NFT projects beyond their initial sales—typically a 5% to 10% cut when a token is resold—and many companies are now being led astray, Animoca Brands Chairman Yat Siu told Decrypt at NFT Paris.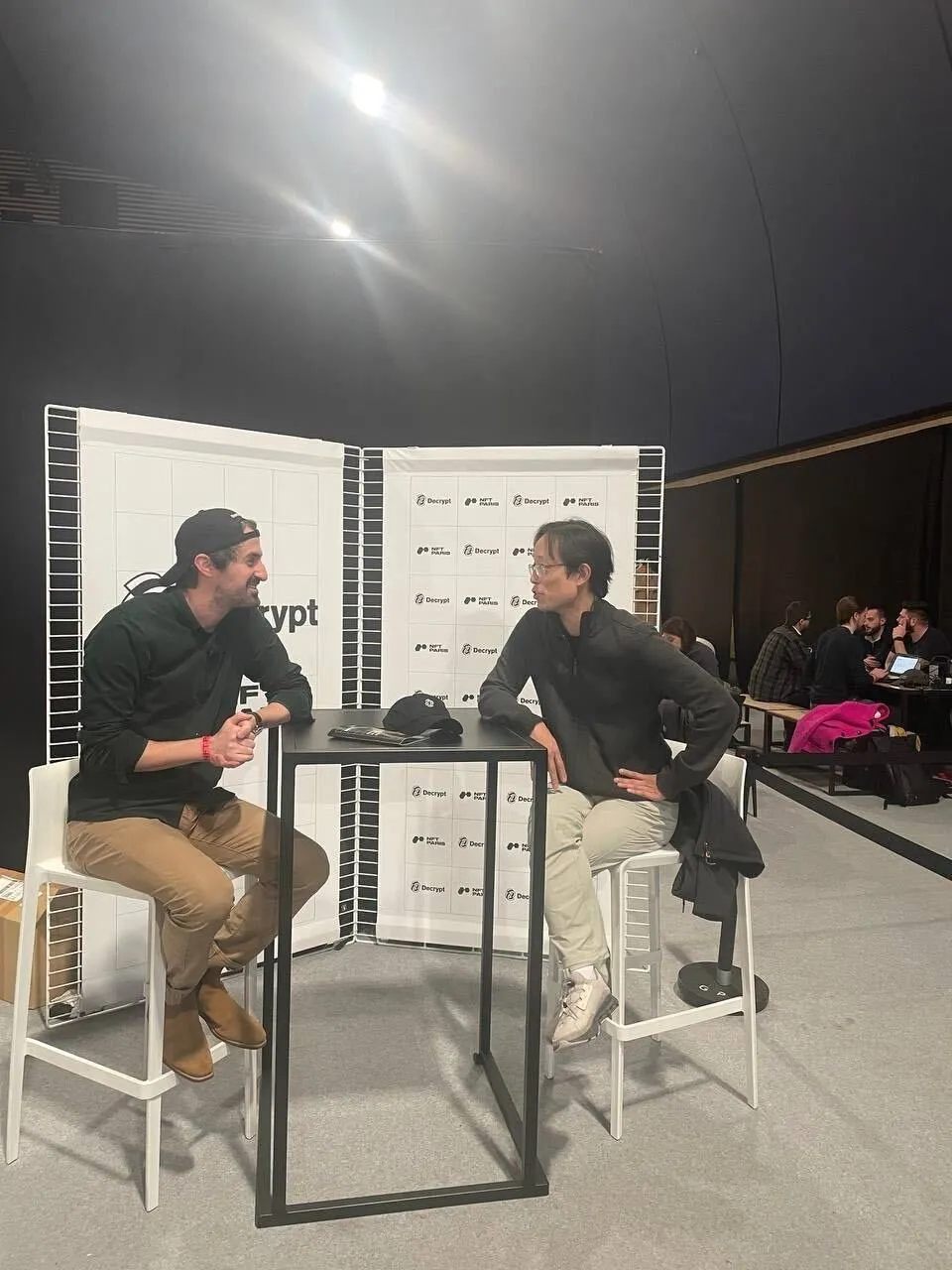 "This is all about grabbing market share, and it's at the expense of the creators," he said, adding that the recent shift away from royalties is "wrong for many, many reasons."
Siu described royalties as an essential component of the creator economy, comparing it to the fuel that drives an engine or even the gas fees charged to process each transaction on Ethereum's network.
The chairman of Animoca Brands, the company behind projects like the Ethereum-based metaverse game The Sandbox, said that culture is the cornerstone of economic activity in today's society, whether that be in Web3 or beyond, and can't be taken for granted.
"Culture is the biggest soft power and perhaps the biggest driver of economic growth," Siu said, pointing out that the world's richest man is co-founder and CEO of LVMH Bernard Arnault, which owns brands including Gucci, Tiffany & Co., and Hennessy.
Without an economy that's based on culture, Siu said there wouldn't be streaming services like Netflix and HBO or gaming consoles made by Sony or Microsoft, because culture is the fundamental reason that people engage with those technologies—whether via television shows, movies, or video games.
Siu said that reducing royalties for creators in the NFT space will erode the space's existing culture and do more damage to the digital assets industry than good. He compared the pivot away from creators by NFT marketplaces to companies biting the hand that feeds them.
"If you kill the royalties, you kill the very industry that fed you, so it has to be protected," he said.
Prioritizing profits over creators' fair share is part of a mentality rooted in traditional finance that influences some actors in the Web3 space, according to Siu.
"There's a small percentage of people, as we have in the finance world, that are basically from crypto Wall Street, and what they do is just look at profit maximization," he said. "Unfortunately, for people in the finance world, that's their lens."
While NFTs are assets—digital tokens that signify the ownership of an item, often digital art—Siu pointed out that people don't often trade cultural items with the same frequency that they do with financial ones like stocks. He said that many of the items people purchase in the physical world have some meaning attached to them that contributes to one's self-perceived identity.
"Think about all the things that you buy in the physical world; they form who you are," Siu said. "You choose to buy a certain shoe, not because you think you can flip it—you choose to buy it because it says something about you."
And ultimately, Siu believes that these types of purchases, where people buy a particular digital asset because it says something about them, will be a key driver of the adoption of Web3.
"Whether it's a district in Sandbox, or just [living] within L.A., it's saying something about who you are, or who you want to be," Siu said, saying that even the location in which someone chooses to spend their time has cultural elements. "These are all the points of sort of culture that really is relevant and important."