As Hollywood continues rolling out the red carpet for awards season, another red carpet rolled out Monday night for Web3 as actor and filmmaker David Bianchi invited celebrities and guests to attend a public table reading for his upcoming series, "RZR."
"I am absolutely convinced that within the next three to five years, everything that we interact with from music, film, intellectual property, even information systems will be somehow tethered to a blockchain mechanism," Bianchi says.
Table reads are a signature part of the film and television development process, offering the cast, crew, and creative team a chance to hear the script read aloud. These reads typically happen behind closed doors on a soundstage. Bianchi said this was something he wanted to change.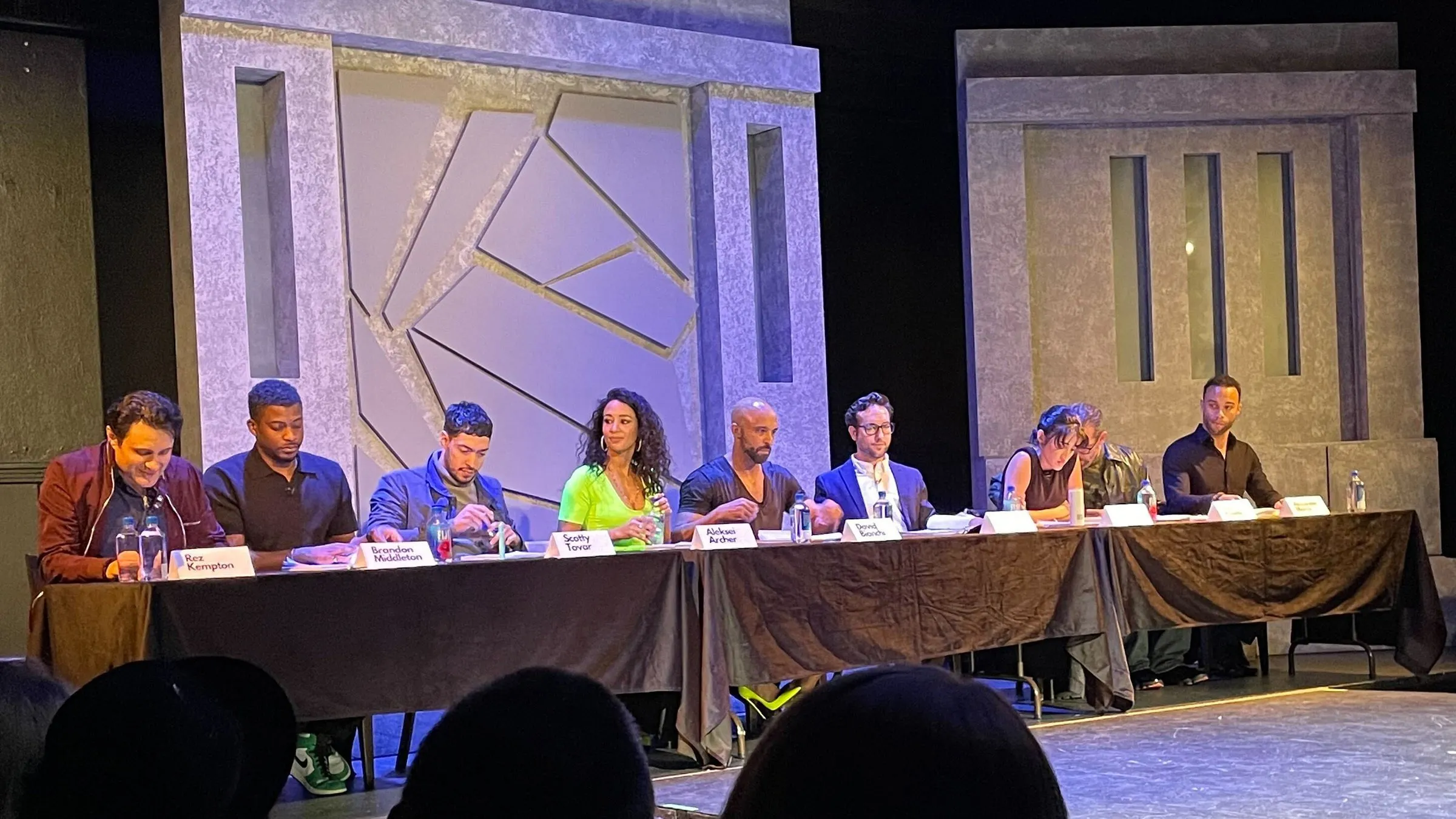 What's unusual about this [table read] is we're making it public," Bianchi told Decrypt at the event. "In the spirit of decentralization, we're doing everything out in the open; I am very confident in the material, I'm very confident in all of my partnerships," he said.
"RZR" takes place in a dystopian Los Angeles, rife with neural implants, hacker culture, and the underbelly of black market crime. Bianchi plays Grimm, a war veteran and engineer who augments his body to access the web using neural implants, similar to the netrunners of Netflix's "Cyberpunk: Edgerunners."
"I always call it like 'Black Mirror' meets 'Mr. Robot' with a little 'Children of Men' sprinkled on top," Bianchi said.
Bianchi, whose previous credits include Syfy's "Resident Alien" and USA Network's "Queen of the South," says the genesis of "RZR" came from a conversation with Sarah Buxton, the COO of Gala Film, in the summer of 2022. The production process began soon after, with Bianchi creating the series, starting on the script—alongside his long-time writing partner and episode director Daniel J. Pico—and minting two "RZR" NFT drops.
Originally launched in 2019, Gala is dedicated to Web3 games and entertainment. Gala Film will produce and handle distribution for "RZR."
"We at Gala are proud to produce this project with David, continuing our mission of bringing creative power to artists, both established and emerging," Gala COO Sarah Buxton said in a statement sent to Decrypt. "With this marking our first project under Gala Film, we're breaking new ground in how Web3 entertainment is presented to audiences and are excited for our future projects as well."
Filming for "RZR" begins next month, with a premiere date later this year. Noelle Hubbell ("Don't Worry Darling," "Superstore") will produce with Gala Film, and CAA's Claire Koonce ("Black Panther," "Three Billboards Outside Ebbing, Missouri") will serve as casting director.
"RZR" aims to be firmly grounded in blockchain technology. While digital currency is not new to the cyberpunk genre—"Cyberpunk 2077" or "Westworld," for example—"RZR" puts digital assets like NFTs and cryptocurrencies like Ethereum front and center.
Non-fungible tokens, or NFTs, allow collectors to transparently provide proof of ownership for digital art, music, data, in-game assets, personal records, and more. The last few years have seen film productions, musicians, and others use NFTs not only to raise funds for their projects but also as a way to connect directly with fans and give them the ability to own a piece of the film or access aspects of the filming process including meeting directors, cinematographers, and production designers.
"I think the ability to have an immutable technology that can create scarcity, and that can't be manipulated, broken or destroyed, is absolutely fundamental to the film and entertainment process because intellectual property has always been a problem," he said, adding that blockchain allowed him to break free from needing a side hustle.
Bianchi says "RZR" is fully funded and that while the "RZR" NFTs were sold to build engagement and community around the project, the project was not leaning on the hope of preselling NFTs.
"Most every other independent filmmaker in the space is selling NFTs based on a speculative project," he explains. "You sell a bunch of NFTs, then you have to hope that you make a good movie or a good show… you have to hope it's solid, you have to hope to have distribution."
Bianchi says his project is already greenlit and going into production, and guaranteed to have distribution on Gala Film with a yet-to-be-named "major" streaming service at a later date.
"We're offering something much more attractive and much more lucrative to our NFT community and our potential holders," he said.
"I found that the blockchain and NFT community is highly influential, they're sophisticated, they're tech savvy, they're young, they're hungry, and they're interested in high art," Bianchi added. "All those things combined, I think, make an incredible, delicious gumbo for what blockchain potential is for film."