Though inflows into crypto products reached $37.3 million last week, more than two-thirds of that amount (68%) was into short investment products, digital asset investment firm CoinShares said in a new report Monday. Compared to the previous week, last week's total inflows are nearly four times as high.
Germany and Switzerland led inflows in Europe ($14 million and $10 million, respectively), while Hong Kong, on the other hand, saw outflows from long investment products to the tune of $11 million.
American investors were the most skeptical, however, with 95% of inflows in the U.S. moving into short Bitcoin products.
CoinShares' weekly reports cover investment inflows and outflows in popular ETPs, mutual funds, and over-the-counter (OTC) trusts referencing Bitcoin (BTC), Ethereum (ETH), and other altcoins. Importantly, these are not direct investments into the cryptocurrencies that these products represent.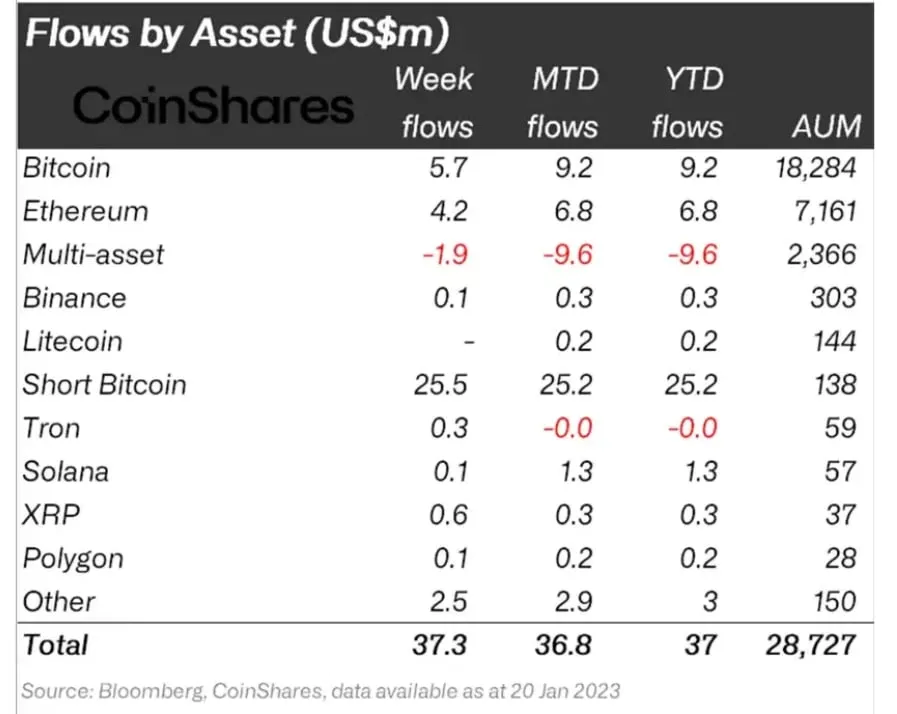 Last week also saw the trading volume for crypto investment products rise to $1.6 billion, which is above the 90-day average of $990 million, with total assets under management reaching $29 billion—the highest since September last year.
However, the devil is in the details, as the narrative is dominated by short-BTC inflows ($25.5 million), almost five times the inflow for long-BTC products, which accounted for a mere $5.7 million.
This represents the largest weekly inflow in short products since July 2022 ($51 million), the report continues.
Such a picture is very much in line with the division of opinions within the crypto investor community.
Investors are split on whether the recent market's upward trend, which saw Bitcoin briefly surpass $23,000 over the weekend, is just the beginning of a new bull run, or a so-called "bull trap."