National Geographic has launched its first NFTs on Polygon and posted a detailed explainer of the technology on social media—prompting outright rage from hundreds of fans of the 135-year-old nature-centric magazine responding with rage. 
NatGeo's Instagram, Twitter, and Facebook accounts posted an image of a Bored Ape Yacht Club (BAYC) NFT Monday with a caption detailing the rise of NFTs, which are unique blockchain tokens that signify ownership. 
The social media posts were designed to prepare the magazine's mainstream audience for its own NFT drop on Polygon, which dropped Tuesday and features work from 16 different photographers including Justin Aversano, Reuben Wu, Cath Simard, and John Knopf. 
The Backlash
The response to NatGeo merely mentioning NFTs on its social media accounts was met with an overwhelming number of negative comments, calling NFTs a "bubble" that "already popped," "bullshit," "an extinct species," and even "another way to launder." 
Many urged NatGeo to "delete this."
Others asserted that NFTs were an outright "scam," effectively throwing the whole technology itself under the bus—even though people, not the technology, create NFT phishing scams and "rug pulls."
Even the manager of acclaimed photographer Ansel Adams' account chimed into the conversation, replying to NatGeo's Instagram post about NFTs with a simple "Nope."
This kind of NFT backlash, sans nuance, is far from new. Netflix saw fallout last year when it created free NFTs as a part of its promotions for the latest season of "Stranger Things." And the video game industry has seen continued, consistent backlash from gaming publications and gamers themselves who despise the technology.
It seems that the general public's perception of NFTs hasn't changed. The Ethereum Merge, which was executed in September 2022, didn't do much to appease those convinced that NFTs were bad for the environment, either, despite the fact that the Ethereum Merge reduced ETH's energy consumption by 99.998%, per Ethereum Foundation data. 
NatGeo has a massive following, with 256 million on Instagram, 49 million on Facebook, and well over 28.6 million on Twitter. Despite all the hate, though, its Instagram post about NFTs still received over 100,000 likes. 
Despite the flurry of rage, it is notable that NatGeo has chosen to launch NFTs at a time where NFT trading volume is a sliver of what it once was. According to a Dune Analytics dashboard, Polygon saw just $15.39 million in total NFT volume traded on OpenSea last month, a dramatic 80.5% decrease from its all-time high of roughly $79.45 million a year ago.
NFT Creators' Perspectives
While the majority of the more than 3,000 Instagram comments and nearly 200 Facebook comments were negative, some NFT artists chimed in to suggest that the majority of dissenters simply weren't educated enough about NFTs.
"Welcome to the comment section, here you'll witness a sea of people hating on what they don't understand in their natural habitat," wrote artist Ryan Hawthorne, who has released Ethereum NFTs with prestigious auction house Sotheby's.
"It's a shame most people commenting negatives takes here won't have taken the time to learn about the useful applications and problems the tech is solving/has the potential to solve," said Betty, the pseudonymous cofounder of Ethereum NFT project Deadfellaz.
Not all the NFT creators and artists who responded came to NatGeo's defense. The NFT artist Chuck Anderson, who goes by the name nopattern, criticized the magazine for using an image of a BAYC NFT.
"Of all the incredible projects, artists, and concepts in the NFT ecosystem, BAYC is far and away the corniest and most tasteless example," Anderson wrote. "Bummer [that] this is what people who haven't hopped in are still being fed."  
Snowcrash Struggles
Those interested in minting NatGeo NFTs have also reported technical problems. The mint, engineered by NFT platform Snowcrash, appears to be facing ongoing technical issues.
This frustrated potential holders, who have balked at Snowcrash for calling itself a "premier NFT trading platform" and have critiqued the platform's communication efforts with prospective buyers. More than 13 different Twitter users expressed their issues with the mint site. Decrypt found that it was not able to connect a wallet to the mint site even 30 minutes after the mint was scheduled to go live.
The mint issues appeared to be resolved about an hour later.
Update: National Geographic has since deleted its social media posts featuring the BAYC NFT across its Instagram, Twitter, and Facebook channels.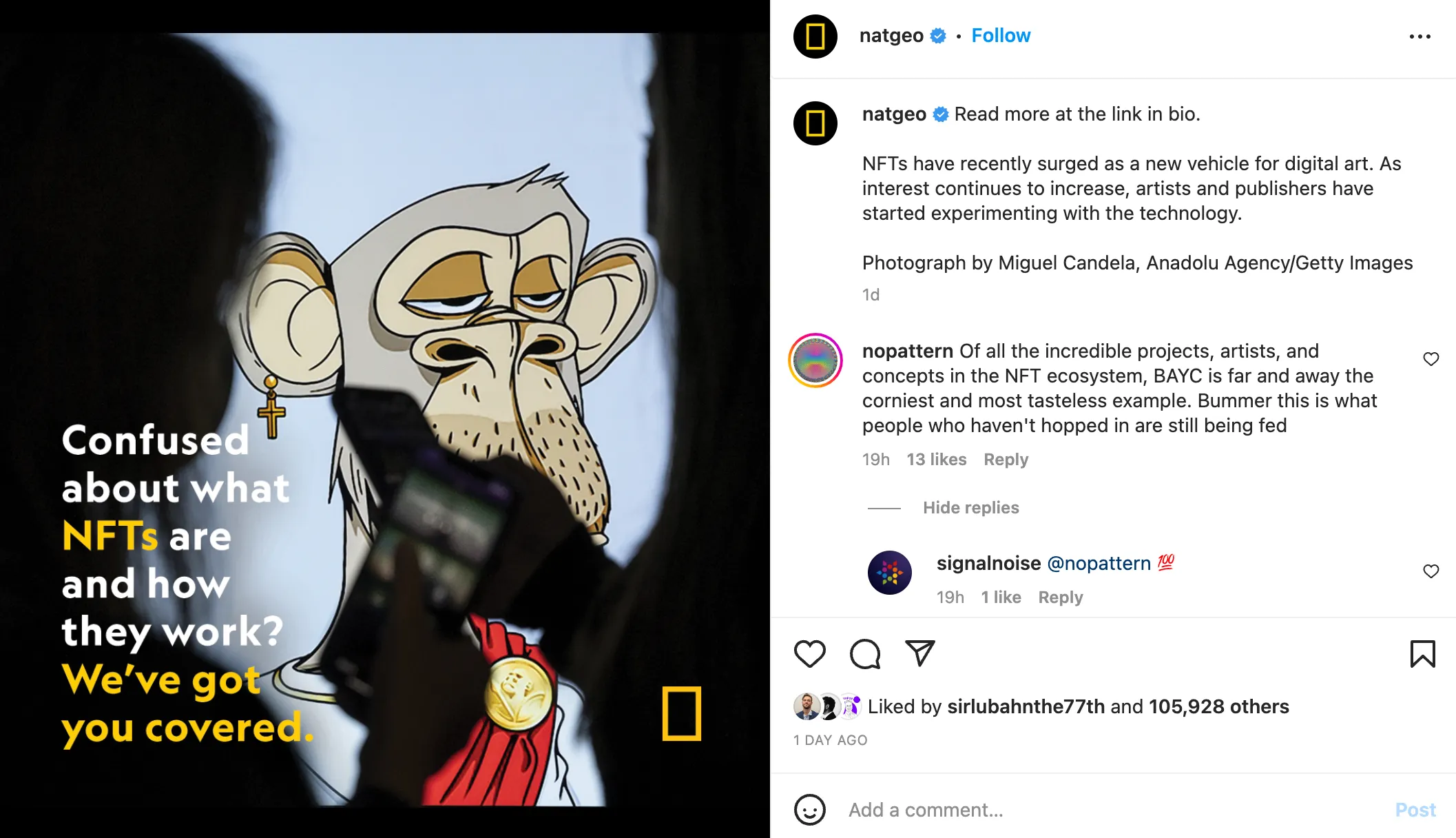 National Geographic and Snowcrash have not yet responded to Decrypt's request for comment.