In brief
Gary Vaynerchuk's NFT project VeeFriends will launch plush toys and vinyl figurines later this month through Macy's and its Toys"R"Us in-store brand.
VeeFriends plans to expand into other types of media and products following a Series 2 NFT launch and $50 million funding round.
Entrepreneur and investor Gary Vaynerchuk's hand-drawn VeeFriends doodles went from paper to NFTs, yielding more than $300 million worth of trading volume and leading to a Christie's auction, brand partnerships, and May's VeeCon convention. Now Gary Vee's characters have been turned into toys that are coming to America's top department store chain.
VeeFriends will debut plush and vinyl toys later this month through Macy's and its Toys"R"Us brand, which is relaunching within all Macy's locations in the United States. The toys are based on 10 total VeeFriends characters from the broader NFT collection, and were designed in collaboration with toy and entertainment startup Toikido.
Vaynerchuk's characters like Practical Peacock, Willful Wizard, and Patient Panda are being turned into stuffed toys, as well as vinyl figurines that are randomly distributed into "blind boxes." The first run of toys will be available for sale starting October 17, and will also be available via the Macy's and Toys"R"Us websites, as well as the VeeFriends website.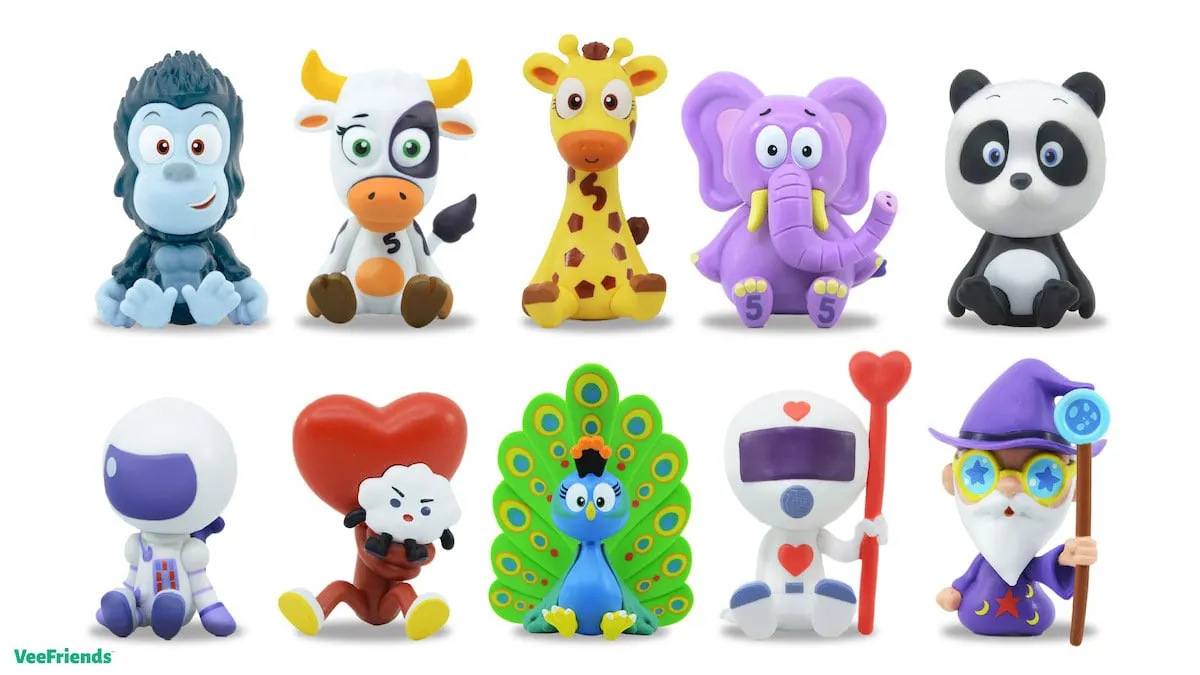 Toys"R"Us was once a popular independent chain, but it shut down in 2018 following bankruptcy proceedings. VeeFriends president Andy Krainak told Decrypt that the "iconic brand" holds a special place in Vaynerchuk's heart as a toy collector (and flipper). In a press release, Vaynerchuk said that the deal "means way more to me than you could ever imagine."
VeeFriends' shift from NFT project to mainstream products was telegraphed earlier this year when the project launched its Series 2 collection. While the initial 10,255 Ethereum NFTs (released in 2021) were created directly from Vaynerchuk's own marker-based doodles, the 55,000 new Series 2 NFTs on Ethereum have a more polished, cartoon-like allure.
That was intentional, Vaynerchuk told Decrypt in May, to provide the backbone for a wide array of potential VeeFriends products—from merchandise to apparel, packaged food, games, and more. Vaynerchuk said then that VeeFriends needed to "stand up the intellectual property" by transitioning to more robust, fleshed-out character designs for his creations.
VeeFriends is still built around Vaynerchuk's focus on inspirational content, which has made him a social media celebrity, bestselling author, and more. But as the project shifts into new kinds of content and products, Krainak said that he doesn't view VeeFriends as just an NFT play anymore.
"If you asked me a year ago, I would say VeeFriends is an NFT company. Today, I think of VeeFriends as a transmedia or multimedia company where we're doing stories in all forms and fashions," he explained. "Any form or medium in which we can bring to life, if you will, the characters and traits that we're hoping to inspire in others."
Krainak said to expect more storytelling avenues ahead for VeeFriends as the company explores books, video games, and other formats. He said that the company is in its "infancy" in terms of generating daily online content, but that the goal is to make both community members and the broader public "fall in love with the characters" through story-driven initiatives.
The Macy's/Toys"R"Us launch comes following July's announcement of a $50 million seed funding round led by VC firm Andreessen Horowitz. Krainak said that the funds will aid in the expansion amid a rough overall crypto market in recent months.
"As we all can tell, we are in a little bit of a crypto winter and potentially a looming recession," he said. "Above anything else, it's just a security measure to make sure that we feel like we're capable and in the right position to continue to build this company for the foreseeable future. Having partners and taking that funding allows us to do so."
Expanding a brand from an exclusive NFT project into mass-market products is a tricky balancing act, however, as creators don't want to diminish the value or appeal of the original NFT source material by targeting a broader audience.
In the case of VeeFriends, Vaynerchuk and team have opted to reward certain NFT holders with free products—including these toys and other collaborations, like apparel. Collectors who own the NFT of any character being turned into a toy can claim a free version between today and October 18, plus those holders will get perks at upcoming toy launch events.
"We're always looking at opportunities to reward our current community and holders as they carry on this journey with us," said Krainak. "We are here to build VeeFriends over the next 40 years."
Editor's note: This article has been updated on October 4, 2022, at 9 am to reflect that the new Series 2 NFTs are also built on Ethereum, not Polygon.