As global investment in cryptocurrency and blockchain companies dropped to $14.2 billion in the first half of 2022 from a record $32.1 billion last year, accounting firm KPMG predicts that a slowdown in crypto investment will continue for the remainder of the year.
"During the first half of 2022, numerous factors combined to affect the upward trajectory of fintech investment globally, including geopolitical uncertainty, turbulent public markets, ongoing supply chain disruptions and challenges, high levels of inflation, and increasing interest rates," KPMG said in a new report. "With no end in sight to the levels of uncertainty, fintech investment in H2'22 could be quite subdued."
Some top deals in the first half of this year included crypto-friendly German fintech firm Trade Republic securing a $268 million extension to its $900 million Series C round in 2021, crypto infrastructure company Fireblocks raising $550 million, crypto exchange FTX securing $400 million, and Ethereum infrastructure builder ConsenSys nabbing $450 million.
"While investment remained very strong compared to pre-2021 results, [...] H2'22 could present more challenges for companies in the sector," said KPMG.
According to the firm, this is particularly relevant for retail firms offering coins, tokens, and non-fungible tokens (NFTs).
While the crypto sector "collapsed significantly" midway through the first six months of 2022 due to Russia's invasion of Ukraine, rising inflation, and the collapse of the Terra ecosystem, the report acknowledged that "investment at midyear remained well above all years prior to 2021."
"This highlights the growing maturity of the space and the breadth of technologies and solutions attracting investment," KPMG noted in the report.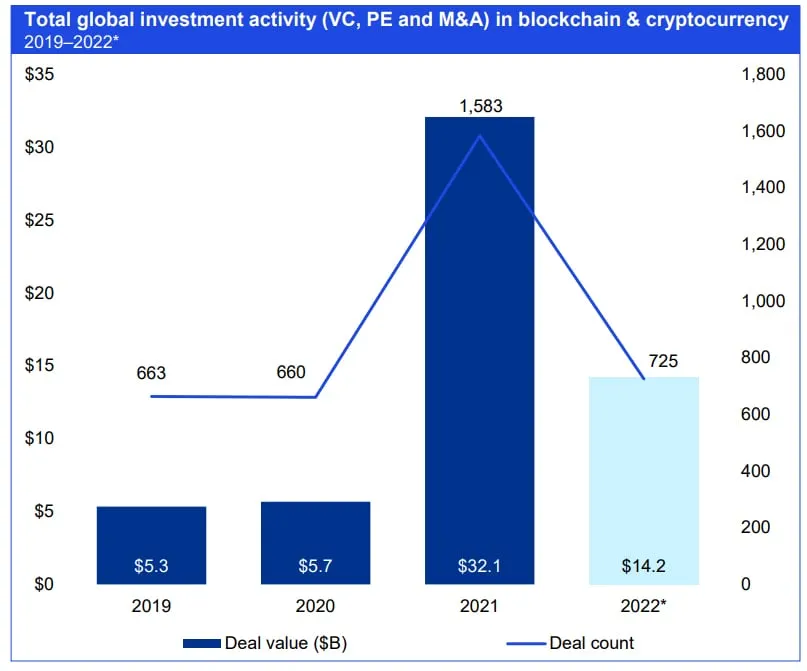 KPMG points to upcoming crypto trends
For the remainder of the year, KPMG expects investors to pivot toward blockchain infrastructure projects, particularly those focusing on the use of blockchain in financial market modernization, as well as to projects working on compliance and transaction traceability-related products.
The firm also sees increasing interest in stablecoins, "particularly from corporates looking to gain the operational advantages of crypto."
As for the ability to survive the bear market, KPMG said that some crypto companies will be "tested very hard as some look to recapitalize at lower valuations."
According to the firm, "well-managed crypto companies with healthy risk management policies, long-term vision, and strong cost and risk management approaches" will have an upper hand.
Others will go "bust," warned KPMG.