Cloud software company MicroStrategy today announced that Michael Saylor, a Bitcoin advocate who has served as the company's chief executive officer since 1989, will step down as CEO and transition to a new role of executive chairman.
Phong Le, the company's president, will assume the role of CEO at MicroStrategy, which is currently the public company with the largest Bitcoin treasury. The changes take effect on Monday, Aug. 8, and according to Saylor, the role split will allow him to focus even more significantly on the firm's Bitcoin holdings.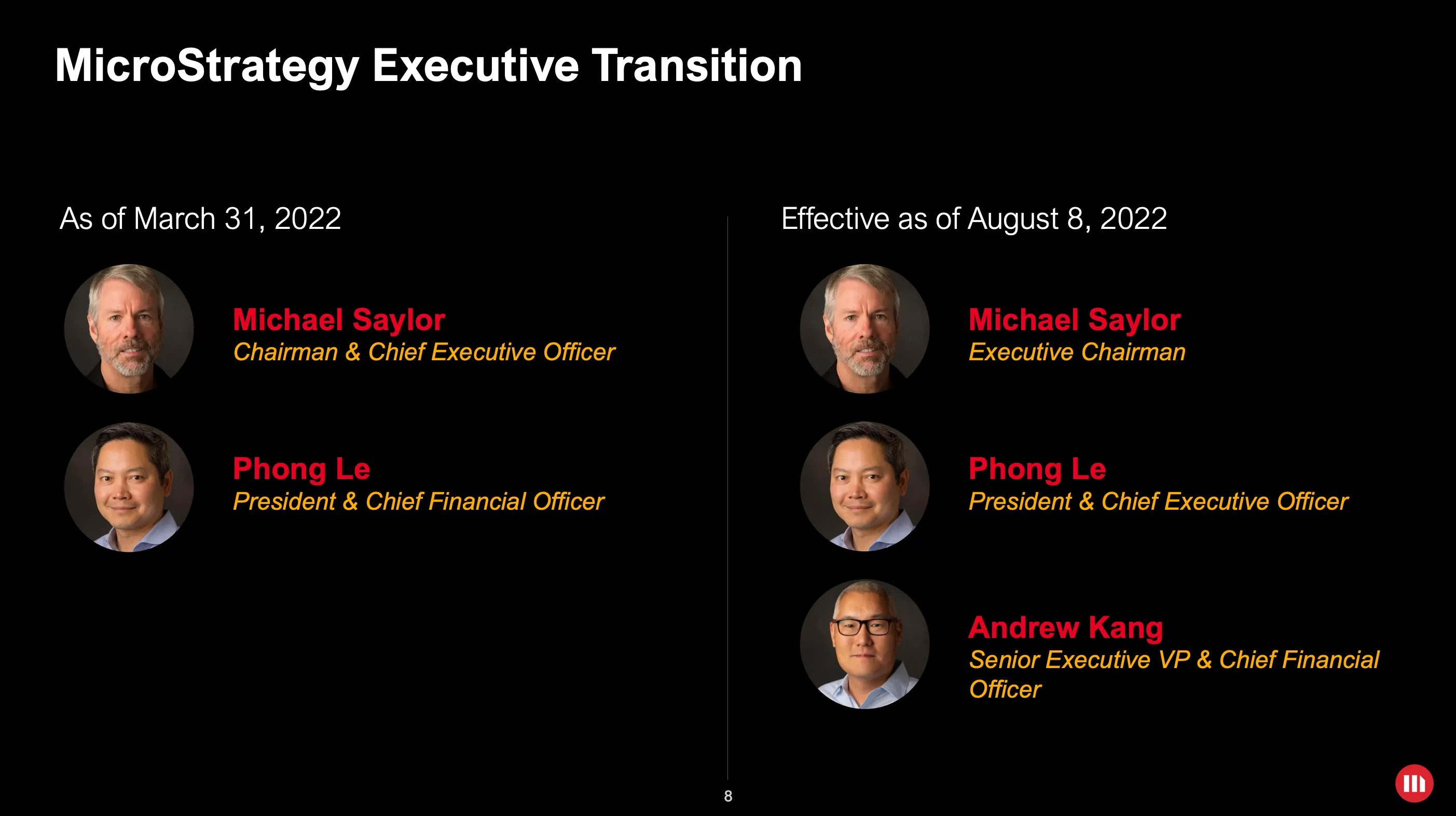 "I will remain an executive officer of the company and chairman of the Board of Directors, as well as assuming the chair of investments committee and leading our bitcoin acquisition strategy," Saylor said on the company's 2022 Q2 earnings call Tuesday. "My focus is bitcoin advocacy and education, like with the Bitcoin Mining Council, and being spokesperson and envoy to global bitcoin community."
Describing the move as "expanding and reorganizing the managing team," Saylor said it had been a decision seven years in the making.
"It was carefully considered and planned at the board leadership for many years," he said. "It was clear to company watchers that [Le] was heir apparent."
When asked what changes he wanted to make as CEO, Le said "this is a business-as-usual transition."
"We're very aligned in how to run an enterprise software company and very aligned in Bitcoin acquisition strategy," Le said. "I don't have any significant changes planned — the biggest change we've observed is [Chief Financial Officer Andrew Kang] joining us two months ago to run the financial organization."
"We're actually expanding the management team with Andrew, a full-time finance executive," Saylor clarified. "Our balance sheet has grown with our debt offerings and ability to issue equity and the explosion of our enterprise business value from $600 million to $5.5 billion means the finance function has become a full time job."
"The three of us make a great team and work together well," he added.
Prior to the earnings call, the company issued a press release announcing the leadership change.
"I believe that splitting the roles of Chairman and CEO will enable us to better pursue our two corporate strategies of acquiring and holding Bitcoin and growing our enterprise analytics software business," Saylor said in the release. "As Executive Chairman I will be able to focus more on our Bitcoin acquisition strategy and related bitcoin advocacy initiatives while Phong will be empowered as CEO to manage overall corporate operations."
As of June 29, MicroStrategy held 129,699 BTC, or about $2.99 billion worth at today's prices. Per the company, the coins were acquired at an average price of $30,664 apiece, which means the firm is currently underwater on its investment.
Editor's note: This article was updated to add comments from the company's quarterly earnings call and to clarify that the executive changes take effect next week.