Cryptocurrency exchange FTX surpassed its rival Coinbase in terms of Bitcoin trading volume in May, despite the latter boasting a record number of trades, according to a recent Kaiko report.
The discrepancy in trade volume versus the number of trades indicates that the average dollar value per trade on Coinbase was lower than that on FTX. "Average trade size on FTX (~$2k) is nearly double that on Coinbase (~$1k) for the BTC-USD pair," reads the report.
The milestone comes after steady growth over the past 18 months, during which FTX grew from just 5% of the market share to 44%.
Though Coinbase maintained its hold on users, Kaiko analysts reported that several smaller exchanges, notably Bitfinex and Bitstamp, shed a large slice of their market share.
"The trend suggests that the market is consolidating amid prolonged bearish sentiment with smaller players having a harder time keeping up with the competition," reads the report.
Coinbase also reported a major spike in trade volumes last month, however, failed to surpass the all-time highs seen during the sell-off on May 19, 2021, amid China's Bitcoin crackdown.
Back then, Bitcoin and Ethereum lost 30% and 40% of their value, respectively, with major crypto exchanges experiencing technical issues amid high trading activity.
Those issues included "intermittent downtime" on Coinbase, Binance pausing Ethereum-related token withdrawals, and Kraken reporting user "connectivity issues."
Coinbase premium turns negative
The report also highlights the so-called Coinbase premium—the difference between hourly Bitcoin prices on the BTC/USD pair on Coinbase and Binance. This premium turned negative in May after being positive for nearly six months.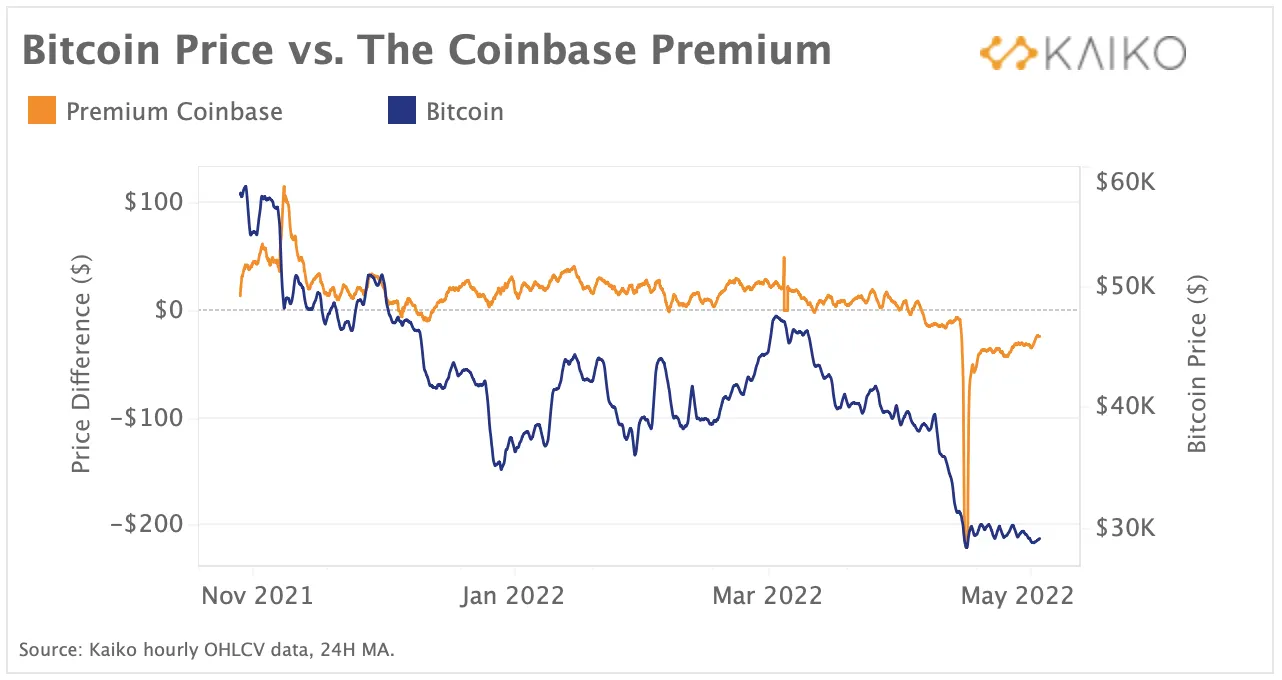 'This metric is sometimes seen as a gauge of institutional sentiment because institutional trading volume accounts for over 76% of trading activity on Coinbase, while Binance is largely retail-driven," said Kaiko.
Another reason for the shift in market structure, according to the report, is continued volatility of Tether's USDT stablecoin.
USDT, which also briefly de-pegged from the greenback last month, has traded "at a persistent, albeit very small discount to the USD" since mid-May, forcing a divergence in these two markets of on average about $40 over the past two weeks.