The word "crash" is thrown around a lot in crypto headlines. But most traders wouldn't use that term for a 9% Tuesday dip for Bitcoin—especially because BTC is just as likely to regain 8% on Wednesday.
But the current crypto market malaise is different. Bitcoin has fallen 16.5% in just a week, while Ethereum is posting a 23% loss and Solana is down 33%. From January 20-22, when the bottom started falling out, BTC went from $43,300 to roughly $34,650—a 20% drop in under 48 hours.
Those are crash numbers.
Where does this one—which may not be over despite a 4.5% rise to $37,000—stack up compared to previous crashes in Bitcoin and crypto history?
June 19, 2011
The first one was the worst. Back before CoinMarketCap began tracking Bitcoin's price and even before Coinbase was around to facilitate buys and sells, Bitcoin was mainly traded on the long-defunct Mt. Gox. After surging from $2 to $32 throughout the first half of the year, Bitcoin cooled back down to around $17.50 by the time a hack on the exchange allowed BTC to be sold for just a penny. That's right: The price of BTC fell 99.9% in a day.
It didn't last, though. It was just a flash crash, though one with malicious roots. Bitcoin, you'll be saddened to hear no longer costs less than a monthly internet bill.
December 2013
It doesn't look like much now—just a blip on an otherwise flat line near the beginning of Bitcoin's life. But the December 2013 crash was a huge deal. The price had reached $1,151.17 on December 3—then an all-time high—after trading for slightly above $200 just a month prior. By December 17, the price had fallen by more than half. 
The culprit: China's first cryptocurrency ban, when it banned banks from touching the asset.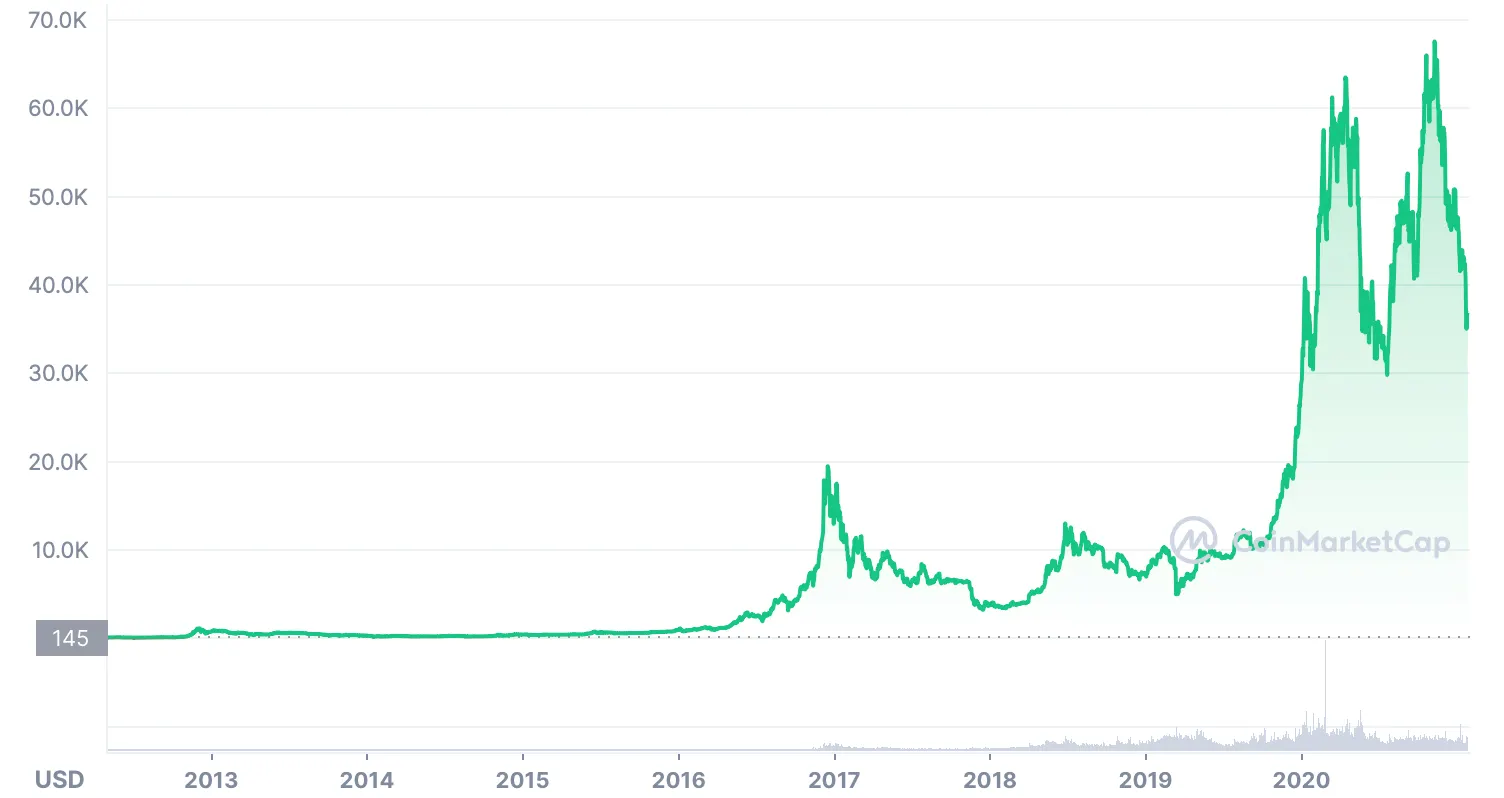 BTC spent much of 2014 staging rallies followed by dramatic falls. By January 2015, barely a year after the crash, Bitcoin had stumbled all the way back below $200. It would take another two years, until January 2017, to return to its previous record.
December 2017
When crypto OGs talk about previous bear markets, they're probably referring to the Crypto Winter (yes, it was so pervasive that it earned a capitalization) that began in December 2017. Bitcoin had a great run in 2017, as it increased in price nearly 20-fold, reaching a fresh all-time high of $19,497 on December 15. Six days later, it was at $13,831, a 29% drop. 
But it kept getting worse, falling below $7,000 in early February 2018 and spending the next nine months in a band between $6,000 and $10,000. By the fall, it looked like BTC's price had stabilized. On November 12, it sold for $6,359. A month later, in December 2018, it was worth less than $3,300. In the end, Bitcoin fell 83% from December 2017 to December 2018. It just couldn't catch a break.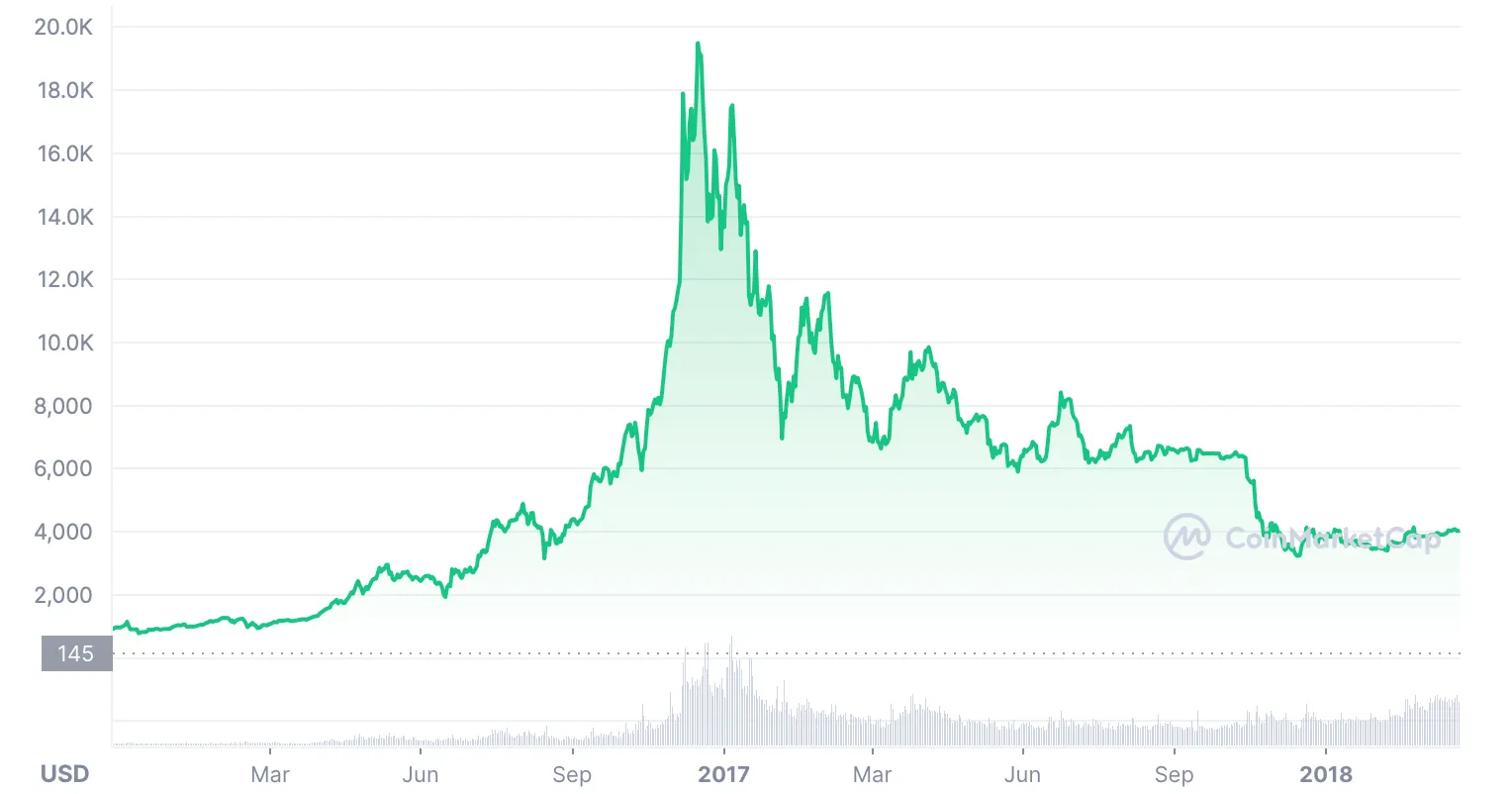 What made this crash and subsequent bear market particularly bad is that it involved more than just Bitcoin. By this point, Ethereum had confirmed itself as silver to Bitcoin's gold. But a rash of 2017 initial coin offerings on the network, in which main street investors gave their ETH to new projects in need of liquidity in exchange for then-worthless tokens, made it appear as though the crypto bubble had popped.
March 10, 2020
No history of Bitcoin crashes would be complete without touching on the onset of the pandemic. To be fair, COVID lockdowns put a freeze on just about everything; equities markets crashed as investors began hoarding cash and liquid assets. Bitcoin was also abandoned. In a single day, the price plunged 37%—from $7,911 to $4,970.
A combination of stimulus checks and Federal Reserve measures kept the economy pumping, however, and soon money was flowing once again through the crypto markets. This influx of liquidity—along with MicroStrategy and Tesla putting Bitcoin on their balance sheets—likely played a large role in sending Bitcoin to new all-time highs above $60,000 the following year.
May 2021
Neither Crypto Winter nor COVID popped the digital asset bubble. People just kept building. By early 2021, the crypto market was filled with Ethereum competitors like Solana, decentralized finance tokens such as Compound, and even a new wave of meme assets such as Shiba Inu. On April 14, the price of Bitcoin reached another record high—this time of $63,314. 
By May 7, it was still chugging along, though at a slightly deflated price of $58,803. On May 22, the air had totally left the market as BTC went to $34,770. During that same timespan, the total crypto market cap lost over one-third of its value, declining from $2.39 trillion to $1.58 trillion.
Now
Bitcoin's recent numbers—today's mini-rally notwithstanding—look bad, but not as bad as a 99.9% flash crash or the extended crypto-asset depression that ran from December 2017 to 2018.
Those market meltdowns were followed by booms, the low points led to new gains. But the reverse is also true; some of the steepest drops have been hangovers from record highs. Just don't say you didn't see it coming.