In brief
Data analytics platform is integrating data from an Ethereum Layer-2 scaling solution called Arbitrum.
Arbitrum offers crypto users faster speeds and lower costs, opening up new types of activity.
The move also highlights Nansen's view that Arbitrum will lead the pack amid a crowded market of scaling solutions.
Crypto analytics platform Nansen announced it will soon support Arbitrum, a second-layer scaling solution operating on top of the Ethereum blockchain.
Nansen offers investors and traders a network of real-time dashboards and alerts centered on such areas as DeFi and NFT, allowing them to discover opportunities, perform due diligence, and make strategic portfolio decisions.
Currently, the Singapore-based company supports Ethereum, Polygon, Binance Smart Chain (BSC), Fantom, as well as an integration with Solana coming in early 2022.
What is Arbitrum?
Launched in August this year by Offchain Labs, a New Jersey-based startup led by former White House Deputy Chief of Technology Ed Felten, Arbitrum leverages a technology called Optimistic Roll-up.
Roll-ups are designed to tackle Ethereum's biggest challenges: speed and cost of transactions.
With over $2.7 billion total value locked (TVL) in DeFi protocols, Arbitrum is currently the largest Ethereum Layer 2 network. Supported by such large DeFi projects as Aave, Uniswap, and 1Inch, among others, it has approximately 2,500 verified contracts and has been adding on average 12 more contracts every day since September.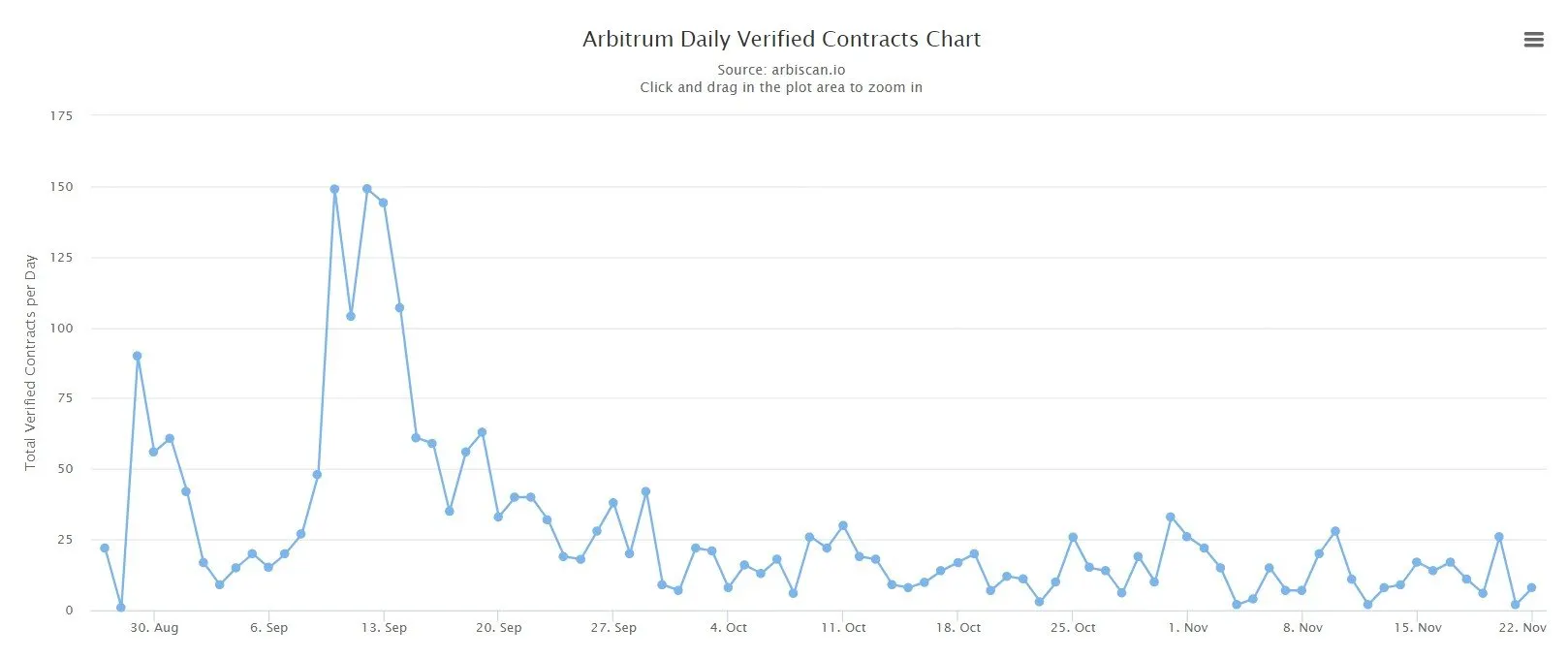 In terms of processing capacity, Arbitrum should allow for 40,000 transactions per second (TPS) and a significant cost advantage over using Ethereum at the base layer (currently $3.07 vs $8.29 on Ethereum, according to L2Fees).
Currently, Arbitrum is working on further reducing fees by 90%-95%, meaning that users will be able to mint an NFT or transfer ETH for tens of cents, according to Nansen's data.
The total daily amount of gas fees spent on Arbitrum has also been consistently lower than that on the Ethereum mainnet. The noticeable spike for September 12 is due to the launch of a Layer 2 yield farm called ArbiNYAN.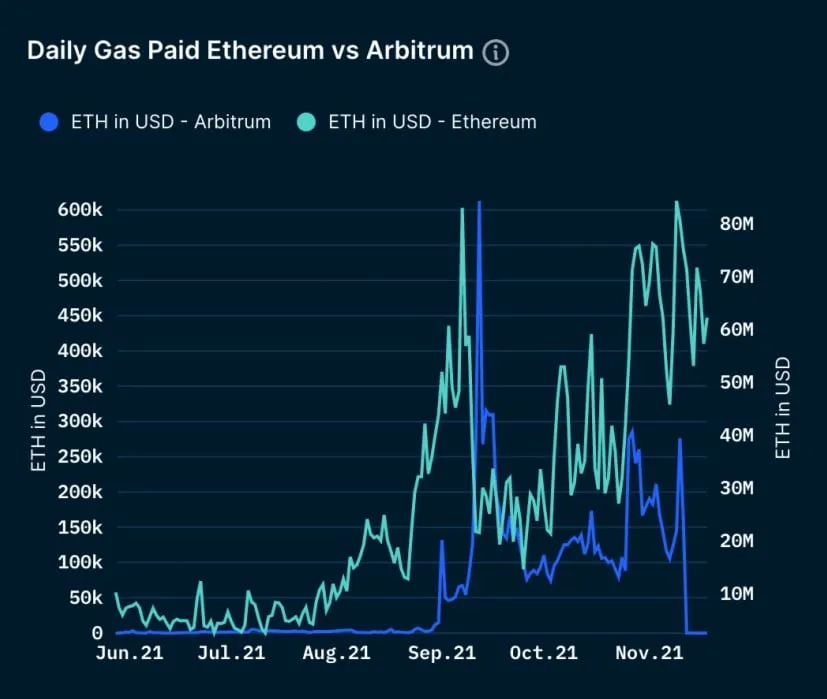 Arbitrum to dominate Ethereum scaling solutions
Arbitrum also claims to solve the blockchain trilemma, or the ability to simultaneously maintain maximum decentralization, high scalability, and a network's security.
"Early layer-one solutions like Ethereum and Bitcoin prioritized decentralization and security but sacrificed scalability, as evidenced by the high gas fees today," explained Alex Svanevik, CEO of Nansen. "Likewise, other competing layer-one solutions such as Solana and EOS sacrificed decentralization since only 200 and 21 nodes respectively control their network. In turn, centralization also affects security because it increases the chances of a 51% attack."
Arbitrum's other advantage, according to Nansen, is that currently, it is the most EVM-compatible Layer-2 solution, which "makes it almost trivial for developers to migrate existing Ethereum applications to rollups because they don't have to rewrite the code."
EVM, or the Ethereum Virtual Machine, offers the same tools as a hardware computer or laptop but is built using software and code. The EVM exists to execute the various operations on the Ethereum network. There are, however, several other blockchains that use the same VM or are interoperable with EVM.
"Not only is Arbitrum very attractive to developers but also consequently to users, as more dApps get integrated to Arbitrum rollup. This is evidenced by the increasing number of unique addresses using Arbitrum," said Nansen.
Another reason why Nansen believes that rollups like Arbitrum will dominate the scaling solutions landscape in the coming years is that they are built on Ethereum, the world's most popular smart contract platform.
This gives them the first-mover advantage, and, as Nansen believes, rollups like Arbitrum should be the first scaling solution not only for the current Proof-of-Work version of Ethereum, but as well for the upcoming Eth 2.0.
"Unlike what most people believe about Eth 2.0 making rollups obsolete, data sharding, the second step in Eth 2.0, is focused on accelerating rollups," said the analysts.
According to Nansen, the scalability of rollups' throughput is exponential and could reach up to 15 million TPS by 2030.
"For these reasons, it is clear that rollups like Arbitrum are uniquely positioned to lead this wave of Ethereum scalability solutions in the near future," said Svanevik.
Moreover, the potential of rollups, in the long run, is not limited to Ethereum only.
Nansen believes that the future of scalability solutions is a much more complex system of interdependent scaling solutions on multiple Layer 1 chains. For now, however, the analytics platform is betting big on Arbitrum.