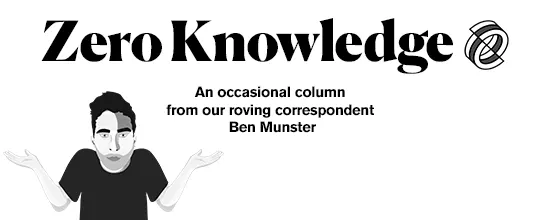 Giulio, a 39-year-old Sicilian shitcoin trader and environmental activist, likes to talk crypto. 
When asked, he will obligingly enumerate the reasons why whatever he's invested in—it could be NFTs, Ethereum, or Poocoin, he makes scant distinction—is "genuinely good" and will change the world. He's made good money speculating on these things, enough of it to have recently shelled out a downpayment for a lush new apartment. 
Crypto is indeed encroaching on his life—and into its physical spaces, too. When you walk into Giulio's home, in a pretty residential neighbourhood of Rome known for its inventory of earthy, homespun restaurants, he will show off a strange new gizmo sitting on his windowsill. A gleaming white tubular thing resembling an upturned funnel, it looks like a deranged bionic sex toy, but it is in actual fact a "Helium bobcat miner," a device that generates around €150 a month in the cryptocurrency HELIUM, no questions asked. 
And no questions have been asked. As with much about crypto, Giulio—whose surname we have omitted at his request because he fears for his job if his employer learns he trades shitcoins—has basically no idea how the thing works. He regards it with a kind of awed bewilderment, as though it is simply magic. 
"You should get one!" he urged me recently and somewhat salaciously. 
Helium, when you look it up, is some kind of decentralized "people's network" accruing token rewards to users who, like Giulio, keep nodes running in their homes. It's an interesting use case, I guess, but what's considerably more interesting is the way people like Giulio have taken it up without fully understanding its purpose—or, let's be honest, giving a shit. 
Indeed, according to a recent survey one third of people who have bought crypto do not know anything about it. They are part of the recent influx of "normie" retail investors who jumped onto the bandwagon at the height of the meme-stock / NFT craze, and they don't understand how any of the underlying tech works. (As the linked article makes clear, they often lump it all meaninglessly together as "crypto." Just as I will do for pretty much the rest of this article!)
These neophytes—young, relatively internet-savvy though still green when it comes to crypto—will sometimes offer vague talk affirming the tech's groundbreaking potential, repeating the talking-point mantras of crypto thought leaders and Twitter personalities. More often than not, however, this functions as a mere pretext for putting a lot of money in it. 
For many investors, there is only one real, credible value proposition: "Crypto" goes up, very high and very fast. 
Consider a recent Twitter incident featuring "tropoFarmer," who threatened commenters on Twitter with legal action after they screenshotted themselves "saving" his very expensive NFT Twitter avatar for themselves. Evidently he had invested a great deal in that image—a cartoon of a kind of morbidly obese gorilla—without understanding that he was purchasing a blockchain deed merely hyperlinking to the image, not an image which was, say, described by metadata logged on the Ethereum network and accessible only to him. 
And tropoFarmer is not alone.
"All the panels and stuff, it all goes over my head," said Nick Kenny, an independent strategic advisor in London who made around $60k from a $10k investment in Ethereum in late 2020. He is the first to admit he is no sophisticated crypto investor: He trades entirely on the advice of an informed friend, and has held XRP, Litecoin, and EOS, choices that would make any crypto diehard cringe. 
In case you might think his investment in Ethereum demonstrates some savviness to the possible world-changing potential of NFTs and DeFi, or whatever, he added he remains "none the wiser as to why" his investments have gone up. "I just look at my Coinbase account every now and then," he said. 
To wit, when I asked Kenny, rather patronizingly, to explain Ethereum, his chief investment, he did not present the merits of the fee-burn mechanism of EIP-1559, or weigh the upcoming move to proof-of-stake, or any of that. He just began, "With smart contracts and blockchain you can use this tech to…" before retrenching and saying, defensively: "Look, I don't want you to make me look like an idiot."
But Kenny is not an idiot, and neither is Alannah, a recently graduated 22-year-old for whom understanding her crypto investment amounts to a kind of pointless additional labor. (Alannah also asked to withhold her last name—she doesn't want her broke Zoomer friends to find out how well she's doing.)  "At first I researched Bitcoin mining and all that stuff, how that works," she said. "I'm sure I would find that interesting, but I'm really just here to make money, I guess." 
It's worked for her: Over the past year she has turned £10k into around £35k, also through investing in Ethereum (her original plan was to invest in a "pyramid scheme" called Kuailian). 
She relied almost entirely on a YouTuber called Crypto World Josh. "He makes predictions and those predictions come true," Alannah told me. He uses scientific-sounding technical lingo, she added. "Like there's this thing called the 'Fibonacci series.'" 
Clearly, there is a lot of new money pouring in from people who don't necessarily care about what they're buying. 
Once upon a time, investment manias were localized to individual countries (See: Holland, tulips). That expanded to multinational stock markets, then interconnected financial networks (real estate bubble). Crypto—"digital money!"—is the first investment mania to be squarely propagated on the internet. All you need to participate is a wifi connection, a wallet, and some small amount of fiat.
Fueling the FOMO is an infinitude of online influencers providing retail investors with warm, fuzzy feelings about having made a good investment—their own personal Twitter cheerleaders. (Cameron Winklevoss even says it's a moral imperative to get people into Bitcoin lest they succumb to the coming plague of hyperinflation!)
We need to get as many ppl into bitcoin as possible before hyperinflation. This is a moral imperative, not an investment thesis.

— Cameron Winklevoss (@cameron) November 14, 2021
Here is Matt Damon hawking Crypto.com. And here is Paris Hilton pushing NFTs. Tom Brady, Snoop Dogg, Jimmy Fallon—they're all in. Even the richest man in the world, Elon Musk, proudly pumps meme coins—money is at best a consensual mass  hallucination and at worst a bit of performance art.
True, there is some fairly solid evidence that even these famous people don't really understand crypto. But who cares? They are more successful than you, loser. They are better looking and certainly richer. No longer do you need to feign understanding of how any of this actually works: simply buy a Helium Bobcat Miner that a fratty guy with gleaming white teeth on YouTube is pitching, and observe, rapt, as it pays your mortgage. 
And pray that among the internet's millions of greater fools, you are not the one left holding the bag.