In a survey of more than 10,000 Americans randomly selected by residential address, the Pew Research Center has revealed that crypto awareness is growing. 
The survey showed that over four-fifths (86%) of those surveyed "have heard at least a little about cryptocurrencies." In a similar survey conducted in 2015, which focused exclusively on Bitcoin, just 48% of surveyees had heard of the leading cryptocurrency. 
Only 16%, however, reported ever having "invested in, traded or otherwise used" cryptocurrencies, according to Pew. 
Additionally, little more than 10% of the most recent sample size has heard "nothing at all" about cryptocurrencies.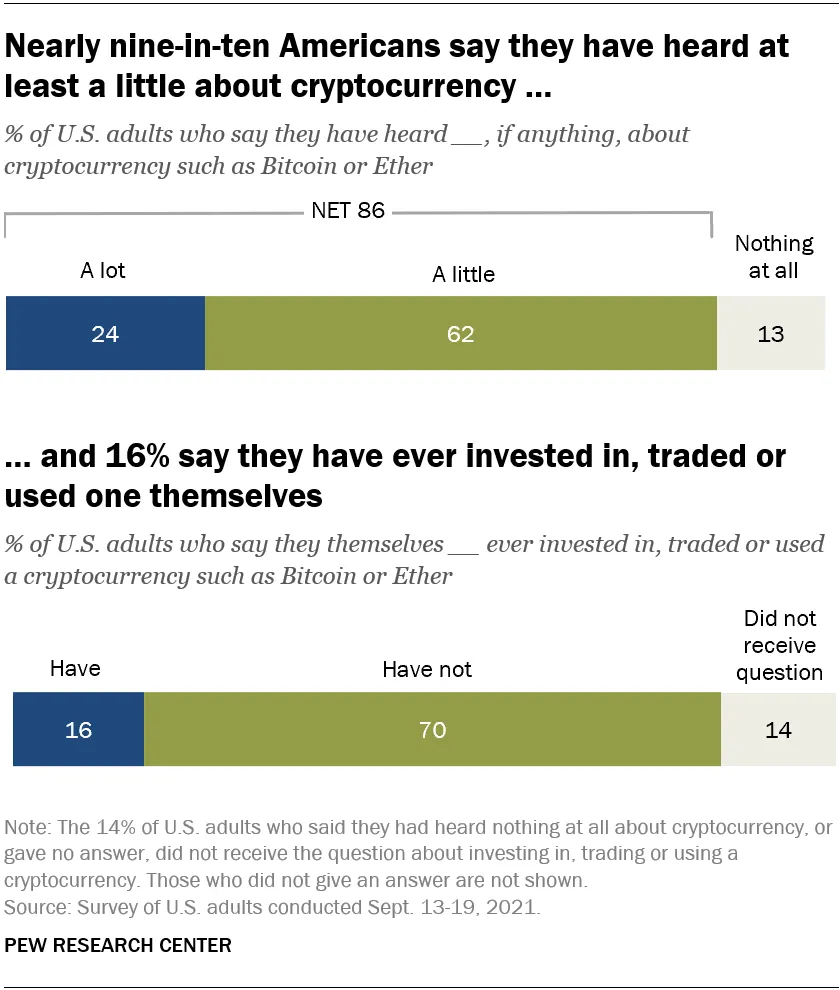 Pew's survey methodology also provided insights into how different genders, age groups, and income levels may or may not be aware of cryptocurrencies. Its latest survey has confirmed many long-held assumptions around the profile of crypto investors.
For example, there are far more Americans between the ages of 18 and 29 who are invested in crypto than those in older age groups. Additionally, men are twice as likely as women to have ever used cryptocurrencies.
It would also appear that Americans with a higher income are much more likely to have heard "a lot about cryptocurrency" than those with either middle or lower incomes.
Pew defined lower-income families as those with less than $42,000 per year, middle-income families as those which earn between $42,000 and $125,900, and upper-income families as those which earn above $125,900. 
Crypto goes mainstream
The growing awareness around cryptocurrencies like Bitcoin and Ethereum comes as the sector is enjoying a breakout year.
Not only have the leading assets broken all-time highs again and again, but large brands are entering the space left and right. The most notable entrants have been Tesla, Square, and Microstrategy; each of which has converted portions of their treasuries to Bitcoin.
Non-fungible tokens (NFTs) are also gaining traction, with household names like Pizza Hut, Taco Bell, Charmin, Ubisoft, and even Nike adopting the cryptographically unique digital assets. 
The Pew survey now appears to corroborate this increased attention, as more Americans than in the past are keeping tabs on the crypto industry.