In brief
Users have traded $95 million worth of non-fungible tokens on OpenSea over the past weekend.
This is nearly five times as much as the platform has generated throughout the entirety of 2020.
OpenSea, a popular marketplace for non-fungible tokens (NFTs), generated roughly $95 million in trading volume over the past weekend—nearly five times more than during the whole year of 2020.
"In 2020, OpenSea did about $21M in total transaction volume. In the last two days, we did $95M. The growth curve for NFTs is insane," tweeted OpenSea CEO Devin Finzer today.
While impressive in its own right, the latest record is hardly surprising for a crypto company that became a unicorn after it raised another $100 million via a Series B funding round a couple of weeks ago.
In 2020, OpenSea did about $21M in total transaction volume.

In the last two days, we did $95M.

The growth curve for NFTs is insane.

— Devin Finzer (dfinzer.eth) (@dfinzer) August 2, 2021
This puts OpenSea on the same list as behemoths such as SpaceX, Stripe, Revolut, and others.
OpenSea's massive transaction volumes also come amid another boom in the NFT market. 
These provably unique crypto tokens, which effectively serve as digital certificates of ownership, are getting increasingly popular among collectors, many of whom are prepared to pay millions of dollars.
Namely, OpenSea's latest transaction volume record coincided with the average price of CryptoPunks, one of the very first collections of pixelated avatars in the form of NFTs, surging by over 50% amid massive buy-ins conducted by unknown crypto whales.
Per OpenSea's own rankings, CryptoPunks were the hottest item on the platform over the past week. 
The total trading volume of these NFTs on the platform amounted to roughly 49,200 Ethereum (about $128 million at current prices) over the past seven days.
Other NFT projects followed suit as well. 
For example, Art Blocks Curated was responsible for nearly $35 million in transaction volume on OpenSea over the past week. It is followed by Bored Ape Yacht Club ($16.6 million), Art Blocks Playground ($11.5 million), and The Vogu Collective ($9.6 million).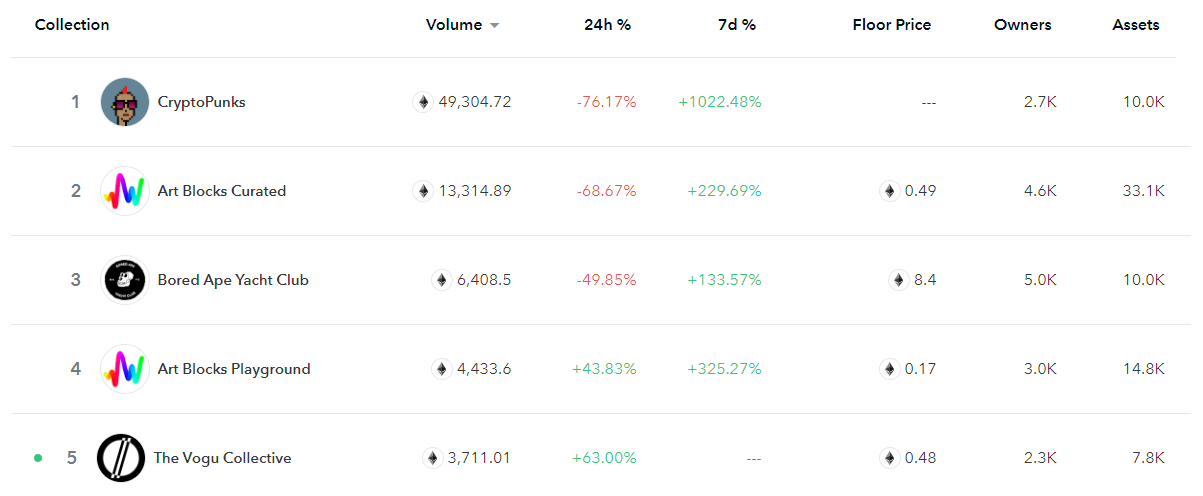 Non-fungible millionaires
OpenSea isn't the only beneficiary of the NFT craze.
The latest uptick has also made some users very, very rich, according to a new NFT Leaderboard published by blockchain analytics firm Nansen last week.
Data showed that a well-known NFT collector called Pranksy is currently the top earner in the sector with 1,573 Ethereum ($3.64 million) in profit to date. In total, they have spent roughly $4.3 million on more than 9,300 NFTs from 86 different collections—and later sold 2,350 of them for $7.94 million combined.
Only time will tell whether this trend will continue. For now, though, the niche is providing plenty of entertainment amid a sideways summer slump in Bitcoin.