For many years, ringing that bell on Nasdaq was the American Dream of many Chinese entrepreneurs. Yet recently, with China and the US apparently disagreeing about everything, many companies have considered—or executed—a "homecoming" secondary listing in Hong Kong, in addition to their primary listing in New York. The goal, of course, is to please the side that yields lower risk and matters more to their business.
For the Ant Group, an affiliate of Alibaba Group Holdings, skipping the US debut and choosing a duo listing in Hong Kong and Shanghai is the ultimate snub. After all, why bother to ring that New York bell when you have to "come home" to the motherland at the end of the day?
Valued at $200 billion, Ant Group is the largest unicorn in the world. Its flagship product Alipay, which has a mere 1.2 billion users globally, has provided Fintech solutions to both consumers and businesses, ranging from payments and lending to wealth management and insurance.
But more importantly, Ant Group is also the most active player in China's blockchain circle. This week's da bing looks into Ant's position in shaping China's blockchain landscape.
The Ant that follows the government's crumbs
Not only is Ant Group big on blockchain, the whole Alibaba group is bullish, too. Jack Ma, who owns 50% of Ant's voting power, famously claimed in 2018 that blockchain (together with the Internet) will "reshape the world's financial system in the upcoming 20 years." The juxtaposition between blockchain and the Internet was a strong sign of Ma's faith in the technology, despite his skepticism of Bitcoin.
Perhaps Ma's confidence got a boost after China made blockchain a national strategy in 2019 and has since crowned it a national infrastructure. To sing along with the government's strategy, Ant Group has positioned its product lines to serve its sugar mommy: government.
Antblockchain, a blockchain project under Ant financial group, has changed its name to Antchain, and they made a super brainwash, funny and bizarre song about Antchain... sing by a seniors citizens choir..hahahahahahahahahaahahahahahahahahahaahahahahahahahaahah pic.twitter.com/l190Fn4w9W

— Molly (@molllliy) July 25, 2020
For example, Ant signed a deal with the land department of Zhuhai, one of the seven economic zones on the southeast of China. The deal gives Ant an opportunity to provide a blockchain-powered solution that connects government, banks, and end-users to share data such as title deeds, credit history, and mortgage applications. The goal is to digitize the whole home purchasing process and reduce manual labor.
This is, in fact, not the first time Ant approached the land department of a government. Back in the days when your correspondent was making blockchain deals with city governments in China, Ant was a frequent competitor and even signed up agreements with prominent cities such as Xiong An.
The blockchain beauty of government deals
For the Ant Group, following the government's crumbs isn't just a matter of burnishing its brand—there's real RMB in it.
First and foremost, winning governmental deals allow Ant to cross-sell and up-sell. Imagine all the adjacent cloud services Ant can bundle and sell along with its blockchain solutions. Merely gathering data from consumers who use their blockchain applications would indirectly allow Ant to sell more financial services to end-users.
Second, most Chinese cities provide tax benefits to their technology vendors. These local governments that blindly establish "blockchain industrial parks"  are dying to have companies actually move in and contribute to the local economy. It's a dream come true to win a deal and have a tax cut at the same time.
And finally, talent matters. Access to real use cases allows Ant to hire and nurture blockchain specialists early on. It can hire engineers who might not be blockchain experts immediately, but they will become experienced and grow through these governmental deals. Nothing really trains talent better than working on real use cases.
"If you want to get on a chain, get on AntChain"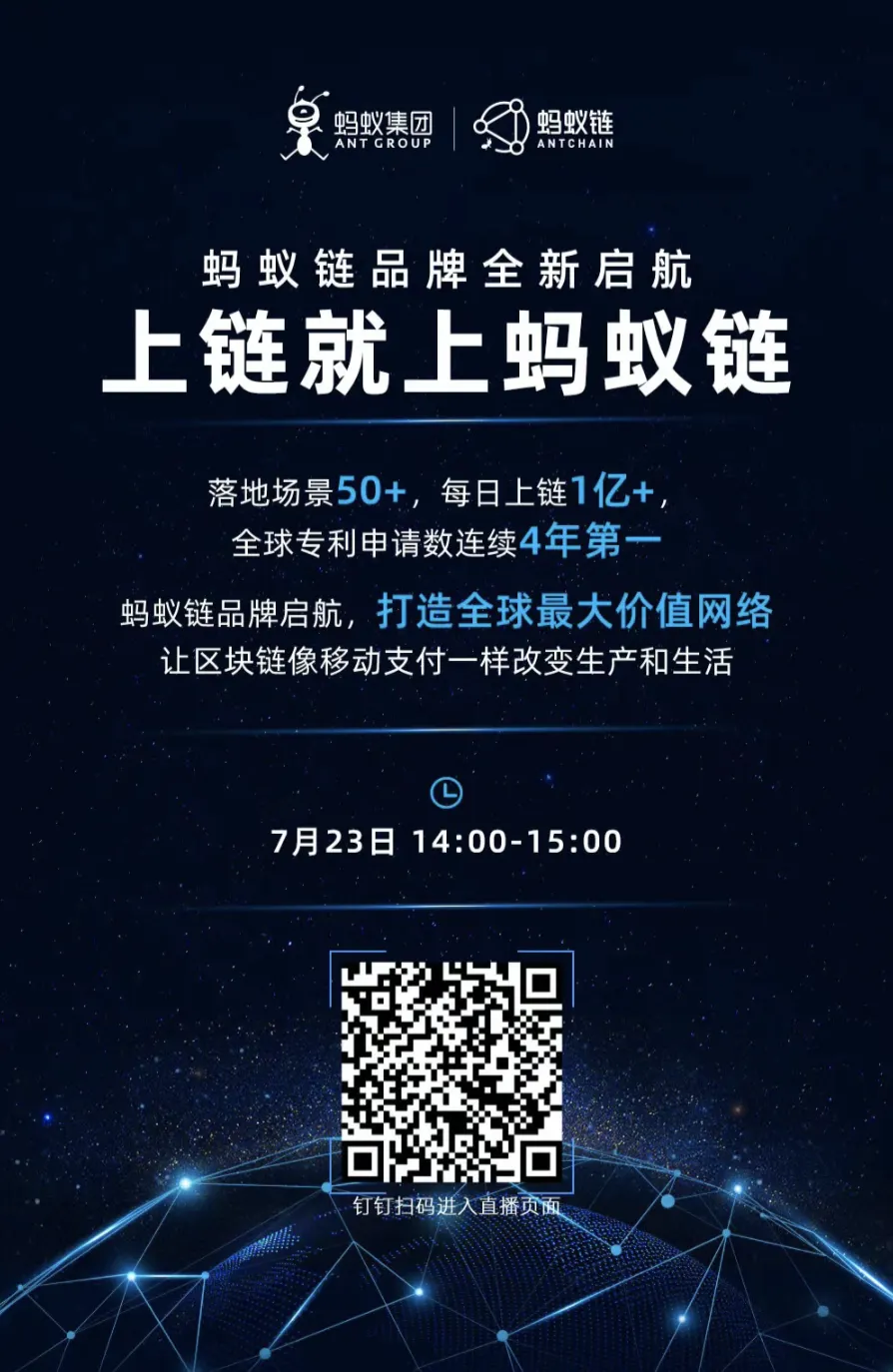 But Ant Group's ambition does not stop at simply selling to the government. It wants more.
On July 23rd, in a high-profile product release conference hosted by the Chairman of Ant Group—a big deal, he doesn't go to every product demo—the company released its latest version of "Ant Blockchain Open Alliance." The consortium aims to bring small businesses and developers to the nascent industry, and help them build applications on top of Ant's blockchain at a lower cost.
Ant Group claims that its product is being used in over 50 cases and is powering—and here they have invented their own metric—100 million "on chain data" every day. (No one knows exactly what this weird metric represents, though the general consensus is the number refers to transactions.)
Regardless, many small businesses, especially e-commerce firms, are already using Alicloud, which is the underlying cloud infrastructure of Antchain. But the storyline is familiar. Unlike other blockchain providers that just provide blockchain, Ant is offering a whole suite of use-case focused solutions that will bind their clients to no one but Ant.
"It's formidable what Ant Group has done in the blockchain industry," one crypto security expert told me. "They seem to be doing all the boring stuff for the hardcore crypto fans," he said, meaning that its blockchain play is strictly a utility offering, aimed at enterprise business. "I mean, there's no token economics, no fancy crypto incentive mechanism, no Defi... but guess what? They have made the most noise and struck the most deals so far."

In the meantime, Ant Group has also been collecting patents on the side. It has topped the blockchain patents chart for the past 4 years. While the adoption questions still remain, Ant has more resources than any other players to either explore new clients or onboard their existing SMEs.
Going global?
Despite being born and raised in China, Ant Group has grown far outside of its motherland. Its consumer-facing business is not only serving Chinese tourists outside of China by providing payment solutions to local businesses, so Chinese tourists can pay directly with their Alipay app while shopping internationally. It also directly participates in getting local banking licenses, such as a virtual one in Singapore.
Its blockchain business is not lagging behind. In 2018, Ant announced a partnership with AlipayHK and GCash, launching an instant cross-border remittance service between Hong Kong and the Philippines. Blockchain is the underlying infrastructure.
Two years ago, that remittance service might look like a simple use case. But China's DCEP is likely to empower real cross-border remittance. Couple that with the Blockchain-based Service Network (BSN), which can easily integrate Ant's enterprise blockchain, and China's blockchain ecosystem suddenly becomes a critical, international powerhouse.
The word "ant" is dear to Ant Group's journey. The founding team believes that "small is beautiful, small is powerful." That might be true in the early days. But now the ant is becoming more like the elephant, and every move it makes causes reverberations felt everywhere.
The top 3 other things that happened in China last week
#1. China's Central Bank issues new 'standards' for blockchain fintech applications
Despite the People's Bank of China's frequent updates on DCEP, it rarely issues any statements on blockchain. But July 22nd, the silence was broken and PBoC  issued a "standard" that required all blockchain applications in the financial sector to adhere to "technical, performance and security" standards.
The goal of the standards is to ensure that blockchain applications follow certain levels of risk management, security audit, privacy protection, and other best practices. Data privacy was frequently mentioned, as was cryptography. This is all in line with China's push toward its home-grown encryption standard.
But are there any real implications for blockchain development firms? Probably not, for now. The standard could be used as a filter or differentiator when technical companies bid for deals. But like many standards in China, unless there's strict enforcement, many do not follow the rule.
And of course, the standard says nothing about tokens.
#2: BSN: new integration still question for adoption
China's high-flying Blockchain-based Service Network, which has promised to be inter operable, is walking its talk by integrating with six public blockchains: Tezos, NEO, Nervos, EOS, IRISnet and Ethereum. Post-integration, developers on these blockchains can build applications using BSN's cloud data center, both in China and globally.
The idea of BSN is grand. By plugging into BSN, developers will not only have access to different blockchains but also China's home-grown enterprise blockchains, which will probably collect more useful data as blockchain use cases take off. Yet, just like the internet is divided and Balkanized, the lovely idea that a Chinese blockchain infrastructure could bridge such a gap seems too good to be true.
#3: Beijing: Blockchained
Beijing is on a blockchain roller coaster. After announcing its grand plan to be a blockchain-enabled city, on July 23rd, the government planned to conduct a pilot project to use blockchain for private stock registration and custody. But like many pilots, it didn't give enough information to detail the how and why and of the project.
As a native Beijinger, seeing the news that the city is going full-blown blockchain is no surprise. Over the years, Beijing, as the capital of China, also strives to be its technology center. However, over the years, Beijing's tech hub role has been usurped by cities such as Hangzhou, where Alibaba sits, and Shenzhen, where Tencent is headquartered. The only tech giant it has is Baidu, which is slowly deteriorating, and Bytedance, which has its own problems.
Since China will host the 2022 Winter Olympics, maybe blockchain can give it a boost?
Do you know?
"央妈" which means "central mama," is the nickname of China's People's Bank of China. The nickname is not just playful but also embodies the central bank, which controls the lifeline of monetary policy, as well as everything crypto and DCEP in China.