Haipo Yang, founder of ViaBTC, one of the largest mining pools in the world, and CoinEx, a crypto exchange known for its focus on Bitcoin Cash-based trading, is a well-known but relatively quiet character in China's crypto circle. Typically, Yang doesn't talk that much about his journey launching the mining pool, nor about CoinEx, which launched in December 2017.
And he almost never speaks about his fervent support for BCH, a hard fork of Bitcoin, and his now even more enthusiastic belief in BSV.
Yet that's changing of late. Yang has been more active in recent months, participating in interviews about CoinEx and tweeting more frequently on Weibo, China's Twitter. He's been making controversial statements predicting the death of BTC, while supporting BCH and BSV on social media.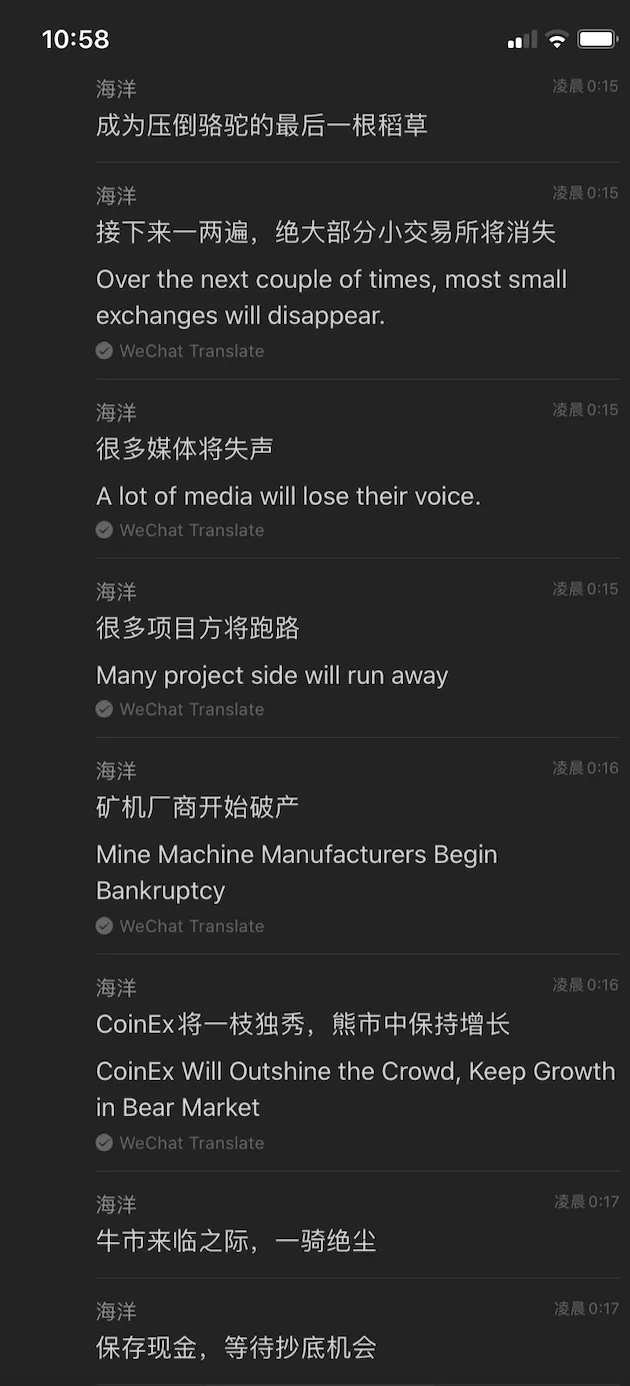 Recently, Yang told me that as a developer rather than a business person, he's never been comfortable speaking in public. However he's making an effort now to help publicize his renovation of CoinEx. So, for this week's da bing, I decided to chat with him and get a peek into the mind of a veteran crypto entrepreneur who's trying to make a personal, as well as a platform, comeback.
CoinEx's golden opportunity
The first hard fork of Bitcoin occurred in August, 2017 and created a new cryptocurrency called Bitcoin Cash. The fork was prompted by partisans, including Yang, who wanted bigger block sizes on the blockchain—the basic idea was that bigger blocks would enable more transactions per second and make Bitcoin Cash something people would actually use to buy things, rather than Bitcoin's more commonly perceived use as a store of value.
Yang added a tremendous amount of value to the mining scene in China. As a technical founder with has years of experience in big tech firms such as Tencent, Yang is proud of his #buidl skills. He developed most of the code in the early days of VicBTC, which became one of the biggest mining pools to this day.
Not satisfied with owning just a mining pool,Yang conceived of CoinEx, which was born in December of that year, specifically to carry on the mission of the newly forked Bitcoin Cash blockchain. As he got swept up in Bitcoin Cash enthusiasm, he even said that "BCH is bitcoin."
CoinEx's strategy was BCH-focused from day one; BCH was its base currency, meaning you could use it to buy and sell other currencies, such as Ethereum and Litecoin.
Interestingly, Jihan Wu, the co-founder of Bitcoin Exchange—himself a famous BCH supporter—was a big investor in the exchange. That made me wonder why he, Yang, and many other OG crypto miners, were so passionate about BCH. Was it just about bigger block sizes?
"Bigger block size means more users and use cases," Yang explained. The move to bigger block sizes was attractive to miners because they would facilitate more transactions. Miners make money on transaction fees, as well as mining blocks. Likewise, the network would arguably be more useful to people, who were looking for digital cash for every day use.
That especially resonated with many early hardcore Bitcoiners. Said Yang: "We really believe that Bitcoin should be a P2P cash vehicle rather than a store of value."
This view probably sounds outdated to people who believe that Bitcoin's value as cash is long gone, with solutions such as Lightning Network fulfilling that role. Instead, the new narrative for Bitcoin resides in its value, rather than utility. Yet Yang believed that the forked network would create far more opportunity
"We could invite influential companies to establish nodes and contribute to the network. This cannot be done with the original Bitcoin architecture," he said.
CoinEx pivots
But from its inception, CoinEx struggled with adoption and was dwarfed by the bigger exchanges. Part of that had to do with the fact that BCH and "Bitcoin Satoshi's Vision," another Bitcoin hard fork, were both controversial. Critics pointed out that  these networks are centralized in a few big mining pools, and 51% attacks are not out of the question.
So over time, though Yang's exchange still maintains strong support for BCH and BSV, it began to add support for all the major currencies.
Finally, in January of this year, it announced a major upgrade, of… well, just about everything. It started to offer futures trading, leveraged trading, options trading, and over 100 token projects available to traders. It even rolled out its own blockchain, "CoinEx Chain" to support a new DEX, "CoinEx DEX."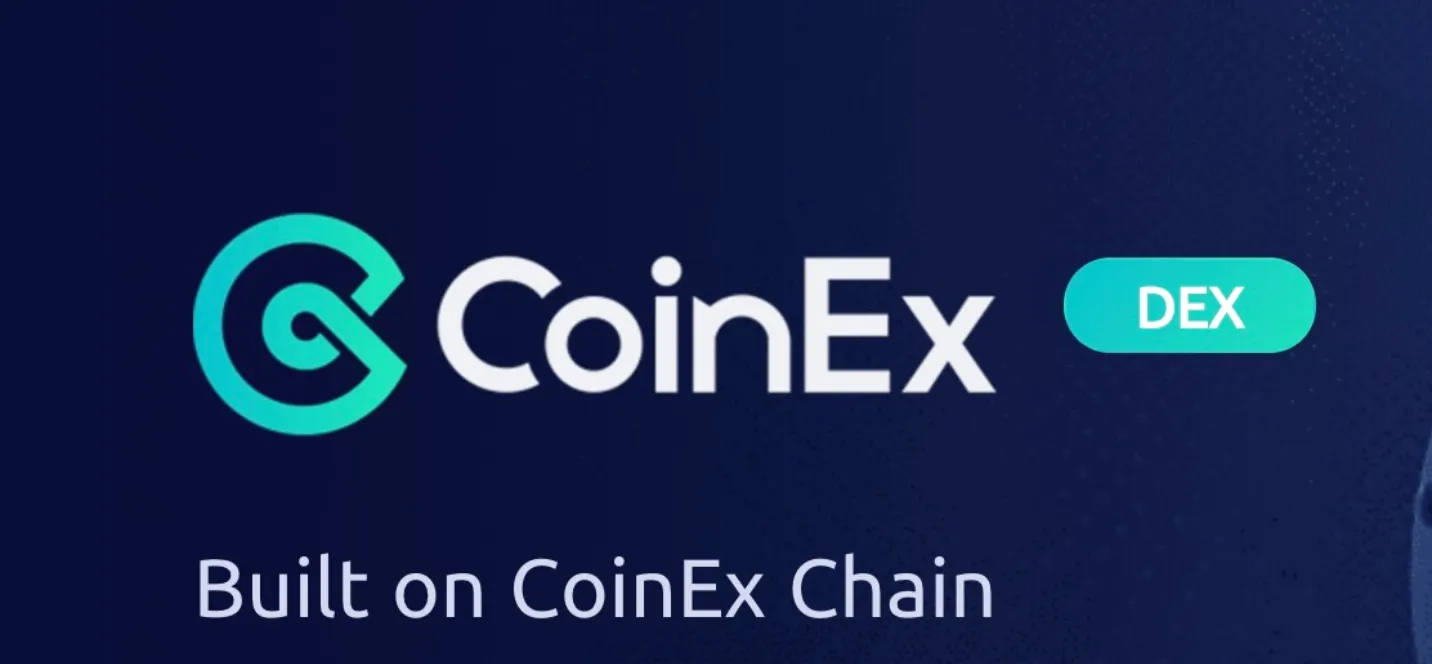 The seemingly sudden publicity of CoinEx should not come as a surprise, then. As BCH/BSV was being marginalized, Yang shifted his focus. He's now trying to ride the wave of building a bigger, more dynamic exchange.
"Crypto exchanges are where value is discovered," Yang told me.
CoinEx: TNG
Building an exchange isn't done overnight, nor is re-building one. CoinEx is still competing with the giants such as Binance.
However Yang thinks his exchange will thrive by zigging when his competitors zag.  As usual, CoinEx is taking a slightly different route, he told me.
Like what? "We will be listing 小币种," he said, using the expression for "small token projects." I cannot help but wonder if these "small token projects" are simply shitcoins, the trading of which is certainly not new.
Indeed, Yang said that he's banking on the success of his new, public blockchain. "We are building a CoinEx Chain, a layer one protocol for DEX alone. Using our public blockchain, anyone can issue any token, at any time," he said. He described the blockchain as "a real decentralized, token-issuance and transaction platform."
This is the core of Yang's plan and vision. He believes that centralized exchanges will be a bottleneck for crypto adoption because it contradicts crypto's nature as  a completely free and open infrastructure. Essentially anyone should be able to launch a token and trade it with anyone. Only by building DEXes can we achieve full decentralization, he says.
The Religious nature of Bitcoin, and forked Bitcoin
It's his belief that Bitcoin should adhere to Satoshi's original vision that led Yang to send yet another controversial tweet last week, which I will translate: "The early days of Bitcoin expansion are similar to religion. The religious fervor brings prosperity to the industry."
By extension, Yang believes that the next generation of Bitcoin should provoke a similar "religious" fervor. That's why he has slowly become more of a BSV advocate than a fan of Bitcoin Cash. Yang believes that "BSV has more religious connotations, despite its negative image." (As most crypto people know, the controversial Craig Wright, who claims to be Satoshi Nakamoto, led the hard fork which created BSV. Consequently it is often met with skepticism and derision.)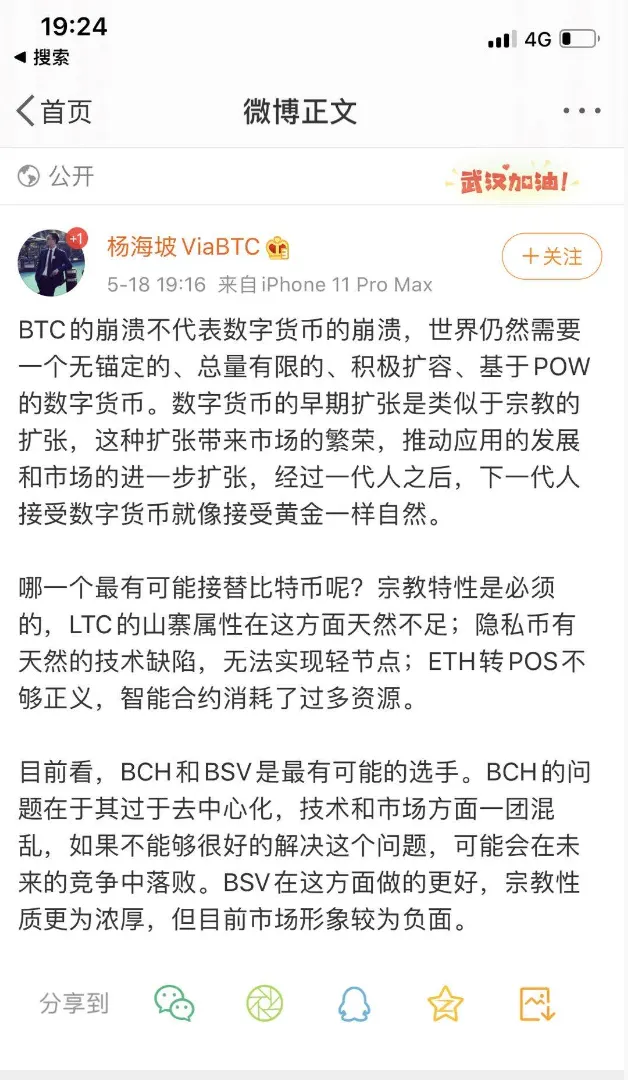 "The early days of Bitcoin expansion are similar to religion," said Yang. "The religious fervor brings prosperity to the industry."
Crypto is famous for its tribalism. Many people choose one camp over another not for  practical reasons but because of simple faith. Talking to Yang and reading his tweet brings a historic texture to the Bitcoin narrative. But crypto cannot survive on religion alone. One has to build. Hash might have been worshipped in the old days but now the crypto religion is all about the size of the congregation.
Three other things that happened this week
#1. Sichuan's power shortage & ambivalent public policy
Miners are the real weather men. Their choice of location is determined by whether the place offers favorable conditions to mine. The province of Sichuan has historically been the hub of hash power, especially during the rainy season when hydroelectricity is abundant.
That's what happens in a typical year. Of course, 2020 is anything but a typical year.
For years, local governments were ambivalent about mining, and in some cases, even discouraged it. However, since Covid has caused a recession in China,  mining looks like an especially lucrative industry.  As a result, many local cities in Sichuan initially issued public endorsements, hoping to get miners to open farms in their cities.
Yet the good old days don't last long. Last week, Sichuan's provincial finance ministry issued another statement asking blockchain companies to terminate all mining activities, on the grounds that mining could breed "speculation, frauds and illegal fundraising."
The statement came as a surprise to many miners, but the real question is: will the law actually be enforced? The answer is, probably not. Local governments heavily rely on miners to contribute to their economy. Therefore, in order not to upset the provincial leaders during this special time (the annual parliament meeting is occurring), local governments and miners might simply stay low key for a few more days, and hopefully resume their business.
There's another problem, too. Raining seasons aren't always predictable. And for the past few days, electricity has been scarce in Sichuan. As a result, the city government has cut electricity to many farms to support residential usage. I guess no matter how decentralized bitcoin is, the power producer behind mining is still one big central government. And behind that, is Mother Nature who seems pretty centralized, too.
#2. Neil Shen on building a stablecoin for Hong Kong
It's that time of the year when over 3000 representatives from all over China gather in Beijing to discuss the future of China. Although postponed by Covid, this year's meeting is full of technology-oriented proposals.
One of the proposals that caught the crypto circle's eye comes from Neil Shen,  founding and managing partner of Sequoia Capital China. Shen recommended that the Communist Party should develop a stablecoin for Hong Kong's Greater Bay area, which comprises Guangdong, Hong Kong, and Macau. The stablecoin will be used for cross-border transactions and will "establish Hong Kong as a financial hub for the digital world."
The proposal provides little additional information about how the stablecoin would work.  But the fact that the proposas come from a technology investor like Shen certainly gives it some weight.
#3. Hainan makes clear its blockchain-not-crypto stance  
Hainan, China's crypto island, had us hoping that it would be a more experimental testbed for a wide variety of projects. But after a few high-profile, blockchain-related launch events, the island went mostly quiet. And when it does release new information, the news isn't exactly favorable to the crypto circle.
In a recent press release, for instance, Hainan's information and technology department announced that "enterprises who are working on blockchain cannot engage in ICOs, fiat-to-crypto, or crypto-to-crypto transactions."
In other words, Hainan, despite being thousands of miles away from Beijing, is still not ready to officially host crypto-not-blockchain companies.
Do you know?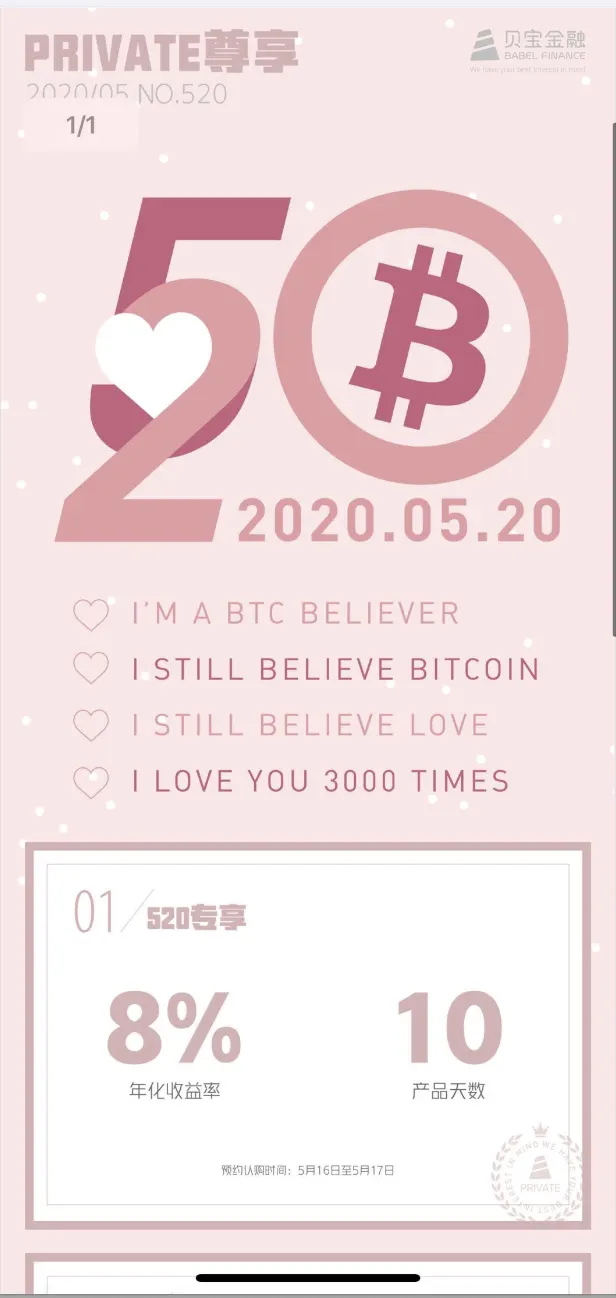 May 20th is a big date for Chinese, especially Chinese couples. Because the pronunciation of May 20 sounds like "I love you" in China, it is considered a home-grown Valentine's Day. Like most holidays in China, everyone celebrates it, including the crypto firms. For example, Babel Finance released a 5/20 promotion (see picture above) on its financial instruments. One thing that differentiates Marketing strategy in China from abroad is that the Chinese can market everything out of anything. This includes our famous Singles Day, And now our Valentine's Day.