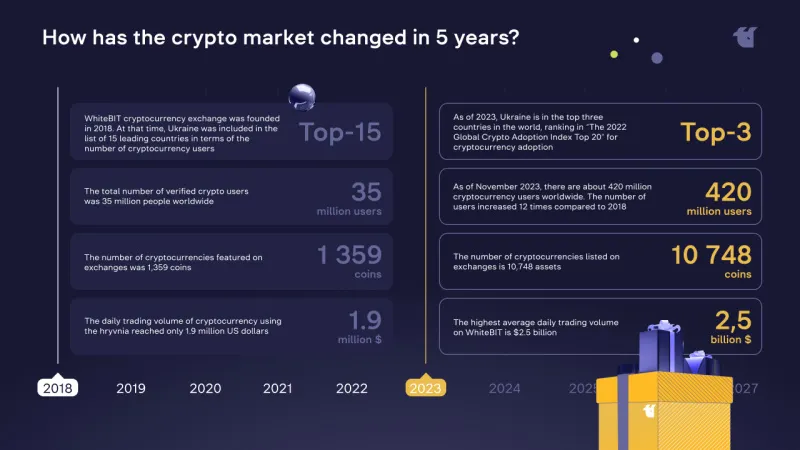 Spot trading using Market, Limit, Stop-Market, Stop-Limit, and Multi-Limit orders.
Futures trading with up to 100x leverage.
Margin trading with up to 10x leverage.
Convenient crypto-to-crypto, fiat-to-crypto, and vice versa exchange that allows you to exchange any assets presented on the exchange in a matter of seconds.
Trading competition is a new format that allows traders of varying experience to participate in tournaments that match their trading skills.
Technical chart analysis tools, integration with algorithmic trading services, widgets, price alerts, and many other tools that make a trader's life much easier.
WhiteBIT Earn is the system that provides an opportunity to receive passive income from long-term investments in digital assets.
WhiteBIT Launchpad serves as a platform enabling users to stay ahead by gaining early access to promising new crypto projects. Users can cast votes to support the listing of these projects on the exchange and actively participate in the initial stages of asset sales.
Digital Gift Cards are gift cards for receiving goods in various stores and services, which users of the WhiteBIT exchange can profitably purchase with cryptocurrency.
The VIP program provides special conditions for WhiteBIT VIP users, which include discounts of up to 100% on fees, priority support, and a personal VIP manager.
A convenient and multifunctional API for simple and clear use of the platform's functionality and time saving.
WhiteBIT Codes are an internal tool of the platform that allows for instant and free transfers of digital assets between wallets on the WhiteBIT exchange.
Programs for institutional clients and market makers.
The referral program is a system through which users of the exchange can invite others to sign up for WhiteBIT through a referral link. For this, they receive up to 50% of the trading fees paid by the invitees.
AML verification is a service for checking crypto addresses for involvement in illegal activities, which promotes greater transparency of transactions and allows users to be sure of the "purity" of the funds they work with.
In a span of over 5 years, the company has united a vast community of engaged users worldwide, all of whom align with the core values and vision of the company, collectively "setting the standard" for groundbreaking ideas in the dissemination of high-quality blockchain technologies.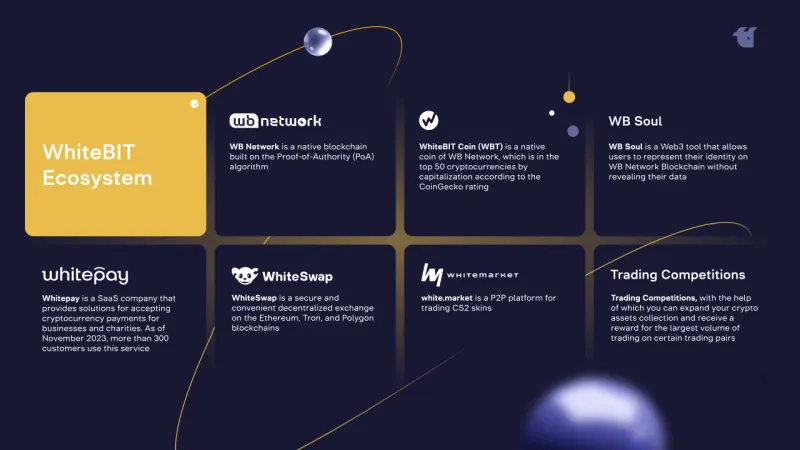 The exchange coin WhiteBIT Coin (WBT) is ranked among the 100 cryptocurrencies with the highest capitalization, according to CoinGecko. It offers a number of advantages when using the exchange.
The WB Network blockchain is a blockchain network built on the Proof-of-Authority (PoA) algorithm.
Whitepay is a SaaS company dedicated to solutions for accepting cryptocurrency payments. With the help of POS terminals and the platform, offline stores and online businesses can accept cryptocurrency payments and donations.
WhiteSwap is a decentralized exchange with a large selection of tools for avid crypto users.
white.market is a P2P platform for trading CS2 skins.
WhiteEX are physical cards that can be used to top up the balance on the WhiteBIT exchange. They are available in different denominations and are activated within 5 minutes.
The WB Soul ecosystem is a development within the WB Network that allows reproducing users' digital identities in the blockchain and characterizing them according to their accounts on the WhiteBIT exchange.
Contact
Disclaimer: Press release sponsored by our commercial partners.