Stock image library site Shutterstock is joining the growing list of image providers turning to artificial intelligence to stem the tide of unauthorized AI-generated images. On Thursday, Shutterstock announced the integration of a new generative AI tool called Creative AI into its library of over 700 million images, allowing users to create customized AI-generated works that are appropriately licensed.
A driving force in the surge of mainstream interest in artificial intelligence is generative AI, which refers to AI models that use prompts to generate or manipulate text, images, music, and videos. Popular AI image generators include Midjourney, Open-AI's Dall-E, and Runway.
Creative AI, Shutterstock says, leverages technology developed by OpenAI, allowing users to generate new images and edit and change images already in the Shutterstock library. Though Creative AI is still in beta, Shutterstock said the recently launched AI image generator feature will include the latest version of OpenAI's Dall-E.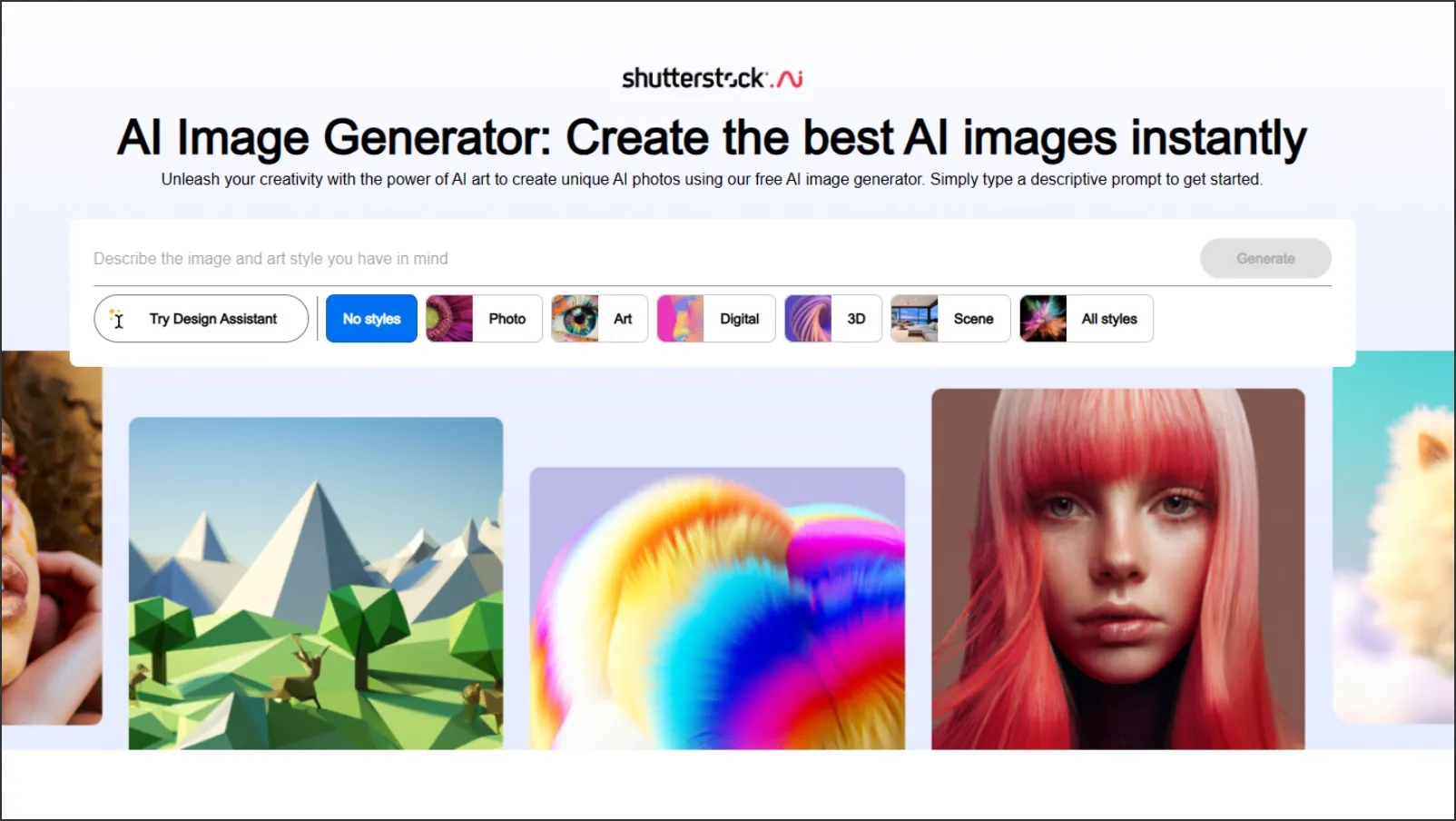 New features in Creative AI include Magic Brush, which allows image edits by brushing and describing desired changes; variations, which can generate alternative versions of stock or AI images; and image expansion, which can broaden the scene as if zooming out.
"These new capabilities will allow creators and business leaders to craft bespoke content to fulfill their creative needs quicker and easier than before, without the need for any prior photo editing experience," Shutterstock Director of Product Marketing Tiffany Gilron told Decrypt in an email.
While Creative AI is free to use, Gilron said, users will need a subscription plan to purchase the final image.
AI image generators have come under increased scrutiny, partly due to how they trained on artists' work without compensation or permission, and partly due their use in creating AI-deepfakes and images that continue to plague the internet and victims of abuse.
Shutterstock said its AI image generator produces content "ready for licensing and indemnifiable for commercial use," and contributors to the platform's library of content have been compensated for their work—adding that contributors are the heart of Shutterstock's business.
"All our AI products, including our new Creative AI features, are trained on licensed content," Gilron said. "Through our first-of-its-kind contributor fund, Shutterstock has compensated hundreds of thousands of artists, with anticipated payments to millions more."
"Shutterstock also has additional safeguards in place with our contributor policy, which does not allow AI-generated content created outside our platform to be sold through our marketplace," she said.
Last month, rival image library Getty Images announced the launch of a "safe" generative AI tool trained on its extensive library of images that the company said is commercially safe for use. Unlike Shutterstock, which uses OpenAI's AI-image generator technology, Getty Images uses NVIDIA's Picasso.
Earlier this month, Australia-based digital design platform Canva partnered with Runway to add AI-video generation to its suite of tools the company called Magic Studio.
"The reason why we're building Magic Studio and building AI is because it's a really powerful way to help our users do tasks they never could have," Canva's head of AI products, Danny Wu, told Decrypt in an interview.
Edited by Ryan Ozawa.