Out of all the cryptocurrency projects that made rapid progress in 2019, Chainlink (LINK) has emerged as one of the clear leaders. 
Not only has the decentralized oracle provider outperformed the entire altcoin market, it's even outpaced Bitcoin on a number of occasions, and many investors are confident that 2020 will bring further gains. 
But that's not the news that most excites Chainlink CEO Sergey Nazarov. Speaking to Decrypt, he highlighted three key reasons why Chainlink will continue to be a project to watch during 2020. 
Chainlink's push on three fronts
Chainlink's oracles, its flagship product, provide developers with easy access to off-chain data verified by a rapidly growing number of secure, decentralized networks.
The startup has made much headway recently, becoming a standard protocol in the buzzy field of decentralized finance (DeFi) applications, which mimic traditional financial tools.
But it's not just because of DeFi that Chainlink's prospects for the future are looking seriously good, said Nazarov. 
"The exciting thing is that it's happening in all these three significant ways. On the one hand you have these oracle networks starting to take on a life of their own and starting to become a sustainable resource for the larger crypto ecosystem; you're seeing use cases other than DeFi—gaming and insurance—start to move towards production. And you're seeing some of the enterprise architectures that we've come up with start to also, slowly, move towards production," he said. 
If that sounds like a lot to take in (and he said all that in one breath—we kid you not) let's take a deep dive into what it might mean. 
Data-rich dapps
Chainlink is focused on one of the biggest use cases for decentralized applications, dapp, and that's integration.
The entire life-cycle of a financial agreement—from custody and escrow to maintenance, execution and settlement—can be encoded into a smart-contract. But these features are usually reliant on external data—price feeds, exchange rates and other variables—which need to be fetched from data providers, APIs, cloud backends, IoT devices, other blockchains and more. 
"On the enterprise side, you're going to continue to see us working with large enterprises in different ways."
Sergey Nazarov
Chainlink provides a secure bridge to all these data sources,  employing a pool of independent nodes, backed by economic incentives, rather than a single central party. 
The number of data networks enabling smart contracts to access data on BTC, ETH, LINK, BAT and many more, is growing rapidly. There are now almost 30, and Chainlink plans to publish the full list very soon. 
"A data rich environment of inputs, that people can easily use, is now becoming available," said Nazarov. He's convinced that this data rich environment encourages people to build new DeFi applications, and to launch new markets.
In fact, the rapidly expanding number of node operators has pushed Chainlink to become the second largest consumer of gas in the Ethereum ecosystem after Tether.
Building sustainable networks
DeFi projects have often started out by creating their own oracles. aggregating data such as interest and exchange rates off-chain. Nazarov argues that many are coming to the conclusion that entrusting this to Chainlink is time and cost effective, not to mention up to 20 times more secure.

"As we're building and bunching these networks, we've arrived at economics that makes sense—it costs less for a user to use one of our oracle networks, with seven to 21 nodes, than it does for them to broadcast from one node," he said.
With upwards of 10 users, a network becomes completely sustainable by those who use it, said Nazarov. "We're making a public good that people need, and, as enough people use the public good, it becomes its own economically sustainable public resource." 
Expanding beyond DeFi
The total collateral locked in DeFi is currently almost $800 million, with a billion dollar value predicted in coming years. Unsurprisingly, then, Nazarov sees DeFi as "the right market to really focus on."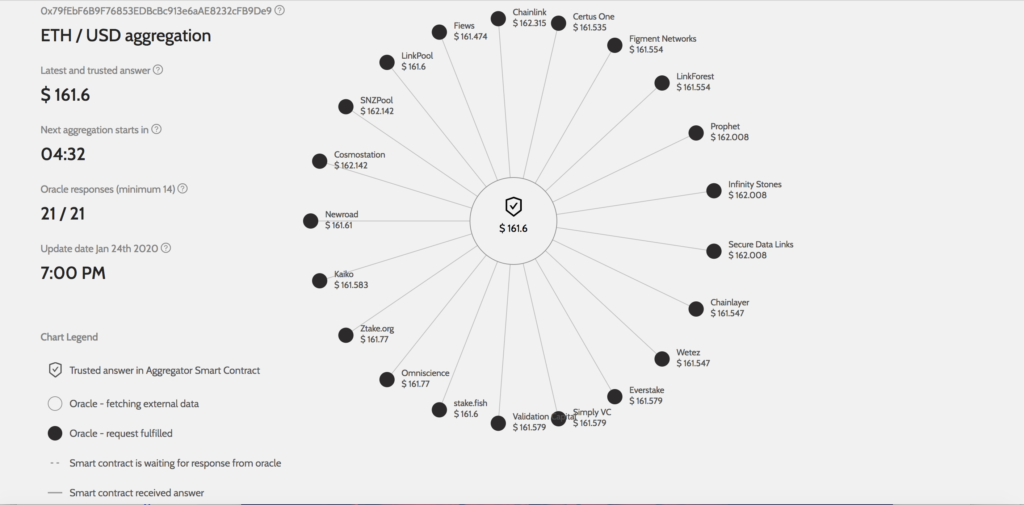 Some of the most common financial products are being recreated as DeFi dapps, including lending, stablecoins, decentralized exchanges, and derivatives.
Chainlink recently integrated with Synthetix, a decentralized derivatives platform, to create synthetic assets (synths) that represent fiat currencies, cryptocurrencies, commodities, indices, and more. Synths give traders/investors exposure to the movement of the underlying asset without actually holding the asset.
Nazarov believes that DeFi apps related to gold and derivatives could be potential boom areas—if they are made usable enough.
But other sectors are growing too. "Gaming and insurance are two markets where we also have an influx of users," he said, adding that Chainlink recently integrated with BET Protocol, to provide it with eSports and sports oracles.
"Insurance is slowest—a very complex industry with a lot of moving parts and a lot of regulation," he said, but he hinted at an announcement in that area soon.
Chainlink's collaborations with Google and more
The applications integrating Chainlink are now increasing almost on a daily basis (to the extent that Decrypt has given up on updating its list).
In recent months, Chainlink's also collaborated with some seriously big players, such as Swift, Oracle and Google. 
"On the enterprise side, you're going to continue to see us working with large enterprises in different ways," said Nazarov. 
"The architecture we came up with, with Google in using BigQuery and making hybrid cloud watching applications—I know that people are building using that architecture and I know that some of the things that are getting built are planned for production release," said Nazarov.
The startup is also feeding its already active community with a bevy of meet ups—in over 30 cities—to fuel further innovation, and yet more use cases.
The most amusing is one developed specifically with Nazarov in mind. It's an engaging computer game which simulates his quest to have blockchains, oracles, and smart contracts adopted as the components of our strange, new decentralized world. Check out that tune. Wut.
I've played pc games on and off my whole life, they've always helped me step back and gain perspective, almost like a modern form of meditation. Never thought I'd be playing a game of myself though; https://t.co/8KsUOixDHx, it's truly special, thanks @PureNukage for making this.

— Sergey Nazarov (@SergeyNazarov) January 3, 2020