Decentraland is bringing Pride back to the metaverse, today unveiling plans for its 2023 event and parade that are designed to be even bigger than before.
Created alongside community studios Polygonal Mind and Vegas City, Decentraland's Metaverse Pride 2023 will run from June 27 to June 29. The three-day event is designed to "celebrate the diversity of the global LGBTQIA+ community, engender inclusivity, and add to the storied history of Pride month," per an official description.
Building on the foundations laid out by the 2022 event, Decentraland's Metaverse Pride 2023 will be larger than in previous years with users able to experience it across a larger virtual area.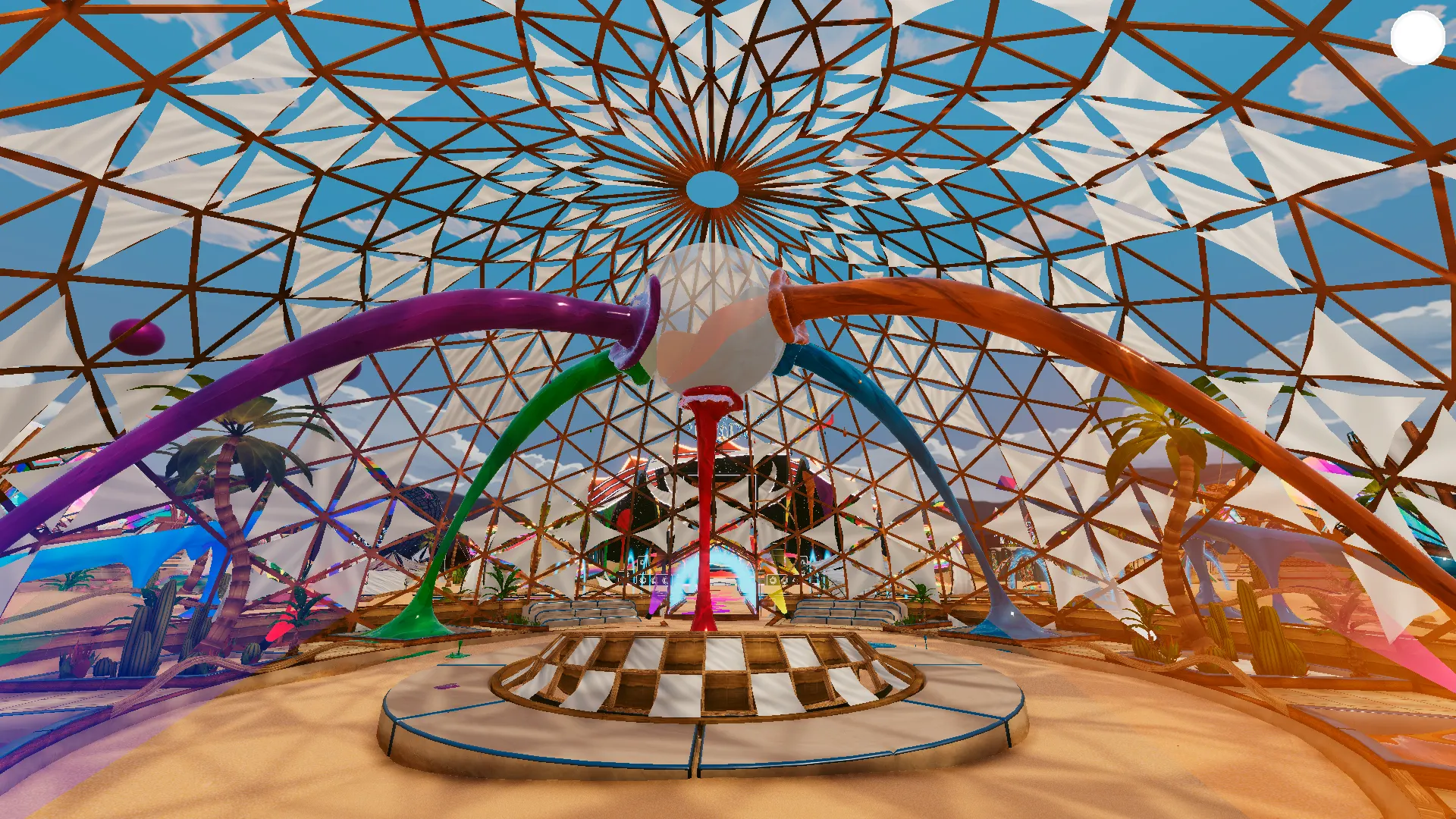 "Burning Man is a big inspiration for the event," Metaverse Pride head Iara Dias tells Decrypt, with the iconic festival sharing a focus on community, art, self-expression, and self-reliance within Decentraland in general.
The area for Pride 2023 will resemble an oasis in a desert, with the scene changing as more people participate to represent "how important the support of other people is." Users will also leave behind rainbow footprints in the virtual space and "constantly experience a different environment," according to Dias.
As for the musical performance, The Decentraland Foundation wants to focus on artists from the existing LGBTQ+ Decentraland community, offering them not only a platform but also financial backing. The Foundation is in talks with a variety of different artists at the moment, but even if deals aren't sorted in time for Pride, they'll be invited to perform throughout the year.
"It's important to give space to queer artists wherever and whenever," Dias says. "Pride isn't just about fun and games. It's about giving economic stability for community creators, who might find it difficult to get space elsewhere."
Users will also be able to take part in a virtual parade via player-created floats, plus the Decentraland Foundation is also organizing a Metaverse Pride wearable design contest to be held in the weeks leading up to the event.
The Ad Council's "Love Has No Labels" campaign will join Decentraland's virtual Pride event to celebrate diversity and inclusivity in the metaverse, with Pride 2023 also offering educational gamified experiences, panel discussions, and Q&A sessions to explore the history of LGBTQ+ communities alongside current affairs and global issues.
"It's so important because Decentraland has such a global audience, but we know that some of these educational materials may not be as available to everyone as they are to me in North America," says Kim Currier, the Decentraland Foundation's marketing lead. "We wanted to ensure that if there's an opportunity to share content globally, that we do it in a way that's really inclusive."
Throughout the experience, there will be safe spaces for users to connect with one another and share their own experiences, which is a "fundamental" aspect of the event to Dias.
Participants will have to agree to a code of conduct before entering, with AI bots on hand to deal out bans if anyone makes another user feel unsafe. "It's all about love and respect," adds Dias.
"There are so many places around the world where people can't take part in Pride, either because it's illegal or because someone might not feel ready to come out yet. Digital identity can empower you in real life as well," Dias continues, explaining how users can experiment with clothing or interactions in a safe space that's free from judgment or real world repercussions.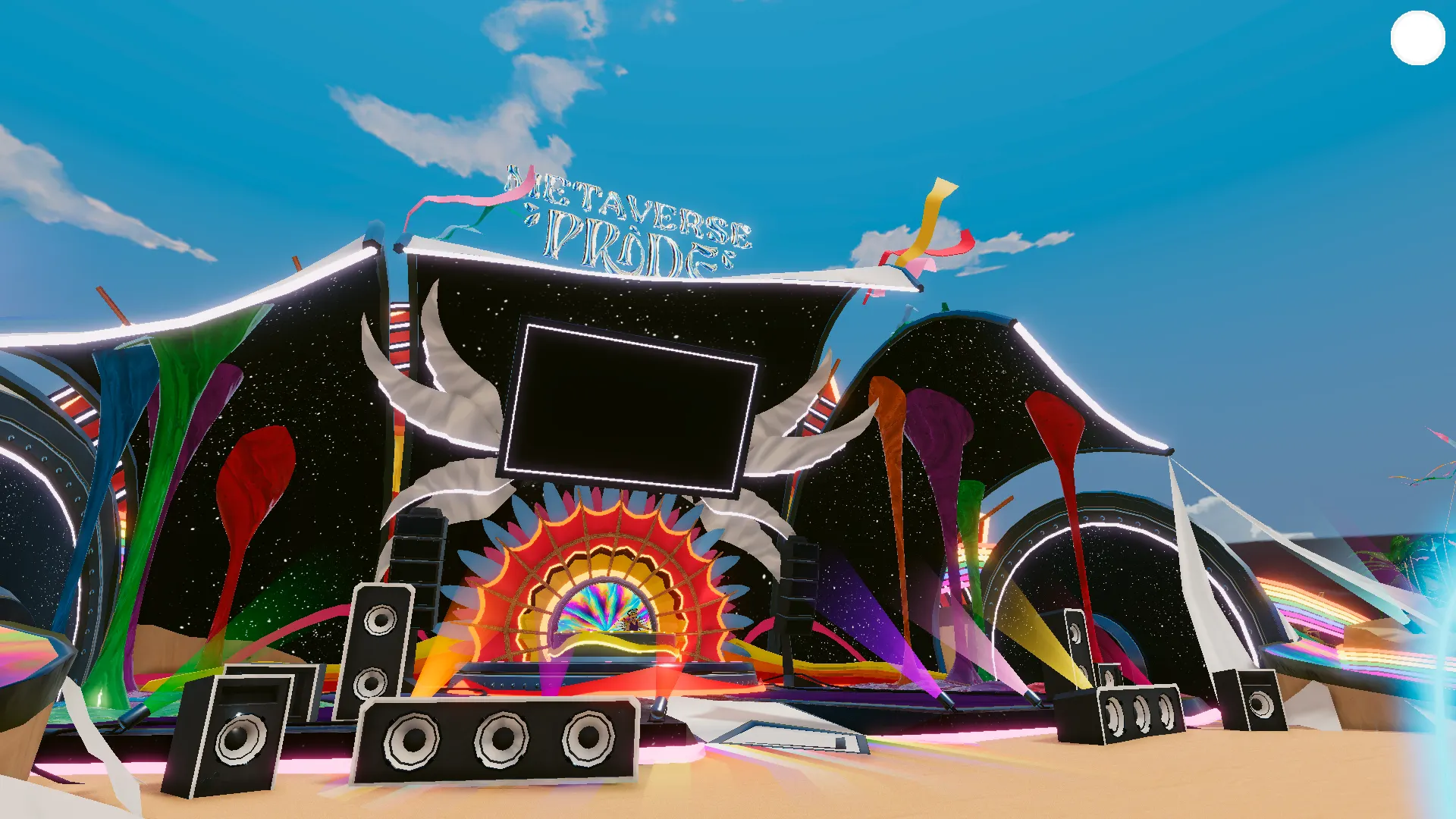 "I believe that we can create real change, one avatar at a time," says Dias.
Currier adds that the pseudonymity of the metaverse—with vibrant and imaginative avatars providing an array of presentation options—means that there are "a lot less of the assumptions and questions that happen in a traditional world."
"The digital space is allowing people to really express the full spectrum of who they are," says Currier. "I think that the ability to have the metaverse be a test and learn space for everyone, whether it's testing tech or if it's testing how you want to express yourself, is really beautiful." 
Every aspect of Decentraland's 2023 Pride event is based around collaboration. In fact, the foundation is currently working on a playbook that will educate users on how to put on similar events, with everything from contacts and marketing guidelines, technical specifications, and project management suggestions included.
"It's so meaningful for us to share knowledge and empower the Decentraland community," says Dias. "It's weird to say that the dream is us out of jobs, but yeah, that's the dream."