Tether's market capitalization has hit $82.9 billion, edging towards its all-time high of $83.2 billion attained in May 2022, per CoinGecko data.
However, Kaiko analysts have discovered that Tether's supply has risen without a corresponding rise in trading volumes.
They argued that Tether is primarily used for trading on centralized exchanges, commanding 50% of the market compared to other stablecoin pairs. On decentralized exchanges, USDT only boasts around 20% market share.
The recent rise in Tether's market capitalization has showcased zero correlation with trading volumes.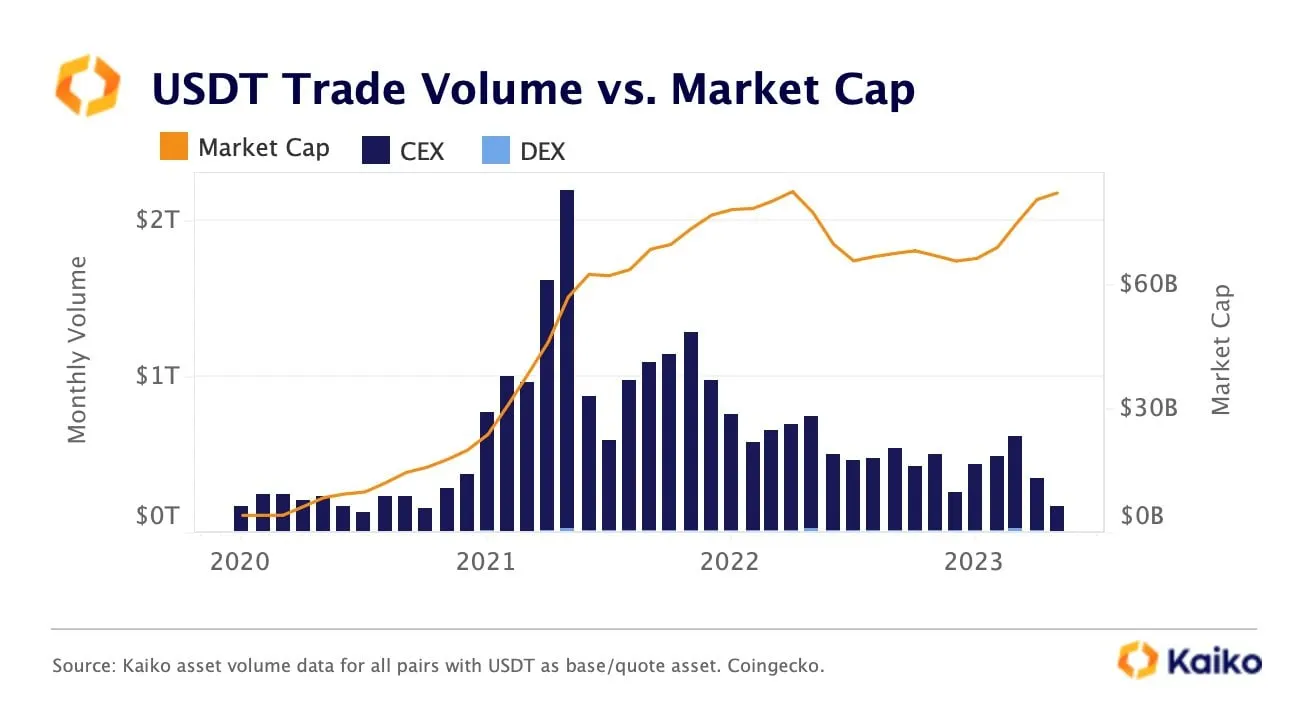 The report noted a distinct change with Circle's USDC stablecoin when comparing its trading volume and supply, indicating that the stablecoin is a popular trading pair more than anything else.
As USDC volume declined, its market capitalization decreased accordingly.
This sharp contrast further highlights the anomaly in Tether's market cap behavior.
Factors that promoted the growth of USDT market capitalization may have also been the discontinuation of Binance's BUSD stablecoin and USDC's de-pegging event in March.
The analysts noted that the above explanation is not enough to "explain the more than $15 billion increase" in Tether's market capitalization since 2023's start.
So what gives?
Tether soaring on Tron
An intriguing factor contributing to Tether's climbing market capitalization is its growth on Tron. Despite having "minimal DeFi activity," per Kaiko, the stablecoin's supply on Tron has remained above Ethereum.
Currently, the total value locked (TVL) in DeFi applications on Tron is $5.72 billion with three applications JustLend, JustStables, and SUN accounting for more than 99% of the TVL, according to DefiLlama.
Ethereum has a TVL of $27.35 billion with over ten protocols having more than a billion dollars in deposits.
Coinmetrics data also shows a steep rise in USDT supply on Tron in 2023 compared to that on Ethereum.

The majority of USDT, approximately $46 billion, is issued on Tron, surpassing the $36 billion issued on Ethereum. Besides these two blockchains, USDT is also issued on ten other blockchains like Solana, Omni Avalanche, and Near in relatively smaller amounts of less than $2 billion each.
Kaiko's analyst found that offshore exchanges, such as Binance and OKX, hold significant USDT balances on Tron, suggesting that "market makers and whales prefer this network [Tron] for its low transaction fees."
Tether did not respond immediately to Decrypt's request for comment.