It's been a bearish quarter for crypto hackers, a new report shows.
Blockchain intelligence firm TRM Labs revealed that the industry saw a dramatic drop in the number of hacks in the first quarter of 2023 due to recovery efforts and sanctions placed on the Ethereum mixer Tornado Cash.
The report states that hackers stole approximately $400 million from crypto projects across 40 attacks, representing a 70% decrease in money stolen compared to the same period in 2022.
While the number of hacking incidents held steady quarter-over-quarter, the average size of each hack dropped from $30 million to $10.5 million.
Moreover, the amount stolen through hacks in Q1 2023 was less than in any quarter in 2022.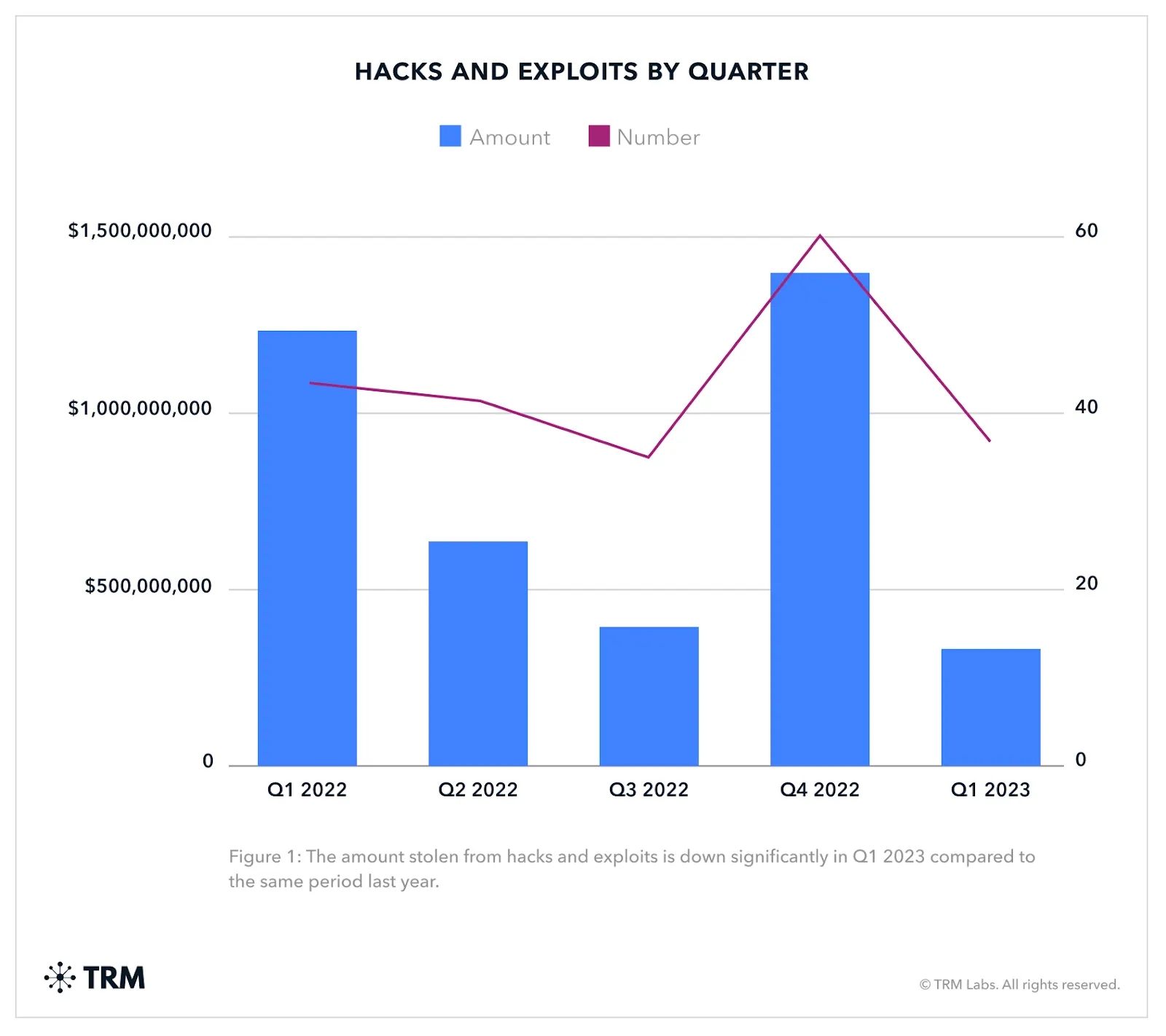 The report attributed the industry's positive trend to legal actions against hackers and last year's sanctions on Tornado Cash which made it "difficult to launder the proceeds."
Mango Markets arrest a turning point, says TRM Labs
Regulators cracking down on attackers may have also played a role in the decrease in hacks this past quarter.
In December 2022, the U.S. Department of Justice arrested Avraham Eisenberg, charging him with market manipulation related to his $114 million on Solana's decentralized perpetual exchange, Mango Markets, even though he had returned $67 million from the stolen amount.
Analysts from TRM Labs added that "Avraham's prosecution may have signaled to would-be attackers that even an agreement from the victim not to pursue legal action may not confer protection."
Another factor that influenced low hacking amounts in Q1 2023 was the rise in attackers returning their ill-gotten funds.
In April 2023, for example, Euler Finance exploiter returned funds from its $200 million hack. Similarly, a Tender.fi exploiter, who stole $1.5 million, settled for an $850,000 bug bounty with the team.
The report also cited implementations of "anti-money laundering standards" by exchanges, legal actions against "bad actors," and sophisticated "blockchain intelligence tools" as reasons for the drop in attacks.
Still, analysts estimate that crypto hacks will likely "rebound" as the year progresses. This is due to the fact that just a few large hacks can quickly skew the numbers. TRM analysts found that ten hacks accounted for 75% of the total hacked amount in 2022.
Thus, individual quarters offer "poor predictions" of yearly projections, the report read.