Tokenized versions of real world assets, like commodities and real estate, have outperformed Bitcoin and Ethereum so far in 2023, according to a new report from blockchain analytics firm Nansen.
The report delves into the terrain of real world assets, or RWAs, and how they are being onboarded onto blockchains through various instruments. It also marks the debut of Nansen's Real World Asset Index, which tracks 22 different governance tokens created on Ethereum.
Nansen used the price of BTC and ETH as benchmarks for the index's performance. The RWA index, which had a total market cap of $335 million as of May 8, has outperformed the top two cryptocurrencies, with notable peaks in January and April.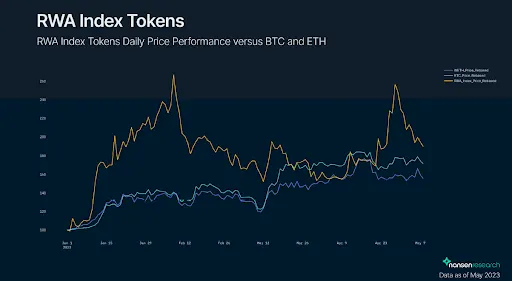 Tokenization of commodities, real estate, art, and bonds has become a disruptive and trendy new way to manage these assets.
According to Nansen, there's been a significant uptick in interest in tokenized RWAs in 2023. The company noted that several important institutions–Goldman Sachs, Bradesco and Siemens–have been getting involved.
Although Nansen Research's price index includes 22 specific protocols, it also offers tracks 40 different RWA protocols–a non-exhaustive list, the company said in its report–grouping them in seven different categories: money markets, real estate, luxury goods, debt markets, infrastructure, carbon markets and commodity markets.
An important distinction this year, according to the report, is that real-estate and RWA securitization infrastructure do not dominate the market–as was the case pre-2021. Instead, debt market protocols have been especially popular.
Steady rise in activity over the past year shows an interest in debt market projects such as Maple Finance and Centrifuge, with five protocols in this category reaching the top 10.
Due perhaps to double digit yield opportunities offered by some of these protocols, and despite the ongoing bear market, interest by investors in real world asset markets is trending positive.