Doodles is expanding from its Ethereum profile picture (PFP) origins to fully customizable avatars. Today's launch of the Doodles 2 Character Builder within The Stoodio app for NFT holders marks a big step forward—with help from Pharrell Williams and Adidas.
Alongside the launch of the Character Builder, which lets Doodles NFT holders change their apparel and attributes for a full-body avatar, Doodles has announced an upcoming airdrop for a "Pharrell Pack." The NFT pack includes digital apparel from musician Pharrell Williams and the fashion brands that he either created or collaborates with.
The pack features digital Doodles wearables from Adidas, Humanrace, Billionaire Boys Club (BBC), and Ice Cream. Each pack includes digital wearables, along with a token that can be redeemed for a single exclusive physical piece of apparel.
Just 300 of the packs are being produced, and they'll be free to Doodles holders who meet certain criteria. According to the project's website, the requirements include owning an original Doodles NFT and using the Dooplicator NFT to generate digital apparel. If more than 300 people are ultimately eligible by the cutoff date, then a lottery will be held to choose winners.
Joe Ranzenbach, Doodles Head of Product Management, wouldn't confirm whether these brands will someday release standalone digital apparel for Doodles or hold other collaborations. However, he said that Doodles has a "pipeline of brand partners" lined up for future drops.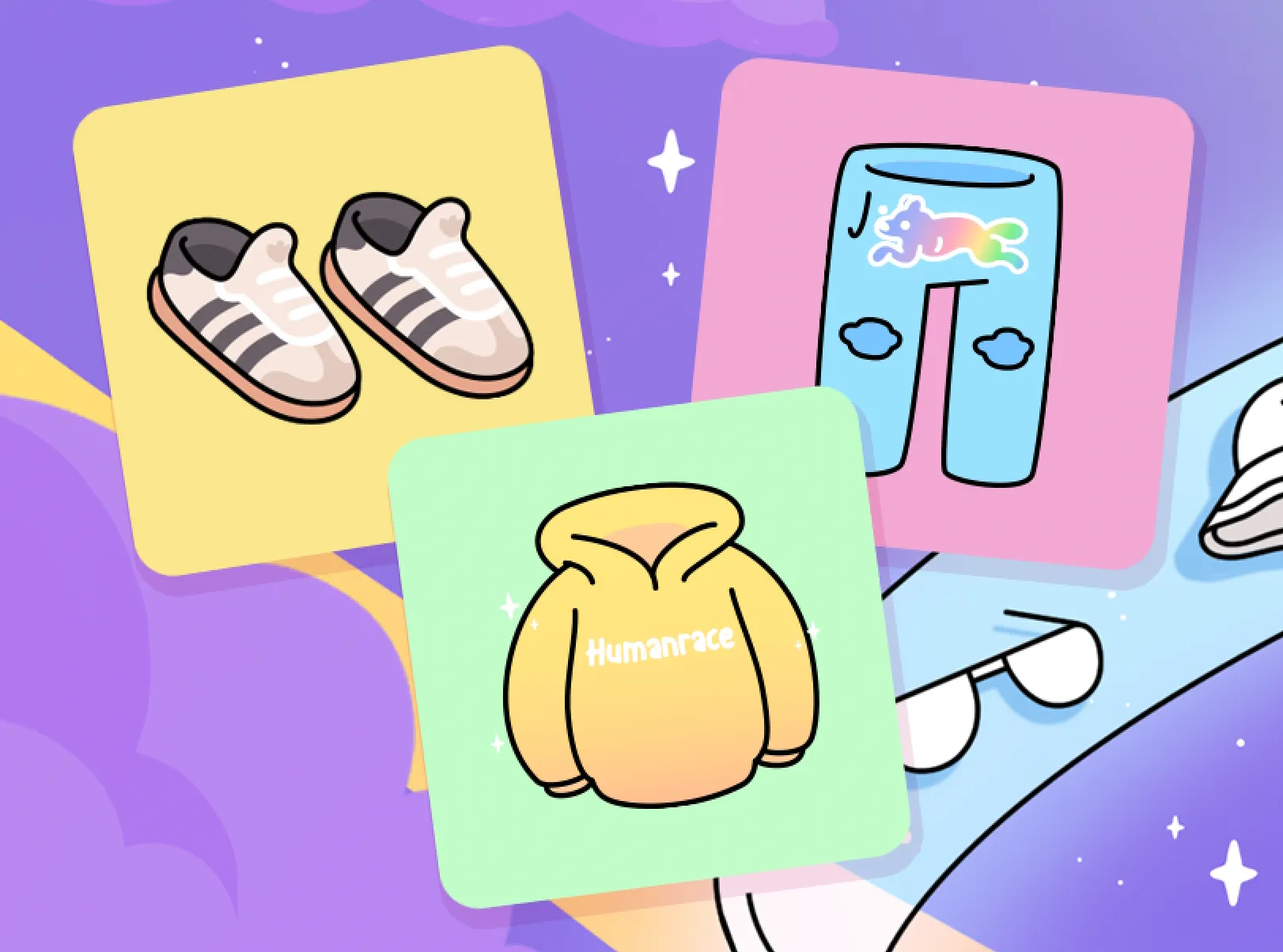 Williams, the famed musician and record producer known for hits like "Happy," has been connected to Doodles since June 2022, when he was named the startup's Chief Brand Officer. At the time, Doodles said it plans to release an NFT-inspired album (executive produced by Williams) on Columbia Records, but it hasn't yet surfaced.
Doodles CEO Julian Holguin described Williams as "integral" to the project and a "day-to-day influence" on the growing brand while at WebSummit last November.
Building a Doodle
Ranzenbach gave Decrypt a brief demo of the Doodles 2 Character Builder tool, showcasing the various customizations and animated apparel that users can equip. Although Doodles was first launched on Ethereum, Doodles 2 and its apparel are minted on the Flow blockchain.
When users equip apparel to their Doodles 2 avatar, Ranzenbach explained that the avatar NFT technically "owns" the apparel assets at the blockchain level—and that means that people can sell their fully-equipped avatars as assembled, with all included pieces bundled alongside.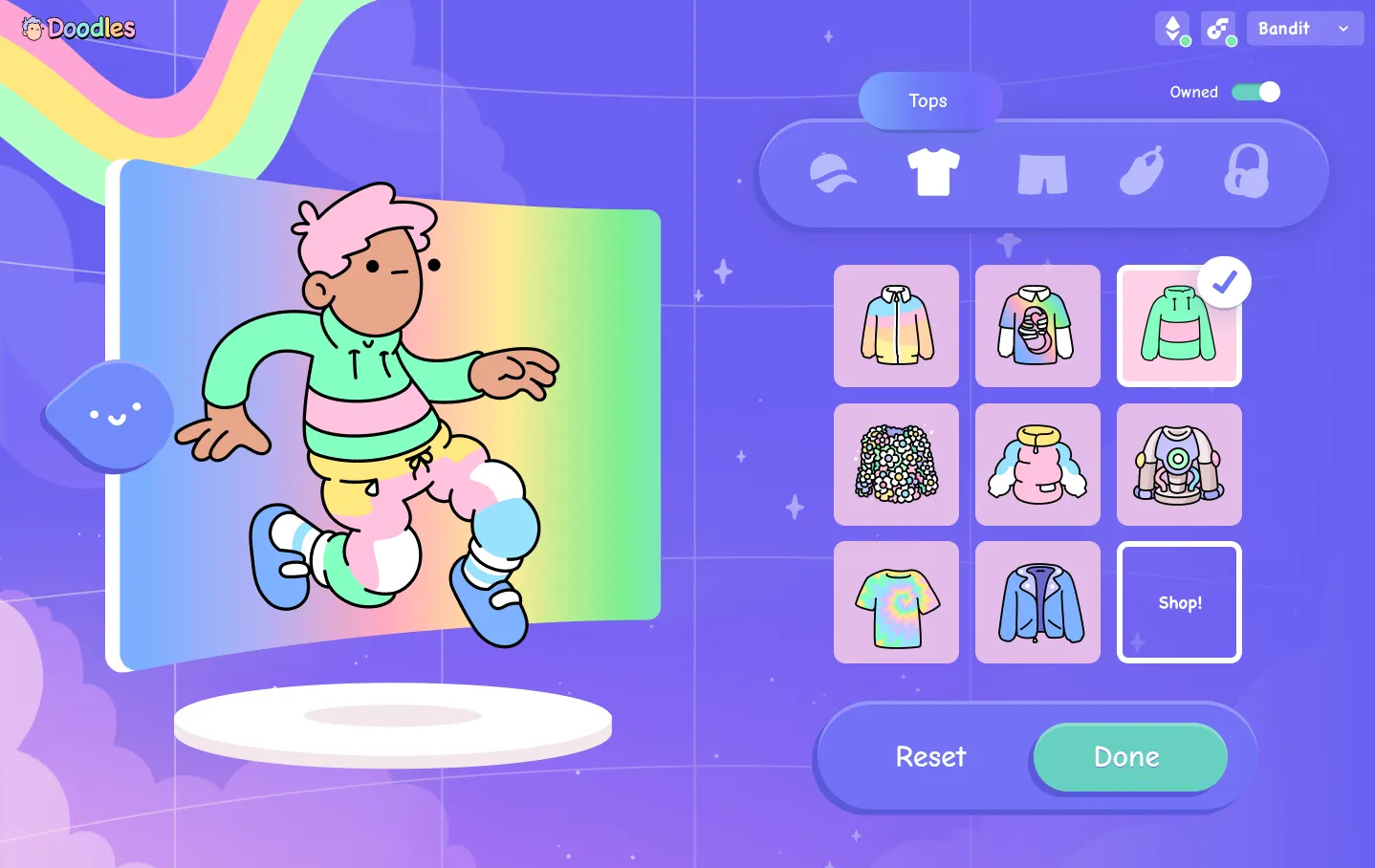 That could be useful as Doodles users potentially collect a full set or outfit from a certain brand and then sell the complete look on the avatar—or otherwise style a unique look and then resell it on Gaia's secondary Flow marketplace.
Ranzenbach said the feature also means that Doodles avatars that amass unredeemed rewards in a play-to-earn game, for example, could be traded with all of that bundled in. More use cases may develop as metaverse games and platforms begin supporting Doodles avatars following the Character Builder launch.  The fact that Doodles plans to go multi-chain with its characters introduces even more possibilities.
Editor's note: This article was updated after publication to clarify that digital apparel from the Humanrace brand will be featured, rather than Human Made, another brand that Williams has collaborated with.