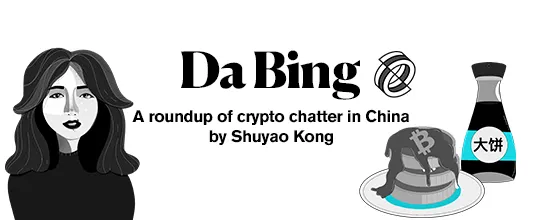 It has been almost a year since your favorite China watcher wrote anything meaningful about the Chinese crypto community. The truth of the matter is that China's covid lockdown made it difficult for anyone who's not living in Asia to truly understand its market, people, and overall sentiment. 
So I was surprised to feel the pro-crypto excitement at last week's "Web3 Festival" in Hong Kong. The big news was a major policy announcement from the Hong Kong government, indicating its desire to make the island a happy place for crypto companies to come and set up shop—within limits of course. The crypto thaw here gave players across CeFi, DeFI, NFTs, Protocols and Games a reason to reunite and celebrate in Hong Kong. The conference was one of the biggest ever here.
Of course, the new regulations announced last week embody the "One Country, Two System" mandate whereby Hong Kong is still very much a part of China. But, as is usual with Hong Kong, it enjoys occasional policy exceptions. In the case of crypto, while the mainland still bans crypto, Hong Kong appears to have been given the greenlight to openly court—and regulate— the sector.
The Sun sets on West but rises on East
The contrast with the U.S. could not have been more drastic. While Gary Gensler is cracking down 2017 on ICO era projects such as Algorand, Hong Kong officials suited up and took the stage at the Web3 Festival, where they voiced their commitment to crypto and the wider digital asset space. 
As the west becomes increasingly hostile toward crypto, Hong Kong, following in Singapore's footsteps, is banking on the new sector to revive its bruised economy. The former canton took a beating in 2020, after Beijing enacted its infamous National Security Law, which led to a massive exodus of international firms, expats, and wealthy locals. 
The new deal hopes to fix all that. By giving clear regulatory guidance on digital assets, Hong Kong hopes to attract crypto firms to open offices in the city, therefore bringing new tax revenue, talent, and financial activity. 
So far, both Huobi and OKX have announced plans to open branches in the city.
In a private conversation with your correspondent, a representative from Bitget, a newly-rising star in the CEX space, said they also intend to follow suit. During the conference, many asset managers said they're considering setting up shop in Hong Kong since the city is known to have so many high-networth individuals.
CEX Appeal
Centralized Exchanges played a major part in the week-long conference. After all, Chinese people control most of the CEXes in our industry, the largest being CZ's Binance, followed by Star Xu's OKX, Ben Zhou's Bybit, Justin Sun's Huobi, and Shawn Liiu's Bitget. 
To the CEXes, opening another office in Hong Kong is a kind of hedge against the crypto environment in Singapore. Post the LUNA and 3AC debacle, Singapore, which was once the wild west as far as crypto is concerned, is starting to be more cautious. That provides a nice opening for Hong Kong.
Most of the founders and CeFi OGs showed up at the conference. They went on the main stage, gave long speeches about how big their compliance teams are, and how much they want to be properly regulated. 
The Hong Kong government "is very serious about building an international digital asset center," said Xiao Feng, founder of HashKey, a crypto conglomerate that operates an exchange, an investment arm, a staking business, and many others. (It is also an investor in Decrypt Media Inc.) 
Feng was one of the main organizers of the conference. In November, when Hong Kong made licensing mandatory for exchanges, HashKey and OSL were the only two crypto exchanges that got one. The government is expected to award licenses to other exchanges in June.
As usual, the most entertaining character was Justin Sun. He made his presence known even before arriving in the city: On Twitter, Sun handpicked a woman (pictured below) to co-host Huobi's beauty contest in collaboration with iPollo, a crypto wallet that has minimal adoption but is also known for its beautiful marketers. 
All of a sudden, the audience started to pay a lot more attention to the new face of Huobi than to talk about web3 or digital assets.
Will they stay or will they go?
Opening up to web3 companies is one way to attract both business and investors in crypto. In a private dinner with folks from Hashkey, I was told that the goal of the policy is to onboard web3 business to Hong Kong via ZA, a crypto friendly neo bank blessed by the HK government.
Hong Kong is attempting to be crypto friendly, sort of. The government wants to make sure the industry is regulated and allowed to flourish here—within limits. For example, DeFi companies must apply for licenses and follow certain rules. Above all, the government here is ever conscious of how this will play out in Beijing, which, in the end, will either look the other way, or bring the hammer down.
Historically, Hong Kong has provided fertile soil to grow financial institutions. But crypto entrepreneurship is a different kind of flower. It requires local communities that are creative, technical, and more importantly, willing to push the envelope in tech. The most beloved tech startup here is a delivery app that looks like a turn of the century web page. Tech renegades simply don't exist among HK's younger generation. Instead, they are buried under expensive rents and housing prices. Finding a stable job so they can have a stable family trumps the high-risk, high reward game that, say, startup bros in the U.S. play.
During my visit, I saw a lot of people in the Chinese OG ETH communit. From the early ETH mining groups to the latest LSD farmers, the conference was definitely a celebration of Ethereum's journey for the past 3 years. However, when your correspondent asked whether any of the builders would move to Hong Kong, the answer was a predictable silence. 
Hong Kong will have a tough journey ahead to fight for crypto tax income. Their enemies include not only Singapore but also Dubai which has recently begun issuing licenses to crypto exchanges. For example, Bybit just opened up its global headquarters in Dubai. 
But at least—unlike in the U.S.—Hong Kong is attempting to rapidly establish the rules of engagement. Without that, there is no crypto industry.