Disgraced crypto mogul Sam Bankman-Fried today was released from custody by a New York judge under a $250 million bond agreement.
That led to one big question across Crypto Twitter: Where did the money come from? Didn't SBF lose billions of dollars? Is he tapping into FTX funds to pay his own bail?
The short answer is this: no one had to pay anything for his release, nor is any cash owed—not yet, anyway.
Bankman-Fried's release agreement is an "appearance bond," a promise to comply with specific restrictions while awaiting trial, and to show up when the time comes. He had to put up 10% of the bail amount as collateral for the bond, but no actual payment was required.
This is federal court not state. It's an Appearance Bond. It requires friends/family to sign an Affidavit of Surety, which obligates the defendant to pay the court the bail money if the defendant doesn't appear in court or fails to comply with conditions. No $ is paid upfront.

— Jeff Alvez (@alvez_jeff86) December 22, 2022
The appearance bond, as filed with the court, establishes a $250,000,000 "personal recognizance bond" guaranteed by four people, at least one of them not a member of Bankman-Fried's family. For now, though, the only two signatures are those of Allan Joseph Bankman and Barbara Fried, SBF's father and mother.
At Thursday's hearing in New York, federal prosecutors said that Bankman-Fried's bond was "the highest ever pre-trial bond."
Under U.S. law, "recognizance" means a release in which no upfront payment nor bail bond arrangement is required, and that is based solely on a written promise by the defendant to appear in court when required to do so.
"When a loved one or family member c0-signs a recognizance bond, the offender's failure to appear in court impacts additional people—namely the co-signers who are also on the bond," explained Miriam Baer, vice dean and centennial professor of law at Brooklyn Law School.
A court could also require an up front security payment," Baer adds. "But in some ways requiring family members to co-sign the recognizance bond—especially one with a very high dollar number—is a more powerful way to ensure a wealthy person's return to court."
The bond document also establishes other requirements, including house arrest with electronic location monitoring, as well as restrictions on spending, business activities, and firearms.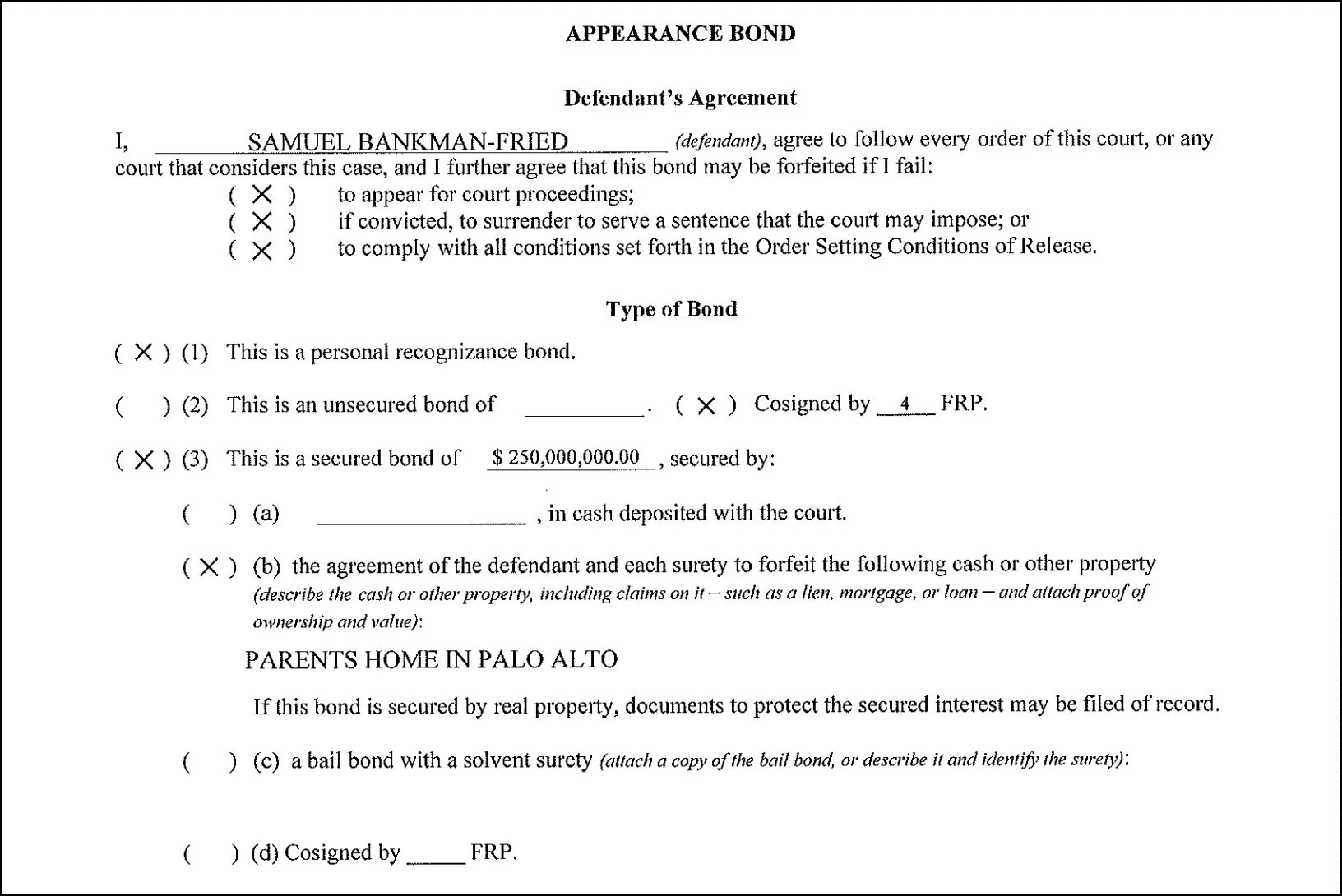 If Bankman-Fried doesn't remain in compliance, or fails to show up for his trial, then the $250,000 will be called due. And the first item of collateral offered up to cover that amount is his parents' home in Palo Alto.
Neither the address of the property nor its value are included in the court document.
One known family home on Cooksey Lanes in Stanford, however, is worth about $4 million, according to a notoriously inaccurate Zillow estimate. Speculation as to the value of the Palo Alto residence is rampant.
Where would Bankman-Fried's bond signatories, including his parents, come up with the rest of the $250 million, should it come to that? According to Reuters, they—along with FTX company executives—bought $300 million in property in the Bahamas over the past two years. It's unclear who currently has custody of those assets.
Bankman-Fried—also known as SBF—is facing eight criminal charges after U.S. prosecutors requested his extradition from the Bahamas. 
The former boss of collapsed crypto exchange FTX allegedly committed fraud by using customer funds to place bets via his trading house Alameda Research—which he also founded. 
Prosecutors from the U.S. Attorney's Office for the Southern District of New York also charged Bankman-Fried with conspiracy to defraud the United States and violate the campaign finance laws.
The celebrity crypto mogul was famous for donating to Democratic political campaigns, though it was later revealed he gave money to Republicans, too. Now, some lawmakers are giving those funds back.