Pro-Russian groups are conducting crowdfunding campaigns, raising a significant amount in Bitcoin and other cryptocurrencies to evade U.S. sanctions and support paramilitary operations in war-torn Ukraine, according to research by blockchain intelligence firm TRM Labs.
"As of last week, we identified about $400,000 that have been raised since the beginning of the invasion in February," Chris Janczewski, head of global investigations at TRM Labs, said in an interview with CNBC.
One of those groups, according to Janczewski, is "Task Force Rusich," described by the U.S. Treasury's Office of Foreign Assets Control (OFAC) as a "neo-Nazi paramilitary group that has participated in combat alongside Russia's military in Ukraine."
"Task Force Rusich," which is accused of committing horrible atrocities against Ukrainians, was sanctioned by the OFAC last month along with two of its leaders and five crypto addresses linked to the group.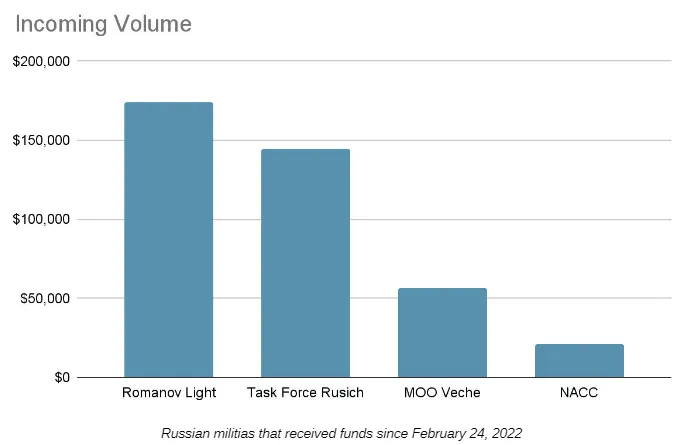 TRM Labs discovered that this group was looking to raise money to buy thermal imaging devices and radios, among other items.
The report also highlights Romanov Light, a Telegram channel, which has raised over $174,000 in cryptocurrencies for Special Rapid Response Unit ("SOBR"), an elite Special Forces unit in the Russian military. Items purchased by this entity included general combat and survival equipment.
Another pro-Russian group that turned to cryptocurrencies to raise funds is "The Novorossia Aid Coordinating Center," which raised about $21,000–mainly in Bitcoin–to buy drones, per the report.
TRM Labs suggested the likelihood of further adoption of cryptocurrencies amongst Telegram channels that raise funds in support of Russia's invasion of Ukraine as a result of the sanctions and observed service disruptions to the Russian electronic banking infrastructure.
Per the report, Russian virtual asset service providers (VASPs), non-compliant crypto exchanges, and darknet marketplaces have been observed in the counterparty activity for these groups—and will likely continue to do so, given the lack of enforcement mechanisms.
Crypto as a way to evade sanctions
The research also revealed that those groups are using encrypted messaging apps like Telegram to offer ways for sending cryptocurrencies that are later converted into fiat to support combat training at locations close to the border with Ukraine.
"They're probably using non-compliant exchanges to off-ramp those funds [into fiat]," Ari Redbord, head of legal and government affairs at TRM Labs, told CNBC.
While the amount of money raised by pro-Russian groups may seem insignificant compared to millions of dollars in crypto donations received by Ukraine since the start of the war, Janczewski thinks that it's "an indication of where things could head."
"Of course, you can see a higher number of dollars in the traditional fiat banking system, but as the sanctions tighten on various groups, they can flee those traditional financial systems, and cryptocurrencies are certainly an avenue they can pursue," said Janczewski, adding that this number is likely to go up.
In July, the blockchain analytics firm Chainalysis reported that groups tied to Russia had raised $2 million in cryptocurrency, with the vast majority of funds sent in Bitcoin and Ethereum, followed by "considerable quantities" in Tether, Litecoin, and Dogecoin.