Will Carsola is the co-creator and artist of two animated shows on Adult Swim, and now he's designed an Ethereum NFT collection for canned water brand Liquid Death.
Carsola's shows, "Mr. Pickles" and "Momma Named Me Sheriff," are irreverent comedies that combine elements of Americana with the grotesque and surreal. As an NFT artist, Carsola has taken his signature art style and applied it to his project, which is a collection of 6,666 severed heads known as the Murder Head Death Club.
NFTs are unique tokens that exist on a blockchain such as Ethereum and indicate ownership of an asset, such as digital art, a piece of music, or even virtual real estate.
Carsola told Decrypt that he first became interested in NFTs a year ago: "My cousin Kevin Oberbauer showed me what was happening with some generative projects and suddenly it all clicked with me—the utility of NFTs had unlimited potential."
Now, he's an NFT collector and designer.
"I had a realization recently that I'd rather own a piece of art as an NFT than have the physical piece on my wall, which is kind of crazy. But then again, owning something on the blockchain makes so much more sense to me in a lot of cases," Carsola said.
The artist's "grimey" style is visible in what he creates and collects.
"Even when I was a bartender in my 20's, I'd draw people sitting at my bar on napkins in between serving drinks. Sometimes people would come to the bar just to get me to draw a crazy-looking portrait of them or their friend," he said.
Carsola's favorite NFT is his Mutant Ape, an offshoot of the Bored Ape Yacht Club collection but with myriad biological mutations.
"He has mushrooms and hotdogs growing from his body," Carsola said of his ape. "I recently gave him some new features drawn in my style and named him Mutant Mike."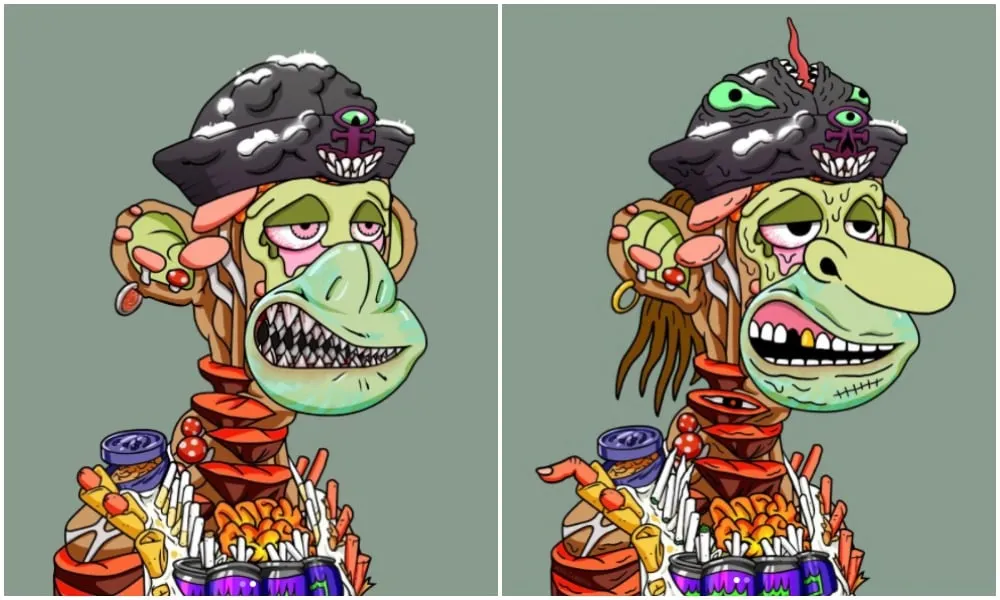 On his decision to work with Liquid Death, Carsola said CEO Mike Cessario's vision for a company with funny, edgy marketing resonated with him.
"I liked the idea of a product whose marketing not only made fun of itself but also made fun of corporations and advertising in general," Carsola said. He also cited the brand's anti-plastic, environmental ethos as another appealing factor.
Despite Liquid Death's efforts to appeal to consumers as an eco-friendly alternative to bottled water, the company received flak on social media when it first announced the Murder Head Death Club NFT collection.
Many fans of Liquid Death were upset about the NFTs, even though the canned water brand promised it would offset 110% of all emissions from the project. In addition, the artist said 10% of royalties from the Murder Head Death Club will go toward reducing plastic pollution.
Carsola says a lot of the backlash surrounding NFTs is due to a fundamental lack of knowledge about the technology.
"I think a lot of the NFT hate comes from people not fully understanding NFTs yet. And a lot of people seem to be regurgitating exaggerated facts about their impact on the environment," he said. "When people tell me that they don't like this or that about the NFT space, I say "then try to make it better," because this space is early and the potential of NFTs is huge."
As to whether animated shows like Carsola's might deploy NFTs, the artist is "pretty sure" it will happen. Carsola sees how some existing NFT projects allow holders to own characters and thinks there's potential for fans to own one of his characters and "have input on a project" in the future. To this effect, some NFT-based shows have already been made, like Mila Kunis' "Stoner Cats." But NFT shows have yet to go mainstream.
"The NFT space is evolving so rapidly that I wouldn't be surprised to see a new NFT animated show tomorrow. But I have a feeling that the potential of NFTs goes far beyond the possibilities of these projects just becoming animated shows. I think there might be something bigger here," Carsola said.