A significant cache of Bitcoin stolen in the 2016 Bitfinex exchange hacking incident was moved on Tuesday morning.
The movements were detected by blockchain analytics platform WhaleAlert, with the receiving address containing 94,643 Bitcoin ($3.63 billion) sent in 26 transactions.
Some of those transactions transferred 10,000 Bitcoin each, according to on-chain data.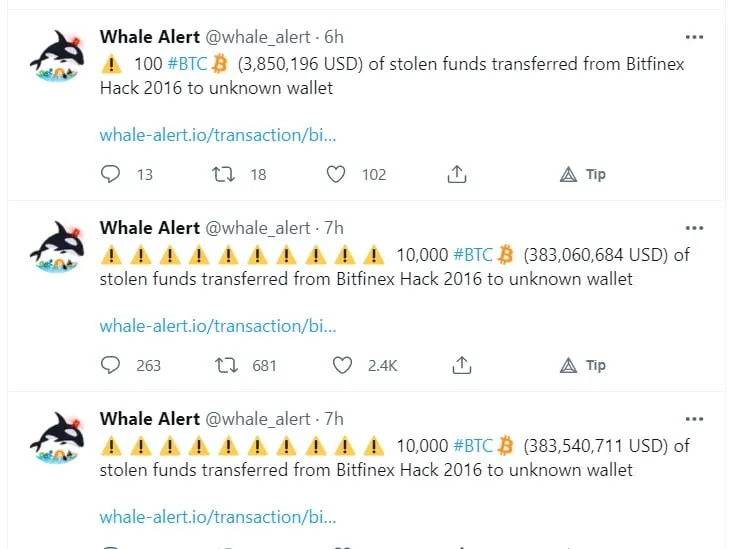 Bitfinex was hacked on August 2, 2016, with the hackers exploiting a security breach and making away with a total of 119,756 Bitcoin worth $71.8 million at the time.
It was one of the biggest in the history of Bitcoin and also resulted in the price of the benchmark cryptocurrency plummeting by as much as 20%—from $600 to $400.
Stolen funds on the move
This is not the first time hackers have moved a portion of the stolen funds.
The last such episode occurred in May 2021, when 12,241 Bitcoin worth $774 million was transferred to an unknown wallet on the same day that Coinbase went public via a direct listing on the Nasdaq.
Back then, the largest single transaction amounted to 1,241.7 Bitcoin (roughly $78 million), according to WhaleAlert.
There was also a flurry of transactions in early 2017, with the next notable increase in the hacker's activity occurring in 2020.
In August 2020, hackers moved 473.3 Bitcoin, worth $5.7 million, followed by another 5,000 Bitcoin, worth $100 million, transferred in November.
While the reasons why the hackers decided to move coins today are unclear, it is important to remember that all Bitcoin stolen from Bitfinex is closely monitored.
This means that converting those funds into cash will not be an easy job.
Bitfinex, on its part, has been trying to recover the stolen funds as well and even offered a $400 million bounty for the return of stolen Bitcoin.
In addition, "Bitfinex continues to work globally with law enforcement agencies, digital token exchanges, and wallet providers to recover the Bitcoin stolen in the 2016 hack," a spokesman for the exchange shared with Decrypt.
Last December, Bitfinex announced it successfully recovered 6.5 Bitcoin stolen from the platform in August 2016.