This weekend, Polkadot achieved a new milestone in its roadmap for increasing the scalability of its network.
The first parachains—run by Acala Network, Moonbeam, Parallel Finance, Astar, and Clover—went live on the Polkadot network. A parachain is a kind of individual, sovereign blockchain running on top of Polkadot.
Polkadot aims for efficiency so that transactions don't compete against all other smart contracts in the same ecosystem. Parachains also mitigate the need for networks to rely on layer-2 scaling solutions to reduce congestion. In simple words, it is as if your favorite decentralized application had a blockchain of its own.
This is why Polkadot is defined as a "Layer Zero" protocol: parachains would be the actual layer 1 blockchains (like Bitcoin or Ethereum) running in parallel over a common backbone.
Initially, Polkadot will offer support for 100 parachains. Allocations will be made through auctions that will guarantee a slot for up to 96 weeks. The next auction will be held on December 23, 2021, when six new parachains will be allocated.
The official launch of parachains is the culmination of a developer effort followed enthusiastically by the community. Shortly after Polkadot developers announced the successful deployment of the first parachain on the Kusama testnet in May, Polkadot embarked on a bullish streak that peaked with DOT's listing on Coinbase.
But the price of DOT, Polkadot's native token, did not show an immediate reaction to the news. For the time being, the chart shows a continuation of the downtrend that started in November after its $55 ATH, partly following in Bitcoin's footsteps.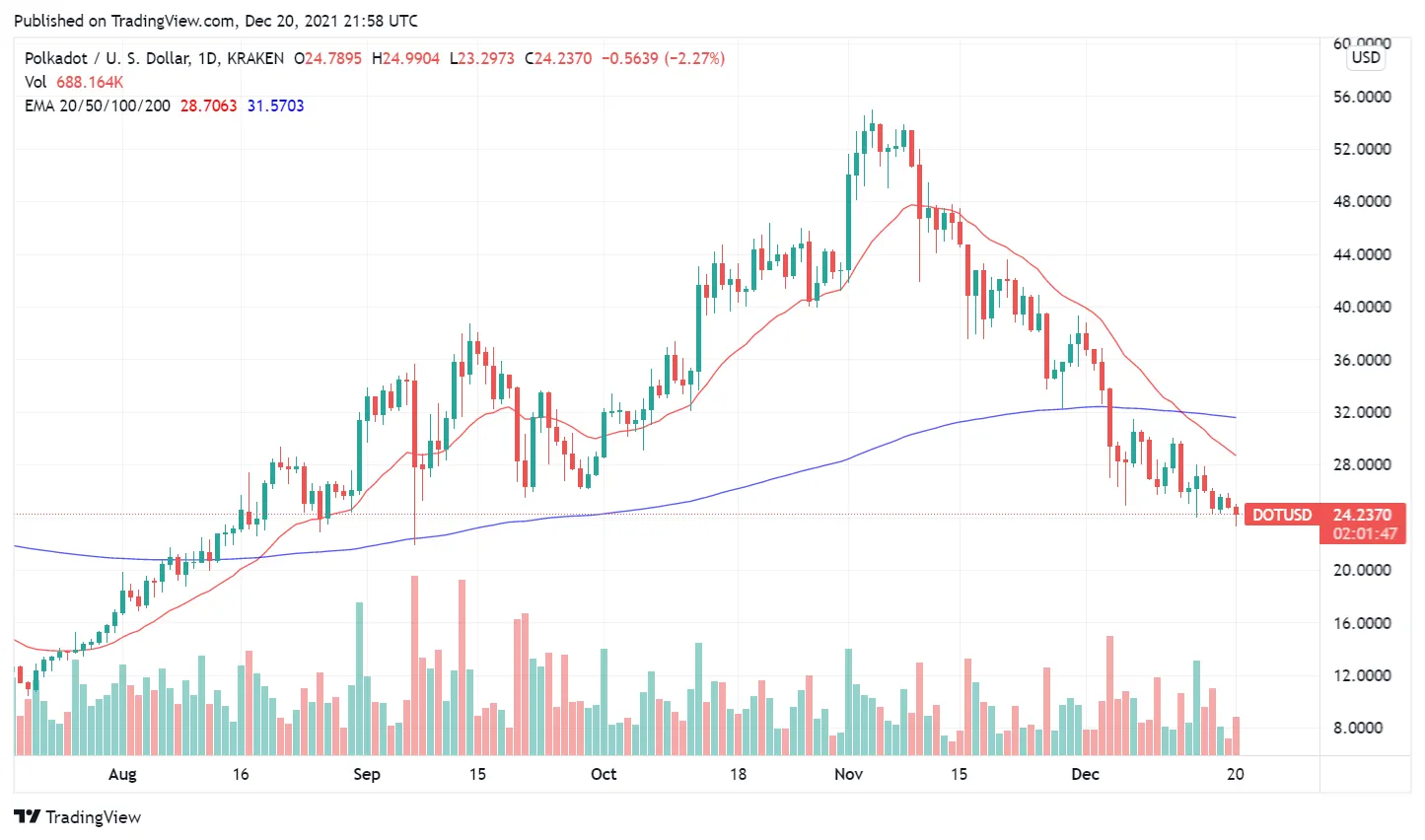 Polkadot was founded in 2020 by Dr. Gavin Wood—who is also a co-founder of Ethereum. Wood says there's no need to stick to just one blockchain.
"The parachain model was created with the belief that the future of Web3 will involve many different types of blockchains working together," Wood said in a statement shared by the Polkadot team, "just as the current version of the Internet serves different needs, blockchains must be able to provide a variety of services. Parachains solve this."