It's getting even harder to mine Bitcoin as the network's difficulty has once again increased on Sunday, this time by as much as 7.85% since the last adjustment.
According to data from BTC.com, this is the eighth consecutive increase since July, and the second biggest since late August, with the difficulty surpassing 21.66 trillion.
Bitcoin mining is a process of creating new coins by solving complex mathematical puzzles with the help of specialized software installed on users' computers. Miners compete with each other to verify transactions and add them onto the blockchain, earning rewards for their efforts and resources spent. Bitcoin mining difficulty, in turn, is a measure of how difficult it is to mine new coins—the higher the difficulty, the more additional computing power is needed to find new blocks.
The difficulty reached an all-time high of 25.05 trillion in May 2021 before plunging to the year's low of 13.67 trillion in mid-July as China—historically one of the world's most important countries for Bitcoin and other digital currencies—introduced a ban on cryptocurrency mining.

Likewise, the Bitcoin hash rate—a measure that tracks the number of calculations being made per second—has been on the rise in recent months too. According to data from Blockchain.com, the network's hash rate surpassed 159 Th/s on Sunday to reach its highest level since May this year.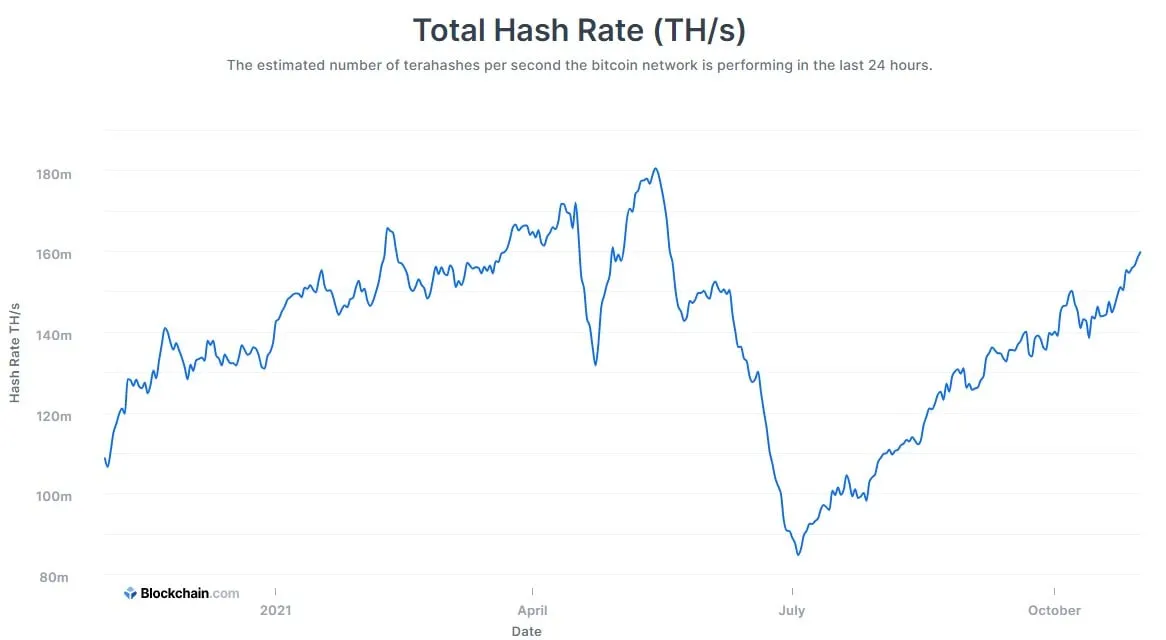 In recent months, the hash rate has also correlated pretty well with the price of Bitcoin, which last month hit a new all-time high of $67,276, per CoinGecko.
Data from bybt.com shows that this past October was an extremely good month for Bitcoin investors, bringing them as much as 39.93% in profits—the second-best result since October 2017 when the leading cryptocurrency soared by almost 48%.
With the latest Bitcoin rally and both the difficulty and the hash rate on the rise, it's probably safe to suggest that the network is on its way to a full recovery from the consequences of China's crypto ban.
Moreover, China's absence from the world's Bitcoin mining map has also had a positive impact on the decentralization of mining. The United States has moved into pole position with a share of more than 35% of the market, followed by Russia and Kazakhstan with 18% and 11%, respectively.