In brief
The United States has become the frontrunner in the global Bitcoin mining industry.
This follows a ban on crypto mining imposed by the Chinese government earlier this year.
The United States has become the world's largest market for Bitcoin mining, according to new data from Cambridge University.
The United States now holds a share of 35.4% of the market, following a mass exodus of miners from China after the Chinese government banned mining earlier this year.
Kazakhstan and Russia follow the United States, with shares of 18.1% and 11% respectively. 
"The immediate effect of the government-mandated ban on crypto mining in China was a 38% drop in global network hash rate in June 2021 - which corresponds roughly to China's share of hash rate before the clampdown, suggesting that Chinese miners ceased operations simultaneously," Michel Rauchs, digital assets lead at the Cambridge Centre for Alternative Finance said.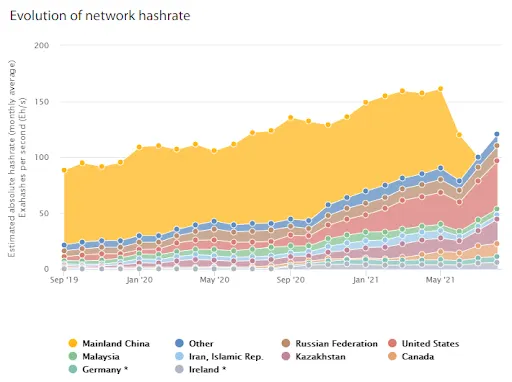 How China impacted the Bitcoin mining scene
China has long held a ban on cryptocurrency trading, but earlier this year, the government also imposed a ban on crypto mining. 
That ban—and resulting exodus of miners—gave an opportunity to other jurisdictions to join the industry more heavily than before. 
In April, 2021, the United States only had 16.8% of the global hashrate share, meaning the American market share has increased by 105%. Similarly, Kazakhstan and Russia have increased their shares by 120% and 61%, respectively. 
What's more, the initial 38% drop in global hashrate in June was "partially offset" by a bounceback of 20% across the months of July and August. This suggests, according to Rauchs, that Chinese mining equipment has successfully been redeployed overseas. 
Beyond the three new mining superpowers, Canada (9.55%), Ireland (4.68%), Malaysia (4.59%), Germany (4.48%), and Iran (3.11%) represent the next largest hashrate shares. 
"The effect of the Chinese crackdown is an increased geographic distribution of hashrate across the world, which can be considered a positive development for network security and the decentralized principles of Bitcoin," Rauchs added. 
Bitcoin mining environmental concerns 
Bitcoin mining has long been criticized for its now-well-established impact on the environment. 
The mining industry's annual energy consumption is calculated in terawatt hours (TWh), a unit of energy which is equal to outputting one trillion watts for one hour. It is often used to track the annual energy consumption of entire countries. 
Today, the Bitcoin network consumes just a shade under 100 TWh per year. If the Bitcoin network were a country, it would be placed in the upper echelons of countries around the world by electricity consumption. 
However, to judge just how bad mining is for the environment, it's important to factor in just what percentage of the world's global mining industry is fuelled by non-renewable (or carbon-intensive) resources. 
In September 2020, Cambridge University released a study that found only 39% of the world's Bitcoin mining came from renewable sources of energy. Since, questionable attempts have been made to suggest that half of the world's mining comes from green power. 
But if we used Cambridge's figures, that would mean the Bitcoin network's C02 emissions are roughly equivalent to 47 billion pounds of burned coal, 7.7 million homes' electricity use for one year, or 4 billion gallons of gasoline consumed. 
Greener horizons 
Going forward, Bitcoin's impact on the environment will also likely be determined by respective countries' approach to climate change, and regulations that govern the environment. 
In China, the monsoon season typically meant cheap hydroelectric power was available to miners, but there was also evidence of Chinese miners using fossil fuels to mine Bitcoin. 
In the United States—the world's new Bitcoin mining powerhouse—there has been plenty of concern to go around when it comes to the impact Bitcoin has on the environment.