In a blog post today, stablecoin issuer Circle revealed the various sources of backing that underpin its stablecoin USDC. 
Stablecoins are pegged to the price of a fiat currency—in this case, the U.S. dollar—using matching currency-denominated assets that are held in segregated accounts by the issuer. The total value of assets held in these accounts must be equal to (or greater than) the number of the issuer's stablecoins currently in circulation. 
According to a report written by Circle's accountants Grant Thornton, which was issued on Friday, Circle held $22,176,182,251 in its account at the time of the report. Grant Thornton accountants verified that the figure equated to exactly one dollar for every USD Coin in circulation. 
More than 60% of that number, or $13.4 billion, is held in cash. A quarter of the total reserves are split between Yankee Certificate of Deposits—a type of savings vehicle denominated in dollars—which account for $2.9 billion, and U.S. Treasury securities, which account for $2.7 billion. The remaining 14% is split between commercial paper and corporate bonds.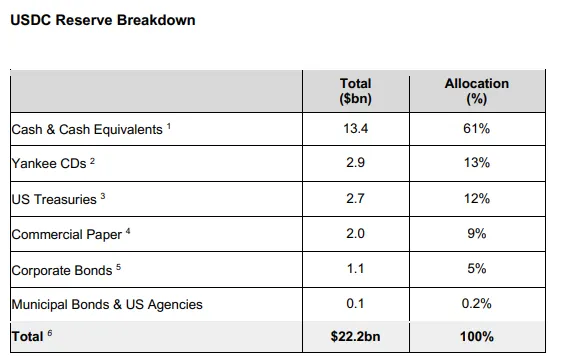 In today's blog post, Circle outlined its three pillars of trust, transparency, and accountability for the USDC ecosystem. 
The company pledged to maintain the highest levels of regulatory and prudential standards, which are currently in a state of uncertainty due to increased regulatory scrutiny of cryptocurrencies. 
Secondly, Circle will continue to provide timely reserve attestations through Grant Thornton to show the public that USDC is backed by adequate reserves, as it did on Friday for the thirty-third time since it began issuing USDC.
Circle's last pillar is that it wants "the core economic activities underpinning USDC" to be "inside the perimeter of the U.S. financial system."
Public disclosure of stablecoins is not currently a legal requirement, but Circle now joins the leading stablecoin provider, Tether, in disclosing its operations.