Stablecoin issuer Tether (USDT) has revealed a breakdown of its reserves for the first time since 2014, according to The Block.
As of March 31, 2021, almost 76% of Tether's reserves were held in cash or cash equivalents. The remaining quarter was held in secured loans, bonds, and other investments that include Bitcoin.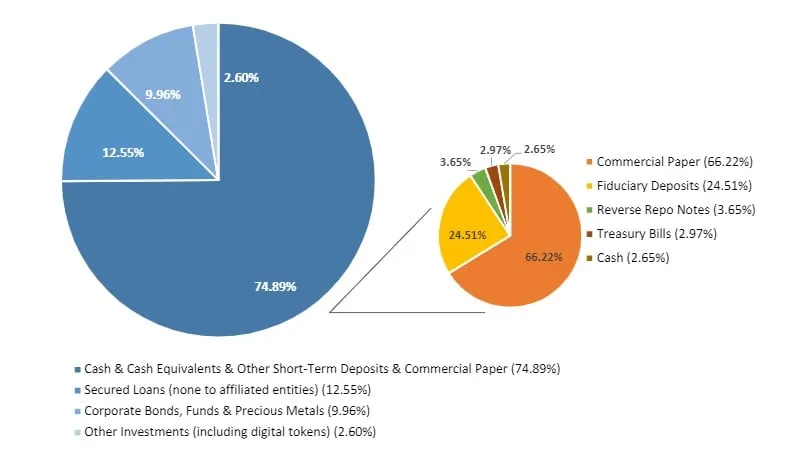 In the cash and cash equivalents category, commercial paper held the biggest share with 65%. This was followed by fiduciary deposits, which formed almost 25% of the category. Despite previous claims that Tether was backed 100% by cash, these figures show that less than 3% of Tether's reserves are held in cash.
Tether's general counsel, Stuart Hoegner, said it is "misleading to focus exclusively on cash," adding, "Readers should not confuse items not in 'actual cash' with a lack of liquidity."
What about Bitcoin?
As for the other 25% of reserves, 1.64% of this was comprised of "digital tokens," which, per Hoegner, refers strictly to Bitcoin.
"We have seen Bitcoin become an important component of the balance sheets of several large corporations in both the public and private markets," Hoegner said, adding this allows Tether to diversity its risk.
"Tether's use of Bitcoin and other forms of investment is in line with this practice," Hoegner said.
Companies including Microstrategy and Square have purchased large amounts of Bitcoin over recent months. In addition, Elon Musk's Tesla purchased $1.5 billion worth of Bitcoin about three months ago, only to announce yesterday that it would stop accepting Bitcoin payments over environmental concerns.
According to CoinGecko, Tether has a current market capitalization of $58 billion.