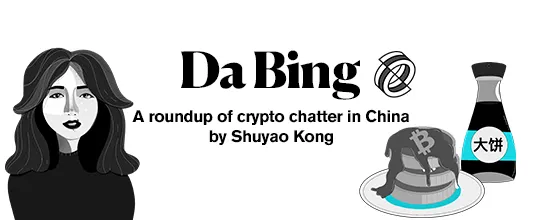 In Chinese, 出海 means "going abroad." Colloquially, the term has come to refer to Chinese tech companies expanding their operations outside of China. Entrepreneurs often take pride in going abroad because it demonstrates the superiority of Chinese tech ( think of how ByteDance turned Douyin into TikTok and changed how social media is done globally).
But to the Chinese crypto community, 出海 sends a chill down everyone's spine. That's because it's the Plan B that everyone who works in this industry has to consider—not just the miners.
This week's Da Bing digs into the ramification of the crackdown on the rest of the crypto community: the entrepreneurs, developers, and investors. What's everyone's Plan B?
Escaping the China Market
The recent crackdown hit two groups of people the hardest: miners and centralized exchanges. Needless to say, miners are already deep into their Plan B, with most either shutting down or going abroad.
Centralized exchange operators such as Huobi and OKEx, however, are facing more dire situations. Gone are the days when the government relied on their expertise to build China's blockchain strategy. Now, both exchanges have been asked to halt all leveraged trading and imposed stricter rules on OTC trading.
In fact, one of the nonprofit blockchain research institutions funded by Star Xu, founder of OKEx, and Leon Li, founder of Huobi, has been shut down by the government on the grounds that it's "organized crime that disturbs social harmony."
The exchanges are sheep in the mouth of the government wolf. They can't escape, have nowhere to hide and nowhere to go. They lost the chance to 出海 after 2017 since both founders are now specifically subject to border control by the Chinese government.
On the other hand, the rest of the crypto community is relatively OK. No one has been "invited for a cup of tea," nor has there been any policy asking any crypto media outlets to stop operation.
And yet every pure crypto project now has to abandon the China market, its millions of users and all that precious liquidity.
Crypto has entered the Underground Age in China. But that's not as dire as it sounds.
Crypto becomes an underground movement
China had a thriving underground rock and heavy-metal music scene in the 80s and 90s when the government forbade the youth from listening to these foreign, corrupt tunes. As a result, the melodies, rhythms and verses had to hide in grandma's basements, but managed to thrive.
"Crypto will be a black market in China, just like the underground rock-'n-roll music scene," one DeFi entrepreneur told me. "Crypto investment—especially in primary markets [equity and pre-token sales] and crypto development might survive, because these are low-key activities. But everything else will stay out of China."
In fact, many crypto entrepreneurs told me they will stay in China but keep quiet in the next 1-3 years, and focus on building international audiences for their own projects. Such a move is a major strategic shift. The Chinese version of the app must be shuttered in lieu of one focused on an international audience. Consequently, business development and sales will also be different.
Having global operations globally is the only way to survive. And, being able to decentralize quickly becomes the key—which definitely plays to the native strength of crypto.
Developers remain optimistic
Developers are the group least impacted by the recent ban. Xiang Yao, founder of Primitive Lane, a crypto research institution based in Shanghai with members all over China, told me that the crackdown has only impacted the business side of crypto throughout China. Much of the R&D work in country remains intact.
Yao even regards the crackdown as a healthy antidote to the chaotic and greedy market. "Research is like planting seeds. If the crypto market remains unregulated and greedy as it is, the research fruits are simply a result of human greed and wealth. They will be premature," he said.
In fact, Primitive Lane is a recent example of a grassroots community-oriented institution where members can propose research topics such as the Ethereum difficulty bomb, the rise and fall of GasToken, MEV on Layer 2 etc. The community will support these researchers through grants, providing tools, and research expertise. The community will also host monthly offline activities.
Primitive Lane has received enormous support of late, including a donation from an anonymous funder substantial enough to "keep the organization sustainable," Yao said.
But one concern that Yao ought to factor in is that once crypto is fully underground, its ability to recruit new members will significantly decrease. Granted, there will still be cyberpunks and Chinese libertarians who are fascinated by the space, but without the government's support, we are unlikely to see millions of Chinese youths become Solidity developers.
The fewer new developers we have in the industry, the weaker China's crypto ecosystem becomes.
To understand China, one has to tease out the political slogans from the action. The government tends to shout out slogans loudly for years, but frequently, we don't see corresponding actions. In the case of the recent crackdown, we've heard the slogans and certainly seen some action. But the question remains: when does the action stop?
Perhaps it doesn't matter. A unique trait that China's Communist Party has is flexibility. It can crack down crypto one day and promote it the next day. Working in this industry—virtually everywhere in the world—means living on the edge. Maybe all of us need a Plan B at some point.
Did you know?
We're starting to see "YYDS" crop up in Chinese crypto slang. That's the abbreviation for 永远滴神 (yǒngyuǎn de shén) which means "Forever God" in Chinese. It's a complimentary title used to describe a legendary crypto trader, OG, reputable degen, or just an opinionated influencer.