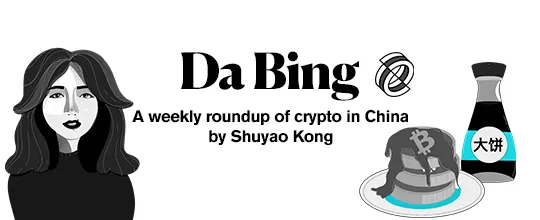 The pronunciation of "DAO" is the same as 道 in Chinese, which means "path" (as in the Dao De Jing). 
In the Western crypto world, we are seeing DAOs (decentralized autonomous organizations) become a new form of people organizing people. Prominent projects such as MakerDAO, LidoDAO, and many others have demonstrated the power of decentralized organization. 
But the trend never took off in China until the recent bull run. Seeing the success of international DAO projects has prompted many crypto participants to test the DAO waters and form their own path. 
This week's Da Bing looks at three China-based DAOs, and how they embarked on their DAO path. 
MAO DAO: An NFT DAO
If you are in crypto in China, you have probably read an article from 小毛哥 (brother MAO). An ex-writer at Chainnews and China marketing lead for stake.fish, MAO is a beloved figure not only because of his writing, but also his ability to bring the smartest DeFi projects to China. He was among the first DeFi degens to go all in on Yearn Finance and stay engaged with the China Yearn community. 
Seeing the DAO trend and an opportunity to start an NFT-focused DAO in the East, MAO recently started MAO DAO with 5 other founding members who all have deep experience in the NFT space.
Every DAO needs to bootstrap its community. MAO DAO's initial lift started with Axie Infinity, a play-to-earn NFT game which, as the name suggests, allows players to earn real money while playing. The earnings are so significant that some players in developing countries, such as the Philippines, are earning significantly more playing the game than minimum salary. 
MAO wants to bring Axie Infinity to the Chinese community by being the de facto leader in educating gamers. MAO DAO started by establishing both a WeChat group and a Chinese Discord Group where they bring in the latest gaming tricks and tutorials to the community. 
But Axie Infinity is just the beginning. 
"Our home run is to create crypo-native NFTs for the Eastern community," MAO told me. "We hope to help Chinese younger generations find meaning and value in the Metaverse, while making money. We will introduce concepts such as CryptoPunks - now MAO punks - to the Chinese community and introduce China-specific NFTs as community rewards."
MCN: DAO funds for DeFi influencers
Bill The Investor is another familiar name and DeFi Big Brain in China's crypto scene. He is the builder behind vfat.tools, a platform that aggregates information on yield farming across multiple blockchains. 
A software engineer turned VC turned DeFi degen, Bill has accumulated credibility and a large following on social media by sharing farming skills via Weibo and Twitter. Leveraging his fame and vfat as a well-regarded DeFi tool, Bill started MCN (Multiple Channel Network) along with a few other influencers. 
"The DAO aims to be a one-stop-shop that services, incubates, and invests in early-stage DeFi projects." Bill told me. "MCN is providing a middleware service to DeFi projects. Every new liquidity mining project listed on vfat could offer token airdrops directly to yield farmers, similar to SushiSwap's Onsen."
MCN's edge is to help DeFi projects gain traction through their most influential general partners, also known as KOLs (key opinion leaders) in China. These GPs have the mandate to help projects build communities, token economics, and incentivize community participation through its own token MCN. 
Compared with traditional venture capital, MCN returns profits to partners and community participants. Most importantly, the only way to become an MCN partner is to actively contribute to the community, which is what makes MCN a true DAO, rather than a VC fund. 
MCN is an example of how pieces of the crypto puzzle come together. It started from a yield farming tool, but quickly found product market fit in combining the tool with social media influence. Following the DAO spirit and only accepting money from those who contribute, MCN has decentralized traditional VC investment by leveling the playfield of traditional LP requirements.
CodexDAO: Building Qilin, a DeFi derivative trading DEX
Qilin (named for a Chinese mythical beast that symbolizes prosperity) is a derivatives DEX grown from a DeFi DAO called Codex, which was a crypto online chatting platform before the DAO was formed. The goal is to build a permissionless platform where any users can trade derivatives, create derivatives trading pairs, and provide liquidity through the protocol. 
"We are a bunch of friends who started learning DeFi in 2020 and figured out a way to bring derivatives to long-tail assets just like how Uniswap brings spot trading to long-tail assets," Tim Xie, one of the project's co-founders told me, "I met the two other co-founders on CodexDAO where we discussed DeFi. Back then, I knew very little and had to learn everything from scratch."
Qilin is the brainchild of CodexDAO. When the DAO got serious about building Qilin, they turned to their friends. "When we upgraded Codex to a DAO, we started gathering a bunch of like-minded friends who are deeply philosophically aligned with the protocol and the DAO spirits," Tim told me.
The idea that DAO members must be aligned on the long-term value is the foundation of CodexDAO. "Once members are aligned, getting the actual work done is the least concerning," Tim said. The path was not always rosy: At first, the DAO members struggled to work as a team because there were too many different opinions and not enough accountability.
Despite all three projects (MAO DAO, MCN, and Qilin) launching different types of products, they all share the DAO spirit, which promotes decentralization and equality. The idea that anyone can participate by showing good work is a powerful one, and one that keeps many loyal to the crypto world. It's a path that extended from West to East. 
In other China crypto news this week...
MCDEX raised 6 million from Delphi Ventures and Alameda 
MCDEX is the O.G. of China's DeFi scene. In its recent fundraising announcement, MCDEX also released its plans for V3, which will launch soon with an AMM (automated market maker) designed for perpetual trading that comes with high capital efficiency and a shared liquidity pool. 
Its founder Jie Liu was an ex-ETH miner and launched the first Ethereum Perpetuals. In its latest round, MCDEX brought in a slew of top DeFi investors. But what really showcased that the project has community in mind is that it offered MCB, the exchange's native token, to the community under the same terms the existing investors got, which is a steal if those token hodlers choose to follow up. 
This approach is a novel and smart one because it effectively binds the existing community even closer to the project. This is difficult during bull markets because given the mountain of projects springing up, liquidity has little loyalty, and tends to go where new money is. 
NFTs quietly growing on Chinese secondary e-commerce marketplace
Blocklike reported that NFTs are gathering momentum on Xianyu, a Chinese app that provides a second-hand product purchasing platform for the 75.5 million users of Taobao, Alibaba's e-commerce website. (Loyal Da Bing readers will remember when your correspondent's Clubhouse referral code was re-sold on Taobao.)
There are mainly two types of NFT products on Xianyu. The first category is for original NFTs, negotiated directly between buyer and sellers. The second category allows sellers to serve as intermediaries, who help buyers purchase NFTs that are only available on foreign NFT marketplaces like OpenSea. 
Even better, Chinese NFT sellers and creators can also ask these intermediaries to put their own NFTs on OpenSea for a small fee. Many sellers are even educating buyers on the basics of crypto, digital wallets, and non-fungibility. 
The phenomenon has deeper ramifications because, despite all the friction of purchasing NFTs, netizens are still trying all channels possible to get their hands on these collectibles. Sure, they need to learn how to use MetaMask, but that's a small hurdle compared to the potential profit from owning a piece of crypto art that might just moon. 
It's only a matter of time before a home-grown NFT platform disrupts the disruptor Xianyu and automates NFT purchases for Chinese crypto newbies. 
Did you know?
Elon is Musk nicknamed 马一龙 (horse-one-dragon) in China. It's all pronunciation-based, but perhaps the number of animals in that name partially explains his Doge obsession?
Electricity shortage in Sichuan 
It's not only Mother Nature who can mess with hydropower. The Chinese government can do so too. According to Colin Wu's newsletter WuBlockchain, Sichuan province, known for its summer-season hydroelectric power, is facing an electricity shortage. 
According to one miner, the government ordered an emergency power cut given the unexpectedly high powerload and lack of water, the combination of which means there's a scarcity of electricity. 
To solve the scarcity, the government just stopped supplying it all at once, which caused the Bitcoin mining hashrate to plummet on May 15. 
Of course, such an abrupt order might be related to the government's recent reiteration of its attitude toward Bitcoin mining in the country as it aims to curb carbon emission and fulfill its green agenda.