In brief
Anthony Scaramucci told Decrypt he's all in on Bitcoin—no Ethereum or Dogecoin, for now.
Skybridge hopes its Bitcoin Fund can one day convert into a US Bitcoin ETF.
Skybridge Capital hedge fund co-founder Anthony Scaramucci has moved on from his brief time in the Trump White House in 2017—and into crypto.
In an extensive interview with Decrypt, the former White House communications director explained why he's gravitated toward Bitcoin—and, for now, only Bitcoin. 
"I am singularly focused on Bitcoin," Scaramucci said. "I am not going towards Dogecoin, Ethereum, other cryptos or other digital assets, I'm with the big dog." 
The Wall Street investor and SALT Conference founder points out that Bitcoin makes up the vast majority of the market capitalization of all cryptocurrencies. "It's 12 years old, it has been subjected to 8,300 different competitors to try to knock its block off, and yet it sits there [at the top]... that's good enough for me."
In other words, Scaramucci sounds like a Bitcoin maximalist (though that's become a loaded term in crypto circles). That makes sense, given that Skybridge Capital's crypto fund—which skyrocketed to $370 million in its first few weeks—is solely focused on Bitcoin. 
Undoubtedly Bitcoin has—at least to date—proven to be a successful asset for his company.
Since Jan. 4, when Skybridge's Bitcoin fund officially launched, Bitcoin is up from $31,000 to $56,000, a percentage increase of 80%. But Scaramucci has other reasons for believing in Bitcoin, too.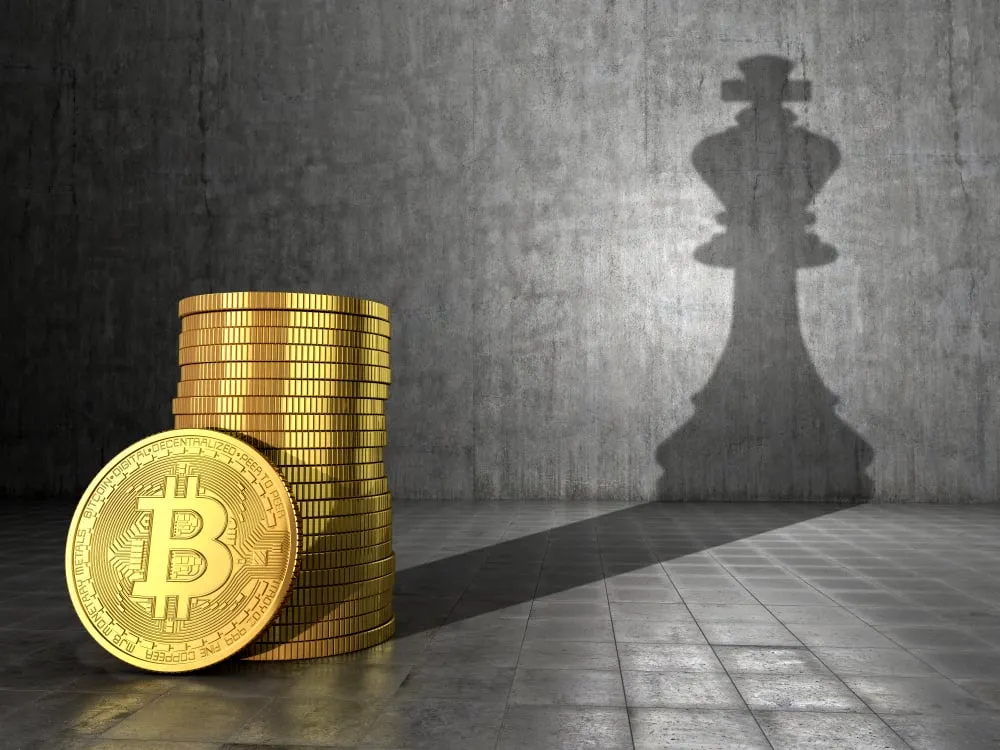 Scaramucci on Bitcoin FUD
Much of the reason Scaramucci is focused on Bitcoin, for now, is that he finds it hard to combat mainstream fears around crypto investing. It's been hard enough to bring investors round to Bitcoin, let alone the thousands of altcoins that are out there. Skybridge sees Bitcoin as having the best chance to make its way into the portfolios of everyday investors. 
"For right now, the number one goal is to try to convert people from crypto naysayers or people that are effectively, in my mind, short on crypto," he said. "Just getting them into Bitcoin I think is going to be hard enough. You've heard the acronym FUD: fear, uncertainty and doubt. Well, we manage money for a lot of fuddy duddies."
To do his part pushing Bitcoin into the mainstream, Scaramucci says he uses "information saturation" — banging the Bitcoin drum again and again. To this end, he and Skybridge COO Brett Messing host regular live chats about Bitcoin—the ups and downs of the asset, risk management, and the introduction of new corporations like MicroStrategy and Tesla in the space.
"I'm one part parakeet and I'm one part woodpecker, and so I can peck at your brain with great levels of persistence until your head explodes," Scaramucci said, adding, "And I can say the same thing over and over again with great enthusiasm." 
But for all Scaramucci's eagerness to push Bitcoin, he hasn't shut the door on expanding his crypto focus in the future. "Hopefully, you'll invite me on your podcast in six months, 12 months, 18 months from now, and I'll have a different view where we'll be able to move into other coins or other crypto ideas," he said. 
What's next for Skybridge Capital with Bitcoin?
For now, Scaramucci and Skybridge are strictly Bitcoin bulls. In a conversation with Decrypt in January, Messing suggested Bitcoin could go as high as half a million dollars if institutional investors keep pouring money into the cryptocurrency. "I will be surprised if we don't get above $100,000 in the next 15, 16 months," Messing said at the time. (Bitcoin's high remains $57,000.)
Scaramucci would like to see Skybridge's private Bitcoin fund converted into an ETF. 
In January, Messing told Decrypt that a Bitcoin ETF threatened to put Skybridge's Bitcoin Fund out of business. But now that Canada has seen the establishment of two Bitcoin ETFs, the first of which raised over $400 million in its first two days of trading, Scaramucci hopes that the US can follow Canada's lead with an ETF and that Skybridge can get in.
"So, the good news for us is we'll very much so be in business. And I'm looking forward to getting our clients into an ETF," he said. "If I can get that conversion, I think people are going to be very happy, and we expect to do it."