In brief
Crypto savings accounts work like normal bank savings accounts, only you deposit cryptocurrency instead of fiat money.
Account holders earn a small percentage of interest over time—in exchange for handing over access to their crypto.
Some crypto savings accounts have a native token that provides holders with better interest rates, among other benefits.
The majority of cryptocurrency, when it's bought, is left in online and offline wallets. But why leave it sitting there, inert? What if you wanted to make your cryptocurrency work for you, earning interest, just like fiat money in a bank account?
Good news: there are crypto savings accounts that do just that. So, what are they and what accounts are available?
What is a crypto savings account? 
With many fiat savings accounts earning less than 1% interest (or even 0.1%), many investors are looking to place their money elsewhere; crypto savings accounts are becoming a popular alternative.
Crypto savings accounts work like normal bank savings accounts, only you deposit cryptocurrency instead of fiat, earning a small percentage of interest over time. The companies offering the accounts make money in much the same way as a bank; they make loans of your cryptocurrency to other investors, such as trusted institutional and corporate borrowers. These Bitcoin lending services have exploded in the last year, with the top three firms growing their holdings by an average of 734%.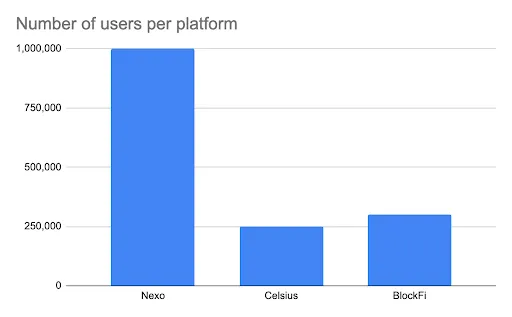 It is important to note that there are sometimes restrictions or fees attached to withdrawals, with each company having its own rules. BlockFi, for instance, offers one free crypto withdrawal and one free stablecoin withdrawal per month; subsequent withdrawals may incur fees. Nexo and Celsius don't charge fees for withdrawals.
Secondly, with crypto savings accounts, you will need to allow access to the cryptocurrency you hold; crypto placed in the account must be made available to lend to investors. This makes them different from crypto wallets, where the private keys to the cryptocurrency are always under the control of users. If you're one of the many crypto users who advocate the philosophy that users should "be their own bank" rather than allowing centralized middlemen to control their money, handing over control of your keys may not be a sacrifice you're willing to make.
BlockFi
BlockFi is a privately held US-based lending platform founded in 2017 by Zac Prince and Flori Marquez. It offers a straightforward way to hold a cryptocurrency account as well as making it easy to take out a loan. The company has a qualified team with backgrounds mostly in finance.
BlockFi core features
The BlockFi Interest Account (BIA) offers customers the ability to earn up to 8.6% APY with their cryptocurrency. Interest accrues daily and is paid monthly. There are no hidden fees and no minimum balances. In January 2021 it paid out a record $28 million in interest to its clients.
Another record breaking month of interest payments @BlockFi 🚀

Our clients earned over 28M in interest for January including >400 #btc, >4500 #ETH and >5M in stable coins

Also we increased Litecoin rates for Feb. Thank you!

— Zac Prince (@BlockFiZac) February 1, 2021
The company also offers the BlockFi trading platform, where customers can buy, sell, or exchange cryptocurrencies at competitive prices and start earning interest the moment a trade is placed.
Unlike some of its competitors, BlockFi doesn't have its own native crypto token. Instead, the focus is on providing a simple product with easy-to-understand terms.
BlockFi is also gearing up for the launch of its Bitcoin Rewards Credit Card, which offers account holders 1.5% cashback on every transaction made, paid into the holder's BlockFi account. The card will launch in the US, with an annual fee of $200; a bonus of $250 in Bitcoin is available to early adopters who spend over $3,000 on the card in the first three months.
BlockFi security
BlockFi uses Gemini as a custodian to secure funds. It uses two-factor authentication (2FA) to secure accounts.

Withdrawal address Allowlisting is an optional, self-service security feature available to all BlockFi clients, and ensures that cryptocurrency in a BlockFi account can only be sent to known withdrawal addresses.
Celsius Network
Launched in 2018 by Alex Mashinsky and Daniel Leon, UK-based Celsius Network is a banking and financial services platform for cryptocurrency users, whose platform connects lenders to borrowers. Customers send coins to the platform to be lent to others and accrue interest. Cryptocurrency can also be put up as collateral for loans issued in US dollars.
Celsius core features
Celsius offers a savings account-style product where customers put money in, and the company uses that to lend to others while paying the customer interest. Interest rates can reach as much as 12% for certain cryptocurrencies. Account-holders can deposit as little as $5 and earn interest on it. There are no withdrawal fees, so customers can access funds at any time without being penalized.

The company offers loans in dollar-pegged stablecoins against crypto holdings in their wallets, with annual interest rates starting at 1%; the minimum threshold for borrowing was recently lowered from $1,000 to $500.
Celsius also offers a product called CelPay, which lets customers send and receive crypto for free.
Celsius CEL tokens
Celsius has an in-app utility token called CEL, which gives users extra benefits such as better interest rates, priority status and community membership. Users who claim their rewards in CEL can receive extra rewards up to a claimed 30% over non-CEL rewards; they also benefit from lower interest rates when interest is paid in CEL. Rewards tiers are based on the proportion of holdings that are held in CEL tokens.
Celsius security
Celsius has implemented security measures including two-factor authentication and whitelisted withdrawal addresses to protect customers' accounts from being accessed by others.
Other measures include cold storage of unused funds and multi-signature authentication. This last measure requires multiple people within an organization to sign transactions on transfers of funds in order to avoid one person acting maliciously.
Nexo
Nexo is a European crypto loans and savings platform, co-founded by Antoni Trenchev, Georgi Shulev, and Kosta Kantchev. Launched in 2018, it enables users to borrow or earn interest on their crypto assets. It has over $4 billion in assets under management. 
Nexo core features
Nexo provides users with a crypto bank account. Users can earn up to 10% interest on their crypto holdings. Interest earned is automatically paid into an account holder's savings wallet. 

Nexo bank account offers users instant crypto credit lines, who can then borrow against their digital assets. Nexo is also one of the first to provide a crypto debit card, powered by Mastercard.
NEXO tokens
The NEXO token is a dividend-paying asset-backed token, initially distributed to users through an airdrop and ICO. Nexo users who hold NEXO receive benefits such as higher APY on their crypto holdings and dividends on Nexo profits, paid in the currency of their choice. In August 2020, Nexo paid out over $6.1 million in dividends to NEXO holders staking their tokens, versus $2.4 million the previous year.
Users can also repay loans in NEXO, receiving lower interest rates. Earnings and interest rates are based on the proportion of NEXO held in the user's portfolio.
Nexo security 
Nexo offers cold storage in Class III vaults through BitGo, a SOC2 Type 2 certified cryptocurrency custodian. It also offers two-factor authentication. Its information security management systems are ISO/IEC 27001:2013 compliance audited by CISQ, a member of IQNet and the world's largest provider of management system certification.
In February 2021, Nexo added security infrastructure in the form of Ledger's institutional-grade security system, Ledger Vault, backed by $1 billion in crime insurance.
Conclusion
There's a plethora of options for crypto accounts, ranging from the provider you choose to the additional offers—such as native token rewards and crypto cards—you can take advantage of. Ultimately, your choice comes down to what you're looking for from your account.
If you're likely to make a lot of withdrawals, for instance, BlockFi's single free withdrawal (and subsequent fees) make it a less attractive prospect than its rivals.
If you're enticed by the prospect of a crypto credit or debit card, and its attendant rewards, that puts Celsius Network out of the running. If you don't mind stockpiling a native token, then you might be lured by the attractive rewards offered by Celsius Network and Nexo for holding their respective tokens.
Security-conscious users, meanwhile, may find BlockFi's Allowlisting feature and Celsius' whitelisting offers additional peace of mind.
Disclaimer
The views and opinions expressed by the author are for informational purposes only and do not constitute financial, investment, or other advice.