There's no shortage of well-performing coins from 2020. Just about everything is in the green, with major price gains from the start of the year. 
Even tokens that have dipped in price, such as UNI and Filecoin, can't be called failures. The former, a governance token for the Uniswap decentralized exchange, only rolled out in Q3 and is still getting its bearings as users navigate a reimagined DEX landscape. The latter, the native token of a decentralized storage network launched at the tail end of 2020, already has a market cap north of $1 billion.
So, what exactly marks a crypto asset as impressive? High or low price is just as indicative of supply as it is of value. And value is just, like, your opinion, man. Market cap is a good measure, but half of it is just price. And while high volumes can indicate investor interest, they can just as easily highlight the churning of traders feasting on suckers. 
Below, in absolutely no particular order (though we'll count down from five anyway), using top-secret criteria we devised in a lab, are five cryptocurrencies that impressed us in 2020.
5. Ethereum
Whenever Bitcoin moves, Ether seems to come along for the ride. That's the perception, at least. In reality, however, Ether outpaced Bitcoin by most metrics. Its price increased 360% from the beginning of the year (as of December 18) compared to 200% for Bitcoin. Its market cap went from $14.4 billion on January 1 to $74 billion on December 18, a 380% increase. 
It's not just the numbers. Ethereum developers successfully convinced the community to pour a billion dollars' worth of ETH tokens into the Ethereum 2.0 deposit contract for a proof-of-stake platform that is likely years away from functioning. That's a serious commitment even as other chains, such as Solana, have pitched themselves as scalable (and ready-to-go) alternatives to the congested ETH 1 network.
One of the sources of that congestion is part of the reason why Ethereum's been such a top performer: DeFi. The decentralized finance apps built atop Ethereum currently have over $15 billion locked into them. Sure, Bitcoin does more in trading volume alone in a day, but that's not the point. The point: Ethereum is making itself ubiquitous. 
4. Chainlink
As much as we write about Chainlink, we're not so certain everybody truly knows what a decentralized oracle network is—or why it needs its own ERC20 token. 
But a token it has!
And its price has been fueled by a rise in DeFi usage, as protocols (and arbitrage specialists) rely on its node operators to provide data to the smart contracts that make DeFi run. They are paid in, you guessed it, LINK tokens.
The price of a LINK token has gone from $1.70 on New Year's Day to over $13 on December 18. Its peak of $19.90 occurred back in August, but it still has a top-10 market cap and does around $1 billion in trading volume per day.
For Chainlink founder Sergey Nazarov, the rise of DeFi has gone hand in hand with the availability of oracles. "It's not a coincidence that the growth of DeFi coincides with a growing abundance of high-quality oracles," he told Decrypt earlier this year.
LINK's future could be sustainable, too, as projects that have relied on single oracles from centralized sources have been repeatedly attacked.
3. AAVE
Speaking of DeFi, there are plenty of success stories. So, why focus on Aave, a decentralized lending protocol with its own token, LEND, which has since become AAVE?
At the beginning of the year, LEND was trading for about a penny. When it switched to the moniker AAVE in early October—and holders got 1 AAVE for each 100 LEND, the price understandably increased to account for the increased supply.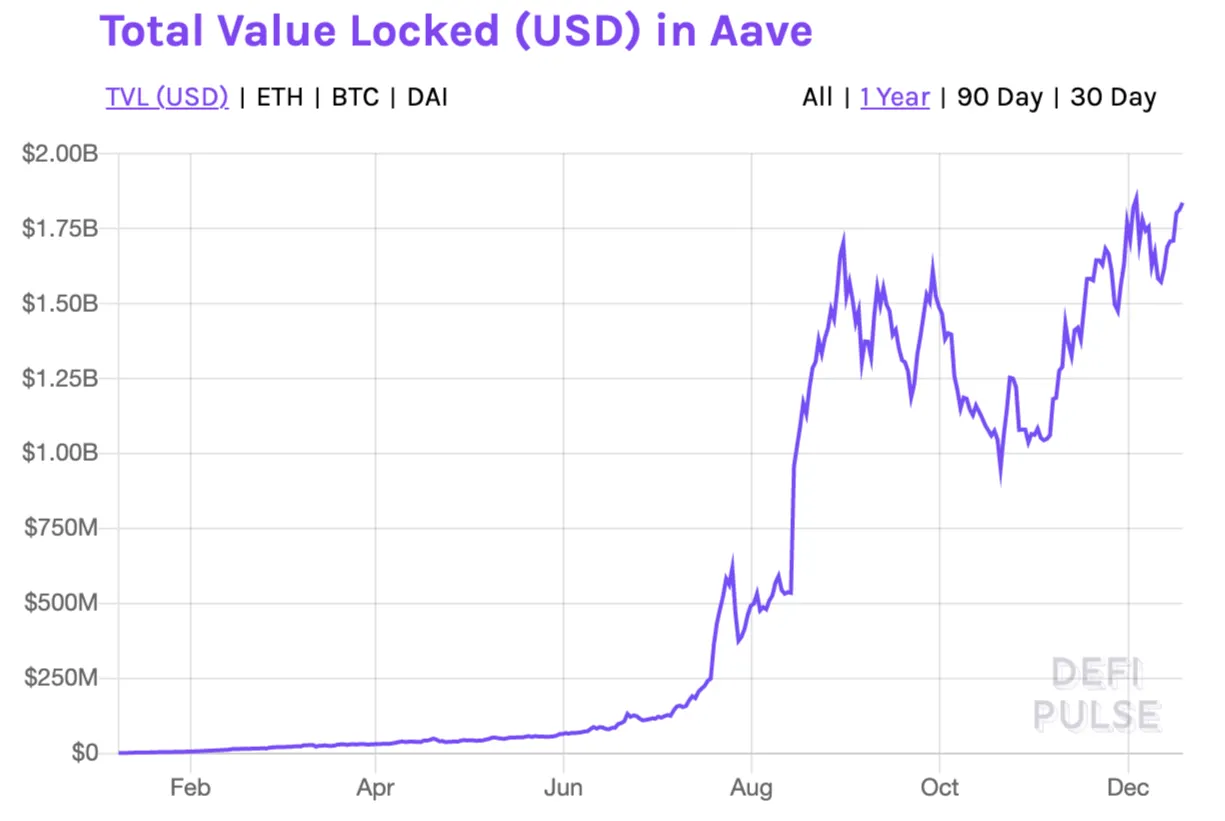 But since introducing LEND in October, the governance token's price has jumped from $53 to $89. In under three months, it had the 27th-highest market cap in all of crypto, with over $1 billion, and was ranking at similar levels for trading volume.
What's more, it didn't strictly need any of that. The platform had $318,000 locked into its smart contracts at the beginning of the year. By token launch on October 2, it was $1.4 billion. Today, it's $1.8 billion. In other words, people are still using it. And that means they're using the token.
2. USDC
A stablecoin on this list? Well, yeah. Obviously, the price today is the same as it was at the beginning of the year, and there's no need to try to buy the $0.99 dip and sell at the $1.01 high (unless you're this guy). 
If a cryptocurrency holding its value doesn't impress you, perhaps its utility will. For starters, USDC has expanded from the Ethereum blockchain to the Algorand, Stellar, and Solana blockchains.
Further, it's becoming a key onramp and offramp for DeFi (and Venezuelan political exiles). That can be seen in its trading volumes. The highest daily volume it hit in January was $426 million. In December, it hasn't ever dipped below $453 million, according to CoinMarketCap.
USDC has surged to a market cap above $3 billion after starting the year at $516 million.
So, here's to the little stablecoin that could...do its job and help people access crypto without imploding, or getting investigated by the state of New York (as far as we know).
1. Bitcoin
Are you not entertained? 
Bitcoin is on this list not only because its market cap increased from $130 billion on January 1 to $430 billion, but also because it made such a show of it.
C'mon, that death knell when Bitcoin's price hit $4,000 in March, only to come back from the dead and outperform gold, the US dollar stocks, cheetahs, and Elon Musk's ego? 
Then, in a single 24-hour stretch in December, it surpassed the $20,000 mark for the first time, chugged past $21,000, kept on going through $22,000, and said, "Hey, why don't we see what's cooking past $23,000?"
It was straight out of Shakespeare. And impressive for sure.