In brief
Kraken is the fourth-largest cryptocurrency exchange in the world.
It's available to residents of 48 US states and 176 countries, with 54 listed cryptocurrencies available for trade.
Features available on Kraken include staking and crypto futures trading.
Launched in 2013, Kraken has grown to be one of the largest cryptocurrency exchanges in the world, standing alongside the likes of Coinbase and Binance. In this review, we explore its user-friendliness, and its features—including staking and futures trading.
What is Kraken?
Kraken is one of the largest and most well-known cryptocurrency exchanges in the world. Crypto enthusiast Jesse Powell began work on the exchange in 2011, prompted by a security breach at the Mt. Gox exchange. Deciding to take matters into his own hands, Powell set out to make an exchange that was better organized and safer, launching the exchange in September 2013 after two years of development.
In 2014, Mt. Gox was hacked again—this time losing $460 million of its customers' money, and going bankrupt in the process. Kraken, on the other hand, had become one of the most respected exchanges around, and one that customers felt that they could trust.
Powell focused on building up the exchange's trust and reputation by forming partnerships with banks in Japan and Germany. It was also the first crypto exchange that passed the Proof-of-Reserves cryptographic audit, and was listed on Bloomberg Terminal, a tool used by professional bankers around the world.
Today, Kraken is available to residents of 48 US states and 176 countries, with 54 listed cryptocurrencies available for trade. According to CoinMarketCap, it's the fourth largest crypto exchange in the world, with daily trading volumes of $2.1 billion.
Design and UX
Kraken's design is clean and easy on the eye, with a relatively minimal feel. It's streets ahead of some of the shocking interfaces we've perused on exchanges over the years, and is one of the best designs we've seen. Having said that, compared to a very stripped-down and easy to use site like Coinbase, it's not quite as intuitive for complete crypto newbies to initially navigate.
Nevertheless, it should only take a beginner 5-10 minutes of clicking around through the menus to get a solid idea of how the site operates, and then they'll be set. Things that might catch beginners out include the gray bar at the top, which lets you switch between markets with a button that's not immediately obvious.
More experienced users who want to use advanced trading features such as order books have to click an unassuming button on the top right to bring up the Kraken Pro interface, with its advanced view and trading features.
Overall we like the look of the site, and it's easy to use, but there's an initial hurdle of exploration you'll need to get over first. That said, it shouldn't pose much trouble for anyone, especially if you go down the sensible route of watching a tutorial video to get up to speed with the basics.
Getting started with Kraken
Signing up to Kraken is quick and easy. Choose your username, email and password, and you're good to go. Sort of. If you stop there, you can navigate through the site to get used to the layout and features, but you can't actually start trading until you've verified your account.
There are a few different levels of verification, depending on how you plan to use the site. Starter verification lets you deposit, withdraw, buy and sell digital assets only, and requires you to provide your address and phone number.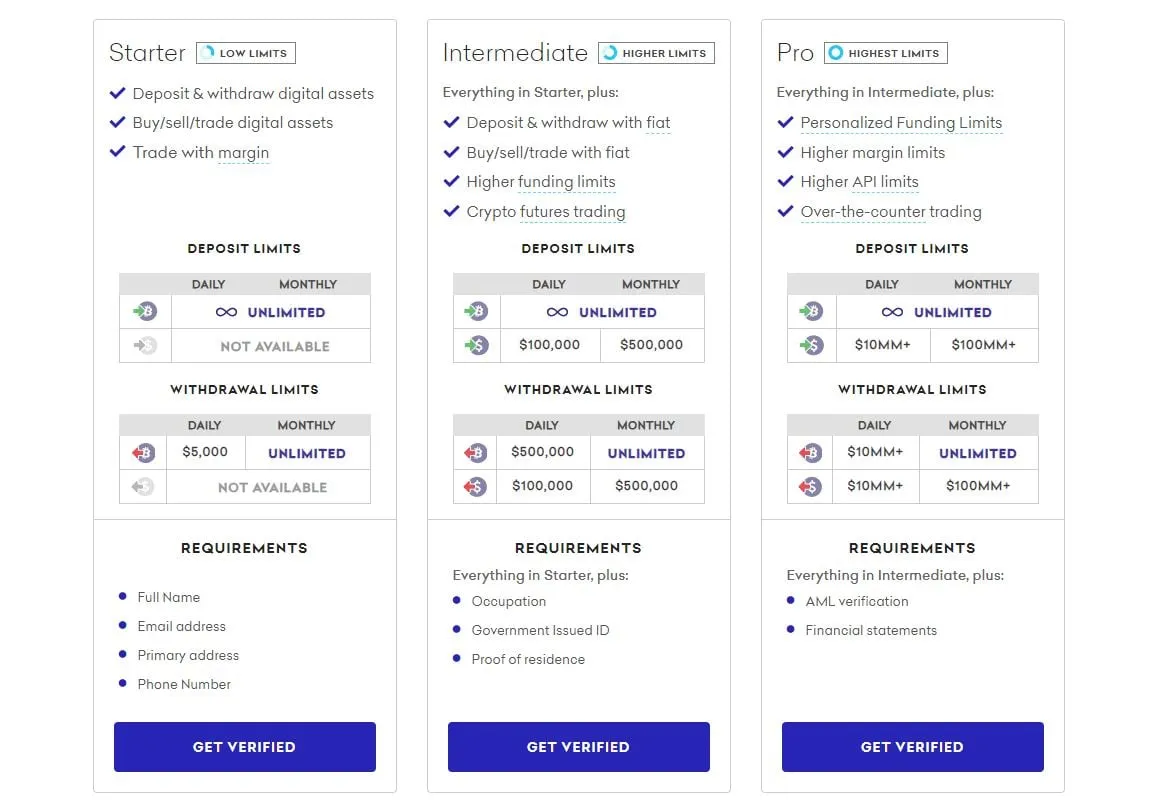 Intermediate allows you to deposit and withdraw with fiat currency, with higher funding limits and futures trading. This requires you to provide your occupation, government-issued ID, and proof of residence.
Finally, there's the Pro level, which includes personalized funding limits, higher margin and API limits, and over-the-counter trading. You'll also need to provide AML (anti money laundering) verification and financial statements.
It might all seem intimidating if you're a complete beginner, but providing official documentation, proof of address and other KYC information is standard practice for exchanges, and you're definitely in good hands with a reputable exchange like Kraken.
Ease of use
Once you familiarise yourself with the UI, Kraken is a slick and easy exchange to use. Clicking the Trade tab lets you buy supported cryptocurrency with fiat, with USD, EUR, GBP, JPY, CHF and CAD all supported. You can also make purchases with BTC/XBT, or ETH.
To select your pairing of choice, simply click the 'Market' option in the gray bar at the top, and click on the crypto you want to buy. You then have three options: 'Simple', 'Intermediate', and 'Advanced'.
Simple is, as you'd expect, the easiest method, that sees you enter how much of a cryptocurrency you'd like to buy. Selecting 'Market' will automatically lock you in at the current market price, and the transaction will be carried out instantly. This is fine for beginners, but it's worth doing some research on placing 'Limit' orders instead, which lets you set a sensibly priced order, which is then eventually filled.
The Intermediate option lets you input more advanced order features and variables according to your trading strategy, while the Advanced section provides a Conditional Close feature, which lets you set a condition on which the order will be executed.
Once you've made your purchase, it's simply a case of clicking the 'Funding' tab at the top to access your various wallets, which you can also use to send and receive crypto.
It's worth noting here that unless you plan on trading regularly, you should always withdraw funds to a private wallet, such as a hardware wallet, for safety and security. Leaving potentially hundreds, if not thousands of dollars of crypto in an exchange wallet is the very definition of a bad idea, no matter how reputable and secure the site may be.
Is Kraken safe?
Kraken is one of the most highly respected crypto trading platforms in the world, and with good reason. To date, it has never been hacked, and it's easy to see why. A total of 95% of all deposits are kept in offline, geographically distributed cold storage, which means that they're invulnerable to any online attacks.

In addition, all sensitive account information is encrypted at both the system and data level, and its servers are kept in secure cages under 24/7 surveillance, with 24/7 video monitoring and armed guards to boot. Throw in easy to use user security features like two-factor authentication and email confirmations, and you can rest assured that your funds are in excellent hands.
Kraken scores relatively well on the privacy front, and the company appears to be upfront about the use of your data, which can be used in instances such as sending surveys, improving their services, settling disputes, data analysis and complying with laws and regulations.
All personal registration information will be stored up to one year, and you can also explicitly request the deletion of your personal information under certain circumstances, including if they no longer need it, or if there is no legal obligation to keep the data. Things like anti money laundering laws come into play here and it can all get a little bit confusing, but the upshot is that Kraken, like other exchanges, needs to store information about you to operate effectively, as well as for legal reasons.
If you're really set on having no personal information stored, you'll need to look at other exchanges that don't require identity confirmation, but for most users Kraken's security and privacy can be trusted.
Kraken app
The Kraken app is available on iOS and Android, and is just as slick to use as the website. Once set up it's a straightforward affair, but the initial installation might throw a few people off.
Rather than simply logging in with your username and password, you need to generate an API key on your desktop, laptop or smartphone browser's Kraken account. Hit 'Profile', 'Settings' and 'API', and you'll be met with a screen that might appear confusing at first, but is quite straightforward.
Essentially, you'll find yourself looking at a bunch of checkboxes. All of these are features that you can select for the Kraken mobile app to have access to.
You can select all of them if you want the app to have the full functionality of the site, but if you're worried about, for example, losing your phone, you can set up the app so that it can only let you check your funds and prices, without actually having permissions to withdraw and make purchases. This is a superb security feature and one that more exchanges should implement.
Once you've made your selection of features, simply hit 'Generate Key' and scan the resulting QR code with your smartphone app to link your account. Simple, effective, and very impressive.
Kraken staking, futures trading, and Cryptowatch
Kraken also offers a few extra features for crypto enthusiasts to sink their teeth into. One of these is staking, which, simply put, is the locking up of funds (selected crypto, EUR or USD) in your account, preventing you from trading or shifting them. In exchange, you're rewarded with interest on the amount you've locked away.
It's a great way for beginners to learn and understand the staking process, and is yet another feature that sets Kraken apart from the competition.
Another advanced feature is the ability for experienced users to trade futures. Crypto futures are a way for you to maximize returns by forming a commitment between two parties to buy or sell an asset on a predetermined date at a predetermined price.
In essence, they're a bet that lets you wager on the future value of an asset, whether you think the price will increase or decrease. It's definitely not something for beginners to dive straight in to, but it's a nice feature to have for when you decide to expand your crypto horizons.
If that wasn't enough, Kraken also has a product called Cryptowatch, which is a premium trading terminal that provides real-time cryptocurrency market data, charting, and trading services for over 25 cryptocurrency exchanges.
This real-time data is provided directly from cryptocurrency exchanges via their APIs and covers over 4,000 markets. Essentially, it's a formidable one-stop shop solution for serious traders, and adds further credibility to Kraken's ecosystem.
Downtime
Like many exchanges, Kraken has suffered from downtime and technical issues during the 2020-21 crypto bull run, as a result of increased load. During January 2021, Kraken reports, more than $56 billion was traded on the platform, more than the entire volume transacted in 2019.
The Kraken engineering team has implemented new hardware and improved its infrastructure to cope with increased demand. It is, of course, hard to judge how successful Kraken's efforts have been without monitoring the site's performance during a surge in trading volume; if the site goes down, it's failed, if it remains up, it's succeeded. Certainly, since January 29, reports of downtime for Kraken appear to have dropped off.
In any case, as mentioned above, we'd caution against keeping large volumes of crypto in exchange wallets, particularly if you're planning to trade or sell; if the exchange goes down, you have no access to your crypto holdings. Instead, it's best practice to hold your cryptocurrency in a wallet that you control, such as a hardware wallet.
Verdict
Simply put, Kraken is one of the best exchanges we've used. While it's slightly more complex to pick up for novices compared to Coinbase, it's worth spending the initial 5-10 minutes to familiarize yourself with it.
We love the fact that it caters to beginners with simple trading options, all the way up to complex market views and trading options, with clearly defined levels of account types to boot.
Throw in a slick mobile app, extra features like staking and trading futures, and one of the best privacy and security track records in the business, and we have ourselves a formidable exchange that backs up its reputation with slick and smooth execution.
Rating: 5/5