In brief
Trading volume on decentralized exchanges has surged in recent months.
But these newfound billions won't last, FTX CEO Sam Bankman-Fried said today at the LA Blockchain Summit.
DeFi will need to focus on improved user experience, not just the incentives promised by governance tokens, to become sustainable, he said.
Editor's note: A previous version of this article incorrectly stated that FTX is a decentralized exchange. Serum, produced by FTX, is its decentralized exchange.
The Summer of DeFi saw a massive increase in trading volumes across so-called decentralized exchanges—non-custodial trading platforms that essentially enable users to trade digital assets peer to peer.
These exchanges, known as DEXs, were once barely a blip on the radar of the broader crypto market. But now, several billions are being traded on DEXs every month, and trading volume on leading decentralized exchange Uniswap has at times even surpassed daily volume on crypto exchange giant Coinbase.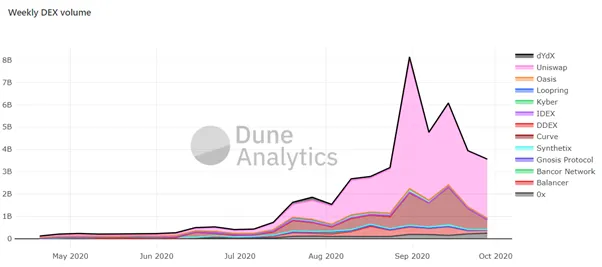 These DEX volumes, though, are "bullshit," according to Sam Bankman-Fried, CEO of FTX and savior of collapsing Uniswap rival SushiSwap.
At a panel at LA Blockchain Summit, Bankman-Fried said that as soon as the outsized incentives for using non-custodial, decentralized exchanges fall away, so will the volume. 
Bankman-Fried is talking about the folks that only provide liquidity to decentralized exchanges to earn the so-called "governance tokens"—digital assets that DeFi protocols started to issue this summer to convince people to use them. The practice is known as yield farming.
Lending protocol Compound was the first "giant yield farm," he said, referring to the launch of its governance token $COMP in late June, which the protocol issued to everyone who borrowed or lent funds on the exchange. Then "everyone else started copying it, and it got this runaway growth." 
Bankman-Fried touched on a soft spot for an industry that knows that this summer's bull run was never bound to last, since protocols had to mint endless amounts of these tokens to convince liquidity providers to keep using the platforms. 
Eventually, this runway will run out—and a market downturn last month for many of the largest DeFi tokens suggests that it already has. 
Decentralized exchanges like FTX's Serum exchange are non-custodial cryptocurrency exchanges. The principle is that there's no middleman and that customers hold full control over their cryptocurrency, or at least choose their custodians rather than entrust their funds with exchanges such as KuCoin, which late last month was hacked for $281 million.
Decentralized exchanges trade hundreds of millions of dollars each day, most of which comes from Serum's competitor Uniswap, whose creator, Hayden Adams, was not on the panel. Much of the boom on decentralized exchanges occurred this summer. 
Bankman-Fried was instrumental in DeFi's rise: One popular Uniswap competitor, SushiSwap, blew up after it started offering governance tokens to people who stayed their Uniswap tokens in its smart contract. Then its pseudonymous founder, the so-called "Chef Nomi," ran away with $14 million in Ethereum tokens.
Chef Nomi apologized a few days later and handed over the reins to Bankman-Fried, who later devolved power to SushiSwap's community. Then Uniswap started its own yield farming game and everyone forgot about SushiSwap, whose token price has since tanked. 
Bankman-Fried, formerly a quants trader for Jane Street, spent the panel bobbing in and out of the FTX logo behind him. He thinks this summer's bull run is attributable to "momentum, memes and an accident." He said that "it was probably going to happen some time," and why not now? 
But for DeFi to have a life of its own and sustainably scale, "it has to have a way better user experience," said Bankman-Fried. Moving to a faster blockchain or building software atop an existing blockchain would solve the scaling issue, he said. 
Alex Wearn, the co-founder and CEO of decentralized exchange IDEX, said on the panel that these things are on the way. DEXes are becoming easier to use, are built on faster blockchains and becoming more secure, he said. "People are beginning to figure out models that are working," he said.